(Week of 12/8/2012) For decades, Americans have been asked whether they think the country is headed in the right direction or is seriously off on the wrong track. When Barack Obama took office in 2009, more than six in ten Americans said the country was on the wrong track. That figure dropped to below 50% for his first year in office, but since mid-2010, majorities in Economist/YouGov polls have rated the state of the country negatively.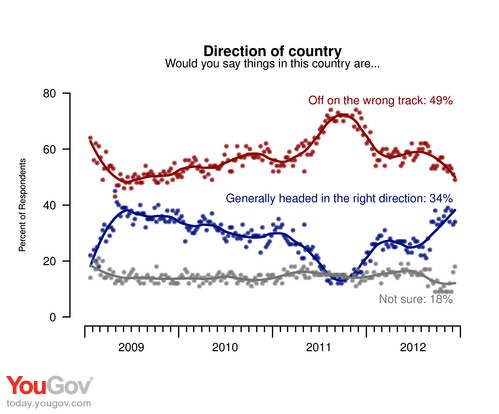 But there have been indications in the last few months that things are improving. And in this week's poll, the percentage saying the country is on the wrong track has
slipped just below 50%. One in three say things are headed in the right direction.
Democrats remain the most positive.
Economist/YouGov poll archives can be found here
Photo source: Press Association