Nearly half the American population (48%) agrees with Facebook COO Sheryl Sandberg that it is impossible for a woman to have a full career life and a full home life if she is expected to handle all the responsibilities at home, according to the YouGov Omnibus survey taken March 12 - 14, 2013.
More than half of the men surveyed (53%) agreed that women can't combine a full career and home life, compared to 44% of the women surveyed.
Half of adults (51%) believe that women who want to get ahead in their career should expect to make sacrifices in their home life in order to be successful. Again slightly more men (53%) agree with the assertion. One third of Americans (32%) take the opposing view that they should not expect to make sacrifices in their home life in order to be successful.
Nearly four in ten (37%) believe a woman's success does not dictate whether she is liked or disliked by others (supported mostly by men 41% vs. women 34%). Nearly three in ten (27%) support Sandberg's assertion that when women get more successful, people like them less (men 19% vs women 33%).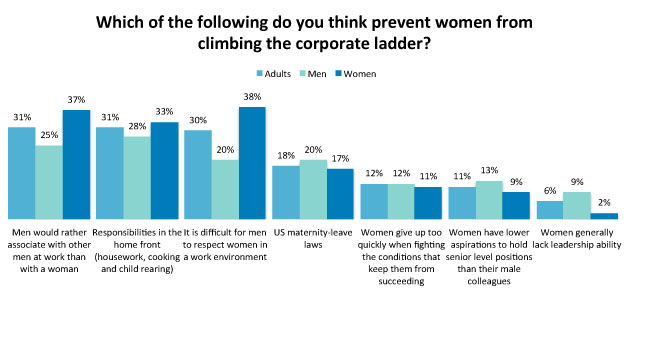 Three out of 10 respondents believe it is difficult for men to respect women in a work environment (30%), and men would rather associate with other men at work than with a woman (31%). Only 12% believe women give up too quickly when fighting the conditions that keep them from succeeding.
For further information about poll results, and for details about methodology and Omnibus services, please email omnibus.us@yougov.com.