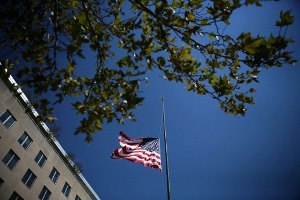 Benghazi: 'Al-Qaeda did it'
Tue January 7, 2014 2:15 a.m. PST
Americans tend to say that Al-Qaeda launched the attack on the US consulate in Benghazi, with many also thinking that the Obama Administration deliberately misled the public over the attacks
On September 11th, 2012, the U.S. Consulate in Benghazi was attacked by a large group of Libyan gunmen Since the attack, which killed the American Ambassador to Libya along with three other Americans, the question of whether or not enough was done to protect the Consulate has been a major political issue. Republican leaders have slammed the administration for failing to appreciate the severity of the threat posed by Al-Qaeda in the area, who they - and many other investigators - say launched the deadly attack. A recent piece by the New York Times, however, cast doubt on this assertion, saying that the Administration's first explanation for the attacks which said that the attack was a violent response to an anti-Islam video from the US, was actually largely accurate.
The latest research from YouGov shows that very few Americans - only 16% of the public - say that Al-Qaeda wasn't behind the attack on the Benghazi consulate. Just under half (46%) say that Al-Qaeda was responsible, while another 37% say that they aren't sure whether or not Al-Qaeda was behind the attack.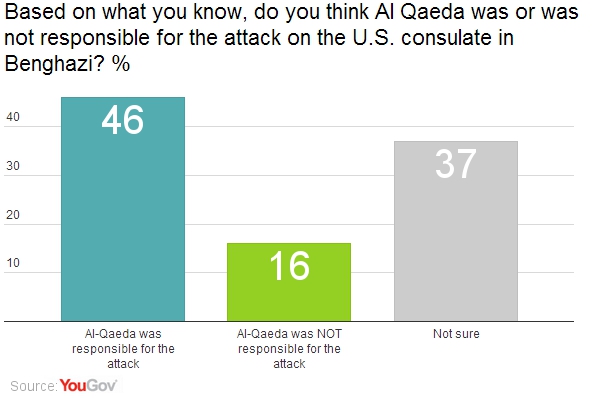 There is something of a partisan divide, however, with Republicans (68%) and many Independents (48%) being convinced that Al-Qaeda was behind the attacks. Democrats are less sure, though they are still more likely to say that Al-Qaeda was behind the attacks (32%), than say that Al-Qaeda was not responsible (23%). The most common belief, expressed by 44% of Democrats, is that they aren't sure who was behind the attack.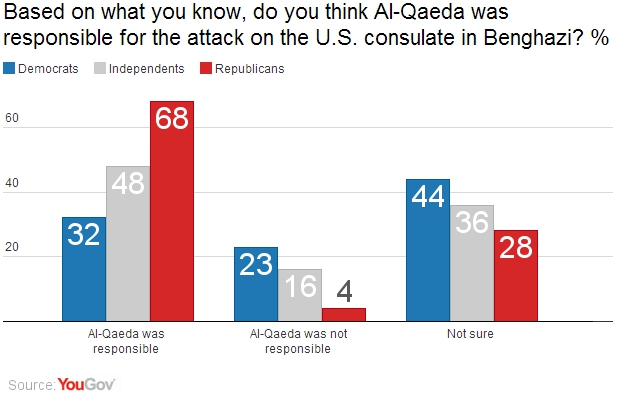 Overall, 44% of the American public think that the Obama Administration deliberately misled the American people on this issue, while 30% say that they shared the facts of the case as they became available. Unsurprisingly, Republicans (83%) are much more likely to say that the White House was deliberately misleading, compared to 16% of Democrats. This is very similar to attitudes in September 2013, when 45% of Americans said that the Administration deliberately misled the public and 31% believed that they shared facts as they became available.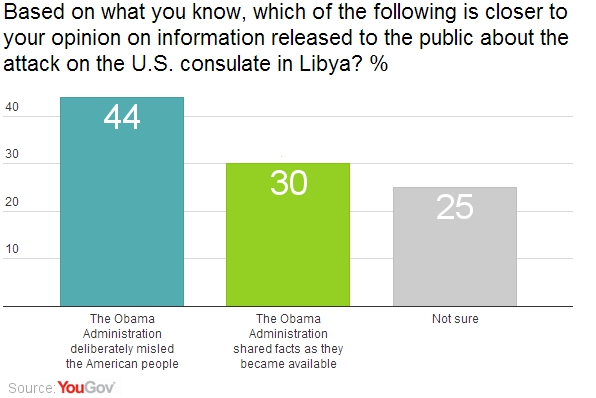 When asked how President Obama and Hillary Clinton handled the Benghazi attacks and their aftermath, the President comes off slightly worse in the public eye. 46% disapprove of how he handled it compared to 40% who disapprove of Hillary's actions. Approval for their handling is, however, remarkably similar, with 30% of Americans approving of the President's handling and 31% approving of Hillary Clinton's.
Full poll results can be found here.
Image: Getty Images