Only half of renters of agree
YouGov's newest report breaks down some key differences between America's homeowners vs renters. By understanding how these two demographics differ in their lifestyles as well as spending and saving habits, marketers have the opportunity to connect with these groups where it matters most.
Through YouGov Profiles research, a number of interesting distinctions have been made about homeowners as they compare to renters. For example, there was some disparity between the two groups with regards to satisfaction with their living situation. To the statement, "I am happy with my standard of living," 71% of homeowners agreed; whereas only 53% of renters felt the same way. As such, marketers looking to connect with renters would be wise to present products and services that can shrink this disparity.
The report also focuses on some demographic findings that hasty marketers might otherwise overlook. While homeowners are more likely to be older than renters, a sizeable number of middle aged renters exist. While it might be natural to assume that 'generation rent' customers are all young adults, a quarter of all 35-49 year olds reported that they rent their living space.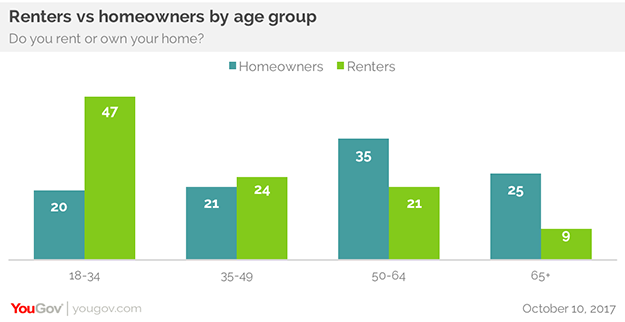 For more insights about renters vs. homeowners, explore the full report here.