Both Xbox 360 and PlayStation 3 consoles are showing their best US consumer perception levels in at least two years while Nintendo Wii is approaching levels last seen during its peak in February 2012.
While blockbuster video games go on sale every fall – this year delivered Halo 4, Call Of Duty: Black Ops 2, and Assassin's Creed 3 – the introduction of the new Wii U and generally favorable reviews may have brought these consoles to welcome heights after a tough year in the industry.
All three gaming console brands have seen their Buzz scores rise since early October and are neck and neck as of this past weekend in terms of Buzz and Value scores. Xbox 360 is at its best perception levels since January 2011 and the PS3 since November 2009.
Nintendo Wii painted a different picture than the other two consoles this year on two fronts:
• Nintendo Wii hit its greatest perception heights in 11 months in early February after announcing the Wii U. Then Buzz levels drifted down to the same levels as its major rivals.
• Nintendo Wii enjoyed a value perception advantage throughout 2012 over its rivals by a wide margin until the other two consoles began catching up in early November, and now all three are in a virtual tie.
Xbox 360, Playstation 3, and Nintendo Wii were measured with two of YouGov BrandIndex's scores: 1) Buzz, which asks respondents: "If you've heard anything about the brand in the last two weeks, through advertising, news or word of mouth, was it positive or negative?" and 2) Value, which asks: "Does it give good value for what you pay?" All respondents were adults age 18 and over.
Games Consoles: Buzz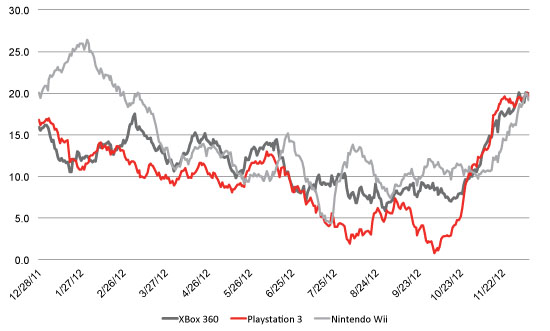 Games Consoles: Value