NFL commissioner Roger Goodell's press conference last Friday about the league's new domestic violence tactics does not seem to have halted the declining consumer perception of the NFL brand.
Consumer perception hit a two-year low a week ago, and showed early signs of a rebound toward the end of last week. Yet, in the wake of Goodell's press conference, the NFL perception has now dipped even lower.
Goodell's announcement also triggered a reversal of the genders' perception of the NFL: whereas women were leading the early rebound in consumer perception, they took a sharp downturn since Friday. Men, on the other hand, rebounded slightly but then dropped again, which may indicate that they didn't have as severe reaction as women to Goodell's appearance.
To measure consumer perception, YouGov BrandIndex utilized its Buzz score, which asks respondents "If you've heard anything about the brand in the last two weeks, through advertising, news or word of mouth, was it positive or negative?"
Buzz score can range from 100 to -100, with a zero score equaling positive and negative feedback. All measurements are for adults 18 and over.
Here is the Buzz Score timeline for the NFL since TMZ released their video of Ray Rice and Adrian Peterson was banned by the Vikings for child abuse:
On September 8th, the NFL was at its highest consumer perception point of the year with a Buzz score of 36, which combines both men and women. It was also the same day TMZ released its elevator video of Ray Rice assaulting his then-fiancée.
Six days later, that score had dropped to -37.
Wednesday, September 17th showed an uptick to -30, led by early rebound signs from women over men. That same day, Minnesota Vikings player Adrian Peterson was indefinitely benched to address child abuse charges in Texas.
With a swell of negative press continuing, Roger Goodell holds a press conference on Friday, September 19th. The NFL's Buzz score is back down to -37.
By Monday, September 22nd, the score has dropped to -42, this time led by a dramatic fall among women, while men had a less overt reaction while remaining quite negative.
The NFL's previous lowest score was -26 in June 2012, impacted by the New Orleans Saints bounty crisis and a massive lawsuit accusing the NFL of hiding information that linked football-related head trauma to permanent brain injuries, including dementia and Alzheimer's disease.
Buzz: NFL, Adults 18+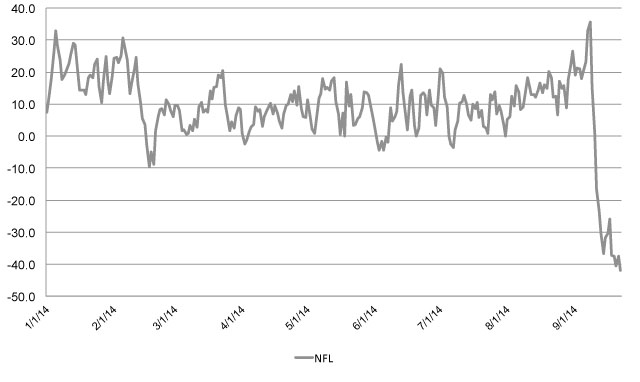 Buzz: NFL, Men vs. Women