For the first time since 1996, no players were elected to the Hall of Fame by the sportswriters who vote for them. Players need 75% of the vote to gain election.
While the late 90s and early 2000s saw a succession of broken records, strong suspicion of performance enhancing drug use have brought an entire generation of baseball players under suspicion.  Even their extraordinary stats may count against them.
A recent YouGov Omnibus looked into the Hall of Fame shutout. 38% of our respondents were very interested in baseball, with a concentration in the Northeast and Midwest, and 52% had heard about the 2013 Baseball Hall of Fame nominees. 
A decisive 53% thought that it was the right decision to leave these players out of Cooperstown.  Only 22% thought that it was a wrong decision. 
Asked which of the Hall of Famers most deserved to be inducted this year Sammy Sosa and Mike Piazza were most frequently mentioned followed by Roger Clemens, Barry Bonds and Don Mattingly. Female responders were most likely to think that Sammy Sosa should get the nod, while the men preferred Mike Piazza and Don Mattingly.
Among those mentioned, only Mattingly, who retired in 1995, is free from steroid allegations.  However, the lack of enthusiasm for him here parallels the treatment he has received from the Hall of Fame voters: he has failed to be elected after 13 years on the ballot. This is the first year that Sosa, Piazza, Bonds and Clemens have been eligible for election.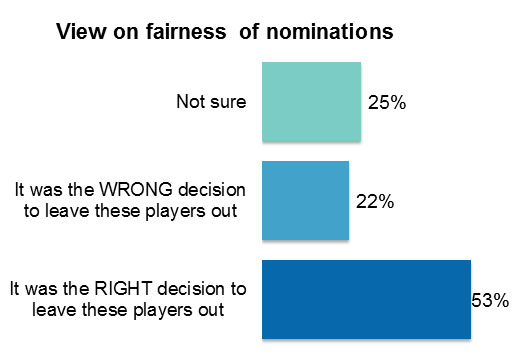 The YouGov Omnibus survey is a daily measure of public opinion that runs Monday through Friday among a nationally-representative sample of adults in the United States. Fieldwork for this poll was conducted January 11-13 2012. Full results can be downloaded here.
For further information about poll results, and for details about methodology and Omnibus services, please email omnibus.us@yougov.com.