Three in four women (75%) would feel unsafe drinking water from Flint, Michigan
Most Americans would feel unsafe drinking water from Flint, Michigan today—though local officials and recent water quality tests indicate that the city's water supply is stable.
On the fifth anniversary of Flint's water crisis—which resulted in residents drinking water containing unhealthy levels of lead and bacteria for several months—hesitations about the city's water supply remain. Recent YouGov data shows that 65% of Americans would feel "somewhat unsafe" or "very unsafe" consuming water from the city. Just 15% of people would feel safe drinking the water, while one in five (20%) were uncertain (responded "don't know") about drinking water from the area where several officials were charged with involuntary manslaughter after concealing the water contamination crisis.
At present, nearly eight in ten (77%) Democrats would feel unsafe drinking Flint water compared to nearly half (49%) of Republicans. Residents of the Midwest were the most likely region to express hesitation about drinking the water with 71% responding that they would feel unsafe, followed by the South (69%), Northeast (59%), and West (58%).
Among men and women, the differences are stronger—just 4% of women would feel "completely safe" or "somewhat safe" drinking the previously contaminated water, compared to 27% of men.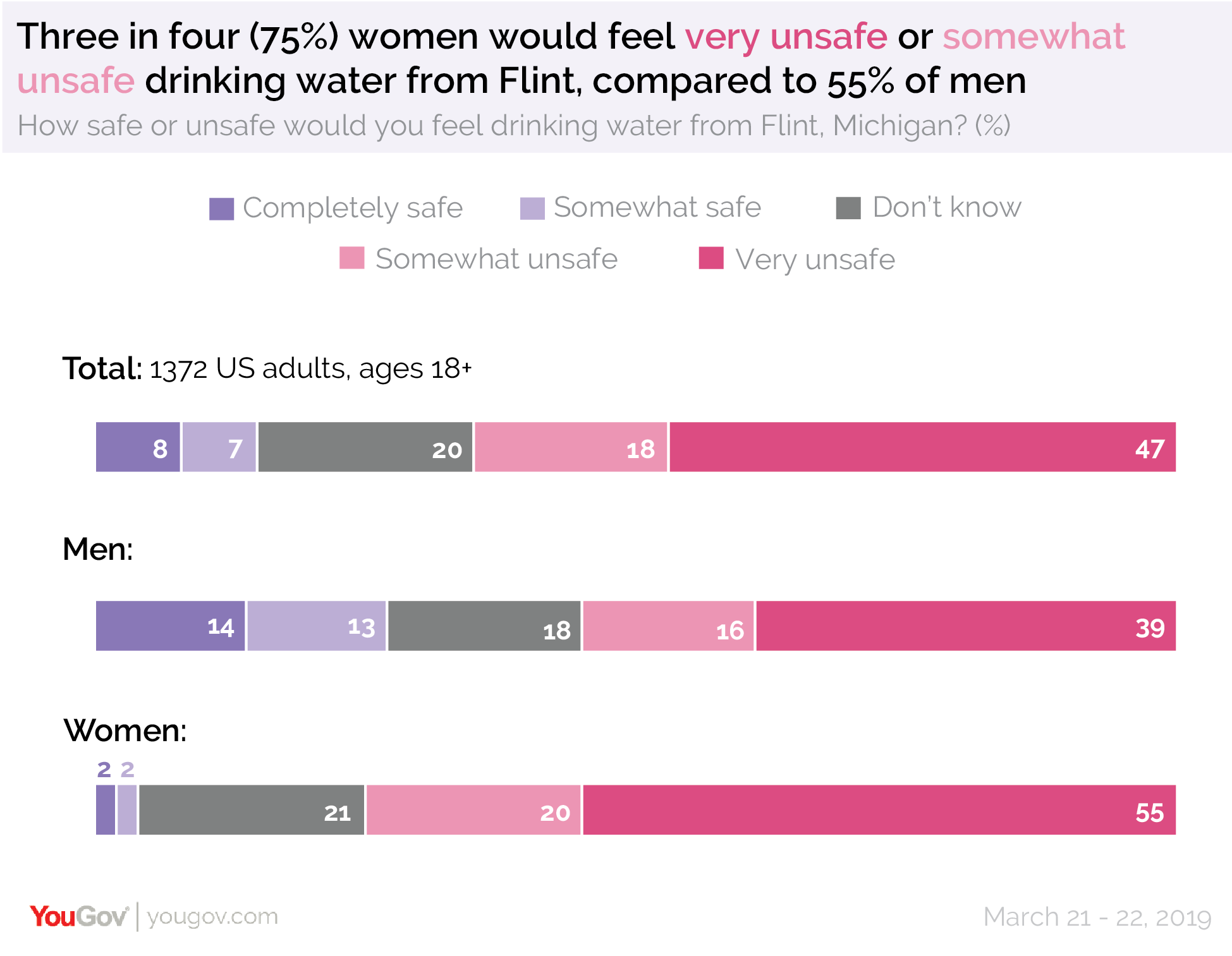 Flint's water crisis started in 2014 when local officials wanted to change the city's tap water source in order to save money. As the city transitioned, the residents' water source changed to the Flint River, which contained corrosive elements that led to high levels of lead contamination in household water, according to Michigan Radio. The water went insufficiently treated, causing lead and waterborne bacteria to be consumed by residents.
In October 2015, the city moved its water source from the Flint River to the Detroit Department of Water and Sewerage, reconnecting the town with safe water. Flint's water is reportedly drinkable by the Environmental Protection Agency's standards, but the replacement of lead pipes that contributed to the water contamination is still ongoing.
Methodology: Total unweighted sample size was 1,372 US adults aged 18+. The responding sample is weighted to the profile of the sample definition to provide a representative reporting sample. Interviews were conducted online between March 21-22, 2019.
Related: Which US city is the most eco-conscious? West coasters give themselves top marks
Learn more about YouGov RealTime surveys and sign up to become a panelist here.
Image: Getty