The Trivago Guy is shaking up the online travel booking industry.
The Germany-based travel search engine Trivago has come out of nowhere with a much-talked-about video ad to join Priceline as the online travel booking sites with the highest recent ad awareness.
Among domestic leisure fliers, 29% recall seeing an ad in the past two weeks for both Priceline and Trivago, compared to 19% for Expedia. Veteran site Tripadvisor recently launched a $30 million TV ad campaign for the first time, tripling ad awareness from 5% when it launched in spring to its current 15% level, although still half of what Priceline and Trivago have notched up.
Trivago is also leading all its rivals on YouGov BrandIndex's Buzz score measurement, which asks respondents: "If you've heard anything about the brand in the last two weeks, through advertising, news or word of mouth, was it positive or negative?" Trivago's current Buzz score is 17, just ahead of Tripadvisor with a 13 score, on a scale of -100 to 100, with zero being neutral.
Trivago's business may be benefiting from the quirky campaign as well: the site went from just 1% of domestic leisure travelers considering to purchase via the site at the beginning of the year to its current 12%. While that percentage is about half of its rivals, which are all bunched together in the 22% to 25% range, that's a significant achievement in a relatively short space of time.
In addition to Buzz score, Expedia, Orbitz, Priceline, Travelocity, Tripadvisor and Trivago were measured with two of YouGov BrandIndex's scores: Ad Awareness ("Which of the following brands have you seen an advertisement for in the past two weeks?"); and Purchase Consideration
("When you are in the market next to purchase items in this particular category, from which of the following brands would you consider purchasing?"). Respondents were age 18 and over who have taken at least two domestic leisure trips over the past year.
Both Ad Awareness and Purchase Consideration are expressed as a percentage, with a range of zero to 100%.
Buzz: Online travel agents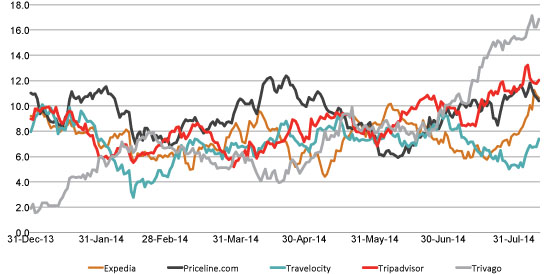 Purchase Consideration: Online travel agents