Doritos, in the final stretch of its last consumer-generated "Crash The Super Bowl" campaign, has gained the most positive consumer perception since New Year's Day.
Following close behind in gaining perception traction: Korean car makers Kia and Hyundai, and Skittles candy.
To maximize their hefty ad investments, brands and marketers often ramp up teasers, contests and previews leading up to Game Day. Kia has already released a sneak preview of a Christopher Walken-starring spot promoting its 2016 Optima midsize minivan and Hyundai posted a teaser for its new Ryan Reynold ad.
Most of this year's Super Bowl advertisers have not shifted consumer perception in any statistically significant way in the past 30 days, although that is likely to change after Sunday's game – if results from prior years repeat themselves.
Doritos, one of the most consistent and top performers after recent Super Bowls announced that its 10-year campaign, where contestants submit a video for the chance to win an ad during the game as well as $1 million, will take a different direction next year. Doritos is running about even in perception with last year at this point.
Heading into Sunday's game, Toyota has the highest perception levels, followed by Honda, Paypal, Snickers and LG.
YouGov BrandIndex used its Buzz score to measure perception, which asks respondents, "If you've heard anything about the brand in the last two weeks, through advertising, news or word of mouth, was it positive or negative?" A score can range from 100 to -100 with a zero score equaling a neutral position.

Buzz: Super Bowl Advertisers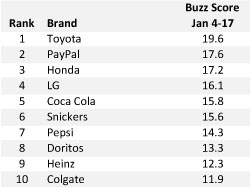 Buzz: Super Bowl Advertisers - Top Improvers Jan 2016