Consumer perception of beer brands has generally rebounded across the board after two years in a row descending, according to the annual St. Patrick's Day ranking.
Samuel Adams and Budweiser are the two best-perceived beers in America for the third year in a row.
However, Redd's Apple Ale climbed from sixth into third place this year, Bud Light climbed a few notches.
Pennsylvania-based Yuengling fell out of the top 10 best perceived beers, replaced by citrus-tinged Blue Moon.
Doe Equis, which is about to retire its long-time "World's Most Interesting Man" campaign figure/spokesman, dropped from third to eighth place.
YouGov BrandIndex is the only daily brand consumer perception research service.
All major beer brands were measured using YouGov BrandIndex's Buzz score, which ask respondents: "If you've heard anything about the brand in the last two weeks, through advertising, news or word of mouth, was it positive or negative?" All results reflect adults age 21 and over. Scores were compiled during the twelve week period leading up to St, Patrick's Day.
Buzz: Adults 21+ Top Beers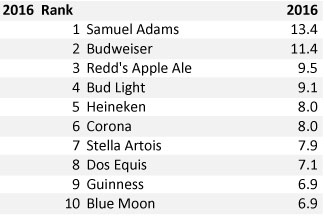 Buzz: Boston, Adults 21+ Top Beers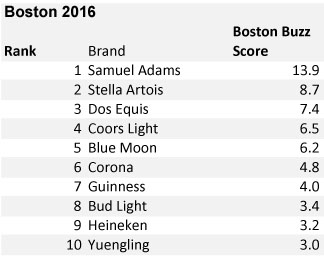 Buzz: Chicago, Adults 21+ Top Beers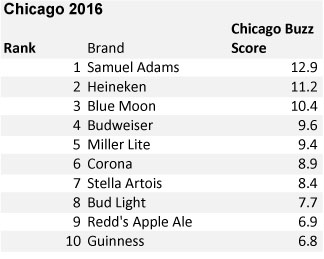 Buzz: New York, Adults 21+ Top Beers