Starbucks' sudden price hike on July 12th may be provoking a negative reaction with consumers, but it seems like it will barely impact them from being customers.
Even after trying to soften the blow by announcing an October-timed minimum 5% wage hike two days earlier, reaction was mostly harsh: both consumer and value perception metrics skidded, both near their lowest points of the year.
The wage hike didn't seem to go over well either: consumer' feelings about being proud to work at Starbucks took a significant drop as well.
Yet, purchase consideration, which measures potential sales revenue, has remained steady for Starbucks over the past two weeks. Specifically, for that period, 27% of consumers would consider buying from Starbucks the next time they want to go to a coffee, pizza or ice cream store.
Translated: in all likelihood, Starbucks is likely to extract the higher prices without alienating most consumers, despite the bumpy reaction to its two pieces of news from the week of July 11th.
YouGov BrandIndex measured Starbucks with four different metrics: Buzz score, which asks respondents: "If you've heard anything about the brand in the last two weeks, through advertising, news or word of mouth, was it positive or negative?"; Value ("Does it give good value for what you pay?"); Reputation ("Would you be proud or embarrassed to work for this brand?"); and Purchase Consideration (When you are in the market next to purchase items in this particular category, from which of the following brands would you consider purchasing?").
Buzz: Starbucks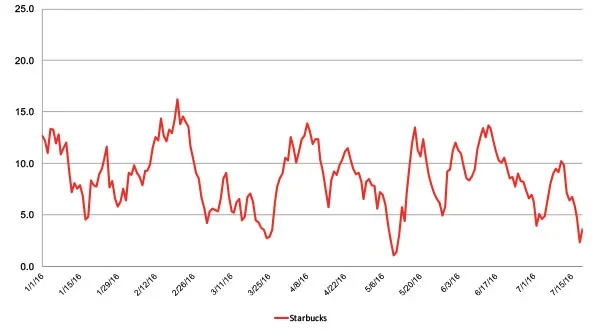 Value: Starbucks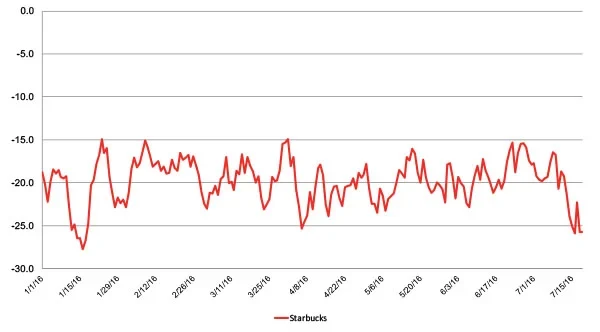 Consideration: Starbucks