Sharing economy companies and messaging apps, along with travel, banking and sportswear brands dominate the biggest gains in millennial customers since one year ago.
YouGov BrandIndex compared recent millennial customer data for over 1,500 brands for the first half of this year to results from the same period in 2016. A current customer is defined as a person who has recently purchased from the brand, ranging from 30 days to the past year depending on the category, or visited its site during the last 30 days. For example, for airlines and hotels, it's the past year, but for dining, it's the past 30 days.
Uber made the largest customer gains since the first half of 2016, climbing eight percentage points to 26% of all millennials recently using the service. Its main rival, Lyft, made the third biggest leap at six percentage points, putting it at 12%. Fellow sharing economy brand Airbnb made the list as the 12th biggest gainer. These three names among the top twenty underscore just how pervasive sharing has become and may disrupt other industries such as automotive and hotels.
TLC, home of the hit reality TV shows "Long Island Medium," "Little People Big World," "Long Lost Family," and "Outdaughtered" is the only network on the top 20, garnering the fifth biggest gains.
While it's not surprising that brands like Instagram, Snapchat, Twitter, Spotify, and WhatsApp made it into the top 10 gainers, two non-Internet-related names – Delta Air Lines and Adidas – climbed into the eighth and tenth positions respectively.
One year ago, Delta CEO Ed Bastian told the Associated Press: "That's our next generation of customers and by 2020 that will be half of our employees." Fast forward to this year, Delta propped up a graffiti-ish wallscape on a Brooklyn building featuring nine of its prime destinations for taking selfies with, partnering with Tinder. Delta also put up an illustrated wall across from Brooklyn's Smorgasburg, the country's largest open-air food market.
Adidas rode the popularity of an affordable simply-designed sneaker line first introduced in 1969, the Superstar. The company took advantage of the "athleisure" boom, as well as dropping television advertising for all digital and mobile, to better reach the demographic.
It's notable that there are no automotive brands in the top 20 gainers, the closest being Audi at number 36. The closest a dining brand scored significant gains with millennials is Chick-Fil-A, which made the 24th biggest amount of gains.
Current Customer Improvers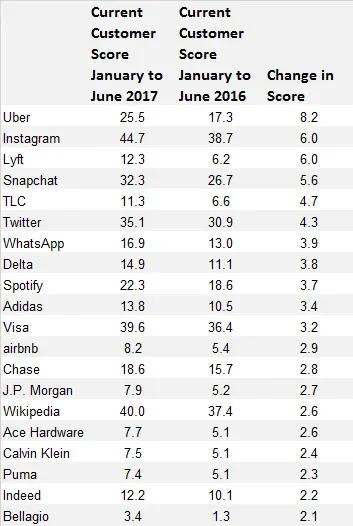 Current Customer Rankings