Millennials aren't hurting all casual dining chains — in some cases, they seem to be helping.

The casual dining sector contains 11 chains that have significantly increased their purchase consideration metrics with millennials from one year ago, a sign of potentially increased sales revenue. This is far more than either the fast casual or quick-service restaurant (QSR) sectors, according to YouGov BrandIndex.

The data indicates that while Ruby Tuesday's, Applebee's, and TGI Friday's have closed many locations — reportedly due to slowing millennial business — other chains are appealing to the demo. Some eateries are building out and increasing their marketing budgets for their take-out offerings, a trend that caters to millennials who like their meals to go.

The 11 casual dining brands that have increased their purchase consideration with millennials since last year are Twin Peaks, Taco Cabana, Luby's, El Torito, Chevys, Landry's Seafood, California Pizza Kitchen, Sizzler, Tilted Kilt, Red Robin, and Cheesecake Factory.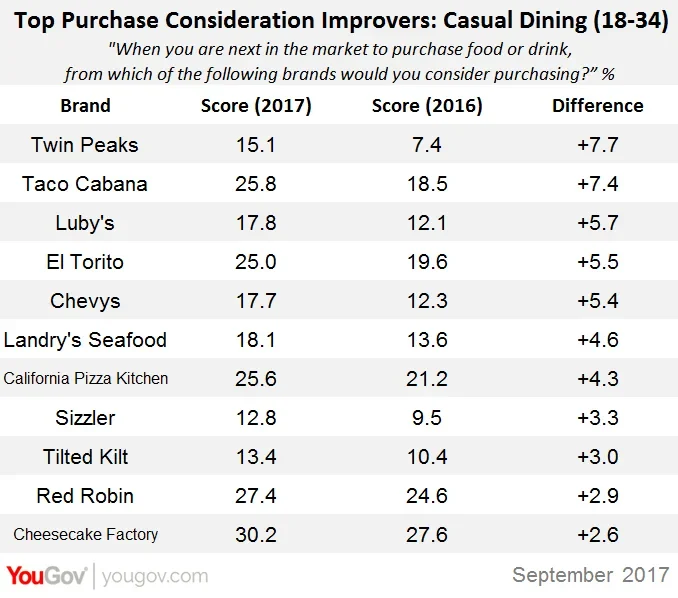 Comparatively, only one fast-casual chain (Blimpie) and two QSR (Domino's and Chick-fil-A) can claim the same.
However, some chains have gone in the opposite direction with millennials, according to YouGov BrandIndex data — Quiznos, Taco Bell, Subway, Little Caesars, Five Guys, Steak 'n' Shake, and Red Lobster.
Purchase Consideration asks the following question to respondents: "When you are next in the market to purchase food or drink, from which of the following brands would you consider purchasing?" The scale is measured from 0 to 100%. Example: a score of 15 means 15% of millennials would consider buying food or drink from that brand the next time they are in the market.