Two of the most well-known legacy supermarket products — V8 Vegetable Juice and Planters Peanuts — show significant declines in multiple consumer perception metrics over the long-term, according to YouGov BrandIndex.
From 2013 through the present, both of these brands have suffered their own distinct issues, and one big shared one: millennials.
Eroding Millennial Awareness
Both V8 and Planters Peanuts are seeing their levels steadily eroding over the past four years, almost entirely brought down by millennials. 94% of all consumers were aware of V8 in January 2013, slipping down to its current 85%. Planters took a steeper drop of 17 percentage points, dropping from 95% down to 78% over the same time period.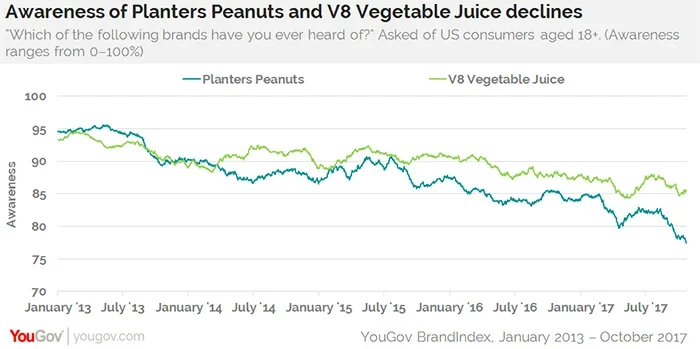 However, those numbers would remain much higher and steadier if it was just adults ages 35 and over. Millennials change the picture entirely, especially for Planters Peanuts: V8 is down 14 percentage points (from 86% awareness to 72%) with the younger crowd, and Planters Peanuts sees a 32 percentage point fall (from 83% awareness to 51%).
V8's Value and Quality Problems With Boomers
V8's Value and Quality perception with overall consumers has also been falling steadily since 2013. Except in this case, instead of millennials, adults 50 and over dominate the growing negative numbers behind these two metrics, perhaps having been priced out of purchasing the vegetable juice.
Consequently, Purchase Consideration by boomers of V8 has declined as well: the juice went from 43% of adults 50 and over considering buying V8 the next time they were purchasing a beverage to 33% now.
Planters Peanuts' Sinking Impression
For this venerable snack founded over a century ago, it's more than boomers who are bringing down its Impression and Quality perception, but consumers between 35 and 49 as well.
While Impression scores remained flat from April 2014 through the end of February 2017, they've been mostly dropping since then, not even ticking up for the Super Bowl, when snacks tend to see a boost.
Likewise, Quality perception has been distinctly dropping since the middle of this past January with all consumers, mostly led by adults 49 and under.
Both V8 Vegetable Juice and Planters Peanuts were measured using the following YouGov BrandIndex metrics:
Impression: "Overall, of which of the following brands do you have a positive or negative impression?"
Value: "Which of the following brands do you think represent good value for money or poor value for money?"
Quality: "Which of the following brands do you think represents good or poor quality?"
Purchase Consideration: "When you are in the market next to purchase consumer goods, from which of the following brands would you consider purchasing?"
Photo: Getty