Recently, 30% of US consumers living in households earning $100k+ were open to purchasing an item from the brand
With the holiday shopping season fast approaching, new data from YouGov BrandIndex shows that Victoria's Secret's Purchase Consideration score recently hit a new high with US consumers who report living in a household that earns an annual income of $100k+.
To be more precise, on Oct. 31, 30% of these high-income individuals said they'd consider buying an item from Victoria's Secret when next shopping for clothing and apparel. The score towers above previous Purchase Consideration highs, which never topped 24%.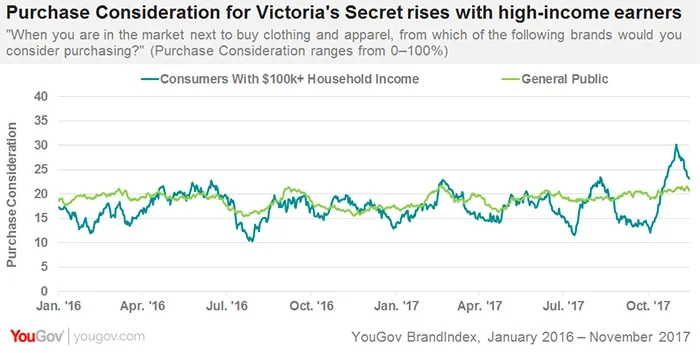 In early October, several publications reported that French fashion designer and creative director of Balmain, Olivier Rousteing, would be teaming up with Victoria's Secret to create an exclusive collection for the lingerie brand's annual fashion show, with items from that show available in stores and online the next day. This collaboration may have played a role in driving Victoria's Secret's Purchase Consideration up among high-income shoppers throughout the month.
And the rise in Purchase Consideration doesn't just pertain to high-income women. In the past couple weeks, high-income men have also reported higher Purchase Consideration scores than average. On Oct. 31, 37% of women living in a household that earns $100k+ annually said they were open to shopping at Victoria's Secret, while 25% of high-income men reported the same.