The e-commerce company Wayfair ran into a bit of a kerfuffle in late June that brought attention to the company, but maybe not the right kind.
Workers staged a walkout on June 26 in protest of Wayfair's decision to sell $200,000 worth of bedroom furniture to migrant camps on the border of Texas and Mexico. The employee protest made headlines across the country.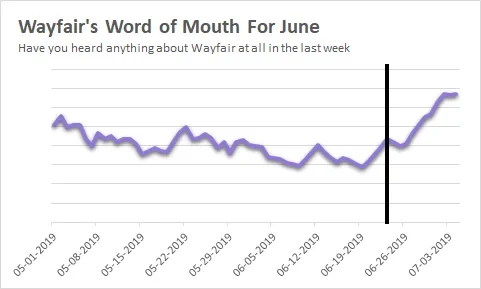 More people are talking about Wayfair, but that might not be a good thing.
YOUGOV
Those headlines resonated, according to YouGov's BrandIndex tool. Wayfair has seen declines in almost every public opinion metric tracked by YouGov. To begin with, Word of Mouth has been increasing since June 26, when the walkout occurred. That means more people are talking about Wayfair than had been in the recent past.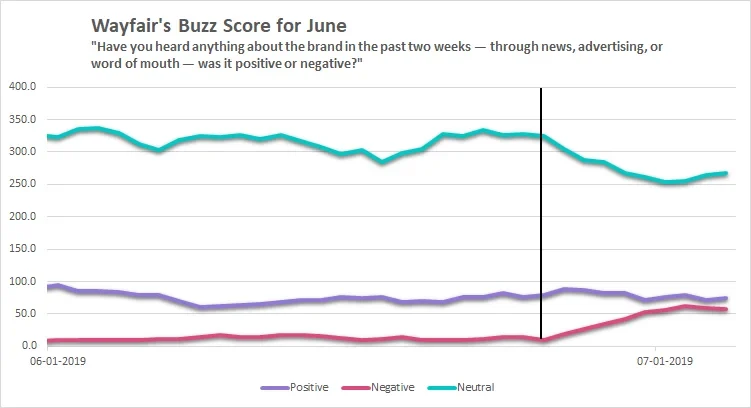 The negative sentiment around Wayfair is rising while the positive sentiment is dropping.
YOUGOV
What they're saying might not be particularly good. YouGov's Buzz metric measures whether people have been saying positive or negative things about a brand, and according to recent data, the negative sentiment around Wayfair is on the rise, while the neutral sentiment is dropping, which means some people are forming hardened opinions. Positive sentiment is holding steady, however, which may be something for this company to hold onto.
Another measure of sentiment about a brand that YouGov tracks measures whether or not the public says they would be proud to work at a company. Wayfair's Reputation score is also on the decline.
Each of these negative scores is among the lowest YouGov has seen since it started tracking the brand in 2017.
That could mean continued pain for Wayfair. Immigration is a top issue and the company may have stumbled into the 2020 campaign with the sale of that bedroom furniture to the migrant camps.
Some of Wayfair's current and former customers have strong feelings about the issue.
Wayfair customers, for instance, were more likely to "strongly oppose" President Donald Trump's immigration policies (30% to 25% of average Americans), when we asked a group of about 3,500 of them in October 2017.
But overall, when it comes to immigration, there isn't a lot of difference between the average American and Wayfair customers. The issues that seem to resonate most with Wayfair customers, based on their Z-score (or the difference between that group and the national average), include ecology, social security and law enforcement fairness.
So, Wayfair might be able to weather the storm with its current customer base, but the negative attention is likely to continue.