Is it that easy to guess what you're having for dinner on November 28? As Americans sit down for a Thanksgiving meal this year, it's a good bet that their holiday menus will appear relatively similar.
Most Thanksgiving meals feature turkey as the main dish (86%), accompanied by mashed potatoes (75%), stuffing or dressing (75%), dinner rolls (69%), cranberry sauce (64%), and sweet potatoes (59%) on the side, according to a YouGov survey that asked people celebrating Thanksgiving which dishes would be served for their 2019 meal. For dessert, nearly two-thirds of Americans (66%) will indulge in pumpkin pie.
The most-commonly served Thanksgiving dishes are also among the most popular. More than half of those celebrating Thanksgiving chose stuffing (53%) or mashed potatoes (51%) as one of their favorite Thanksgiving side dishes. About three in 10 (31%) selected sweet potatoes and one-fourth (24%) highlighted cranberry sauce or bread (23%) in their top choices.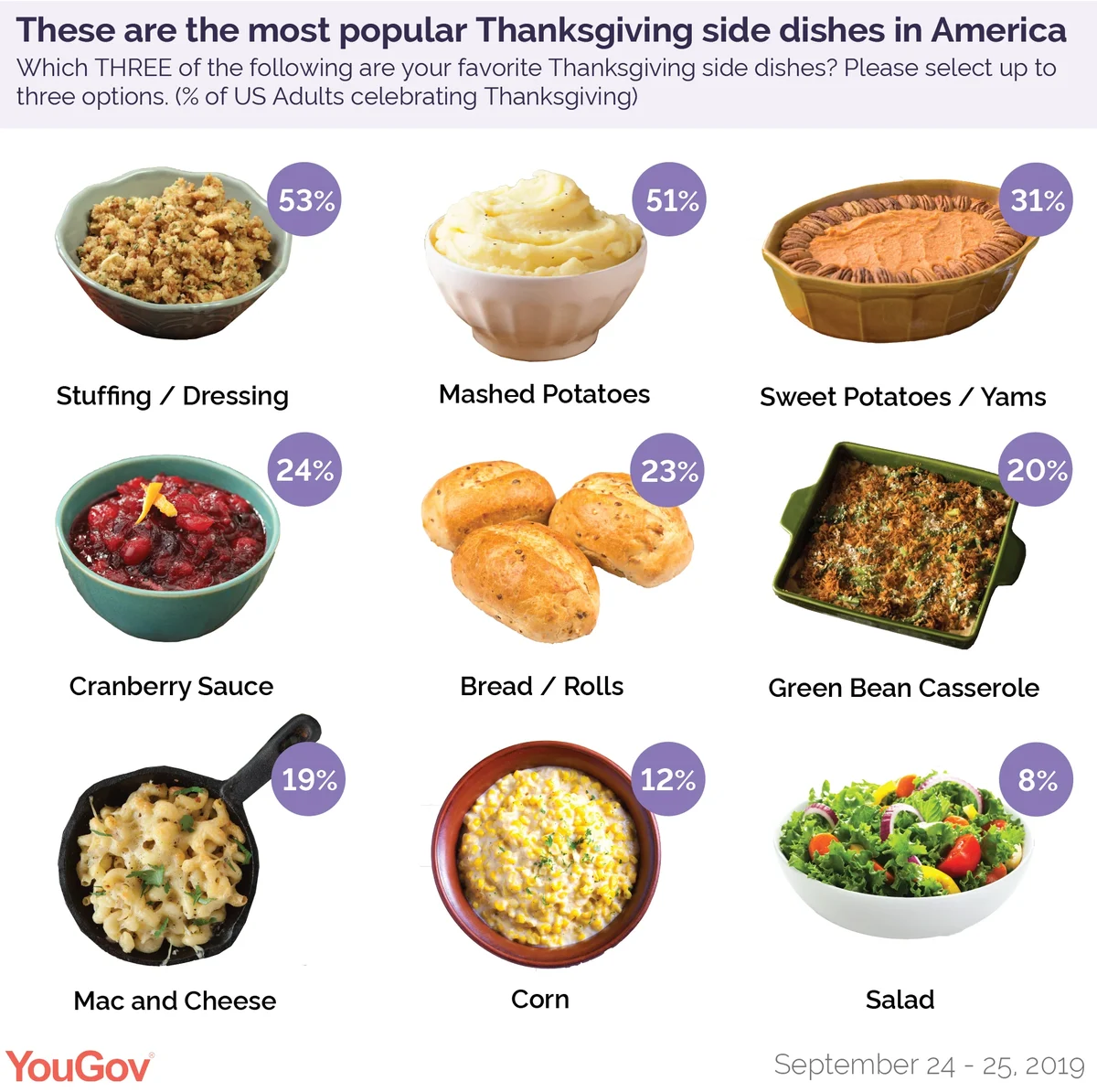 While Americans are making fairly similar meals, the preparation styles can vary. Among US adults who celebrate Thanksgiving and contribute to making the meal, mashed potatoes are the most likely dish to be made from scratch (72%), followed by gravy (52%), salad (51%), and stuffing or dressing (50%). The most-likely Thanksgiving items to be completely store-bought are dinner rolls (56%) and cranberry sauce (54%).
In this survey, YouGov also asked 983 US Adults who plan to celebrate Thanksgiving when they do their Turkey Day shopping. One-third of Americans do their Thanksgiving shopping the week of Thanksgiving, but not the day before (31%). Nearly three in 10 (29%) do their shopping the week before Thanksgiving. Almost one in 10 (9%) typically shop on Thanksgiving Day.
America's Regions Choose Sides
People often favor or serve certain Thanksgiving dishes depending on where they live, according to YouGov research. While turkey is the most-served main dish across all regions, ham is more commonly found in the South (41%) than the West (32%), Midwest (21%), or Northeast (19%). Southerners are also more likely to serve mac and cheese (41%) at a Thanksgiving meal than Westerners (28%), Midwesterners (22%) or Northeasterners (22%).
While green bean casserole is commonly served in the South (47%), Midwest (46%), and West (45%), only about a quarter (27%) of Northeasterners anticipate having it at their Thanksgiving meal. And while a quarter of Midwesterners (25%) name green bean casserole among their favorite Thanksgiving side dishes, fewer than one in 10 (9%) Northeasterners say the same.
The Midwest stands out in one regard, though. Midwesterners list mashed potatoes as their favorite Thanksgiving side dish (59%), while the rest of the country puts stuffing or dressing at the top of the list.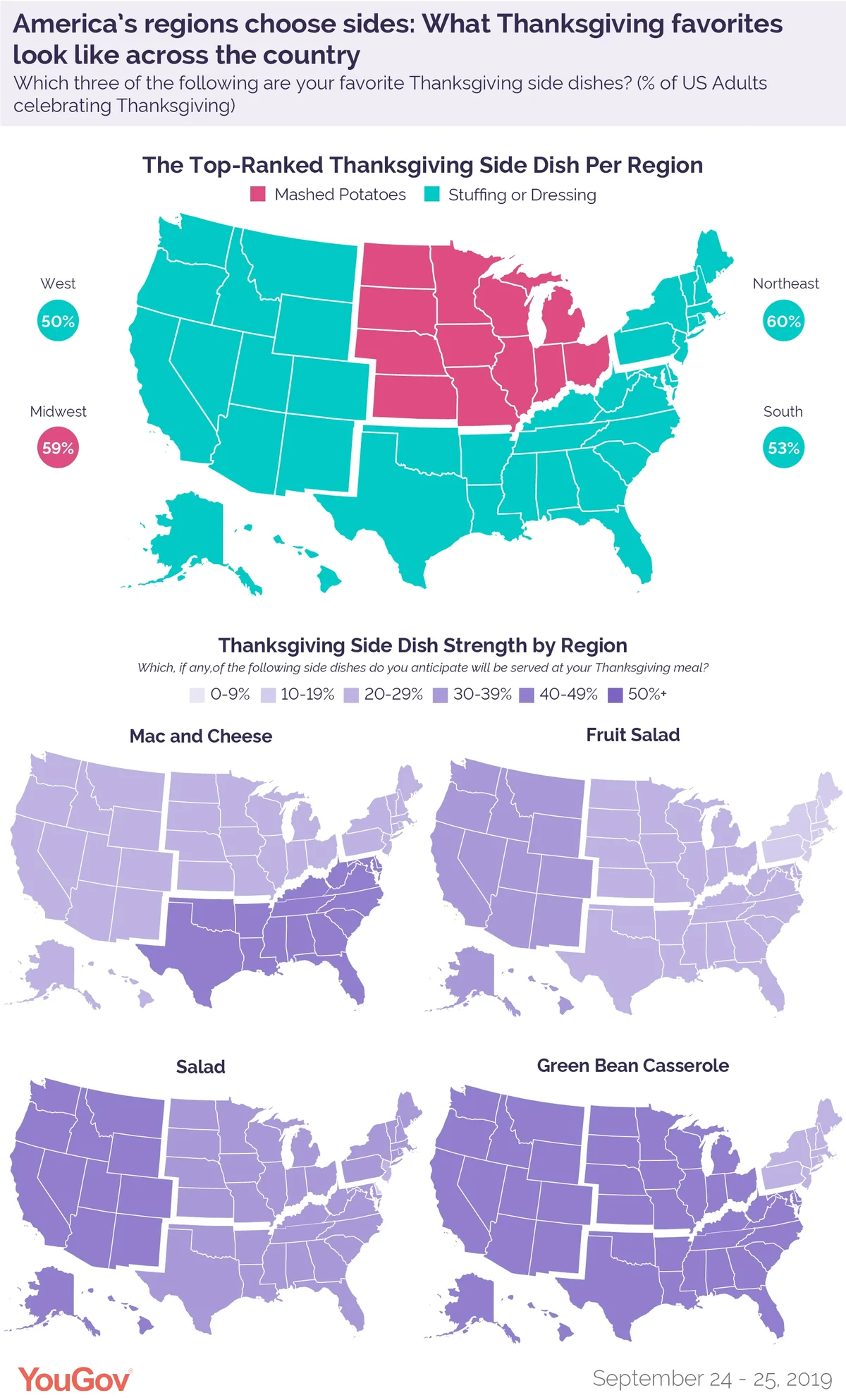 When it comes to cooking for Thanksgiving, more than a quarter (27%) of women say they cook the entire meal by themselves compared to 15 percent of men. One-third (34%) of men say they do not cook on Thanksgiving at all, in contrast to 12 percent of women.
See the full Thanksgiving poll results here
Related: How Americans order their steaks and hamburgers
Methodology: Total unweighted sample size was 1,227 US adults, which included 983 people who plan to celebrate Thanksgiving. The unweighted sample size also included 246 Northeasterners, 273 Midwesterners, 448 Southerners, and 260 Westerners. The figures have been weighted and are representative of all US adults (ages 18+). Interviews were conducted online between September 24 - 25, 2019.