Top automotive and mobility brands in 2022: Brazil
The automotive and mobility sector is going through a period of transformation with consumer's attitudes, behavior and shopping preferences changing dramatically over the last year. But which automotive manufacturers are regarded as having the highest overall brand health from consumers from Brazil?
New data from YouGov identifies the brands which consumers from Brazil have identified as having the highest overall brand health over the past year. Data was drawn from YouGov BrandIndex which measures consumer perceptions towards brands on a daily basis. The ranking examines the best performing automotive manufacturers according to their overall Index scores – an average of General Impression, Value, Quality, Corporate Reputation, Customer Satisfaction, and Recommendation scores – between February 1, 2021, and January 31, 2022. YouGov's Index scores measure of a brand's overall health.
Top automotive and mobility brands in Brazil
Volkswagen leads the ranking of the automotive brands in Brazil, followed by Fiat and Chevrolet.
The top three brands have strong presence in Brazil including manufacturing facilities. Volkswagen has had a long run with VW Gol being the best-selling car in Brazil for 27 years in a row. The production of it has come to an end this year but the impact of VW Gol model on the success of the Volkswagen brand in Brazil cannot be underestimated.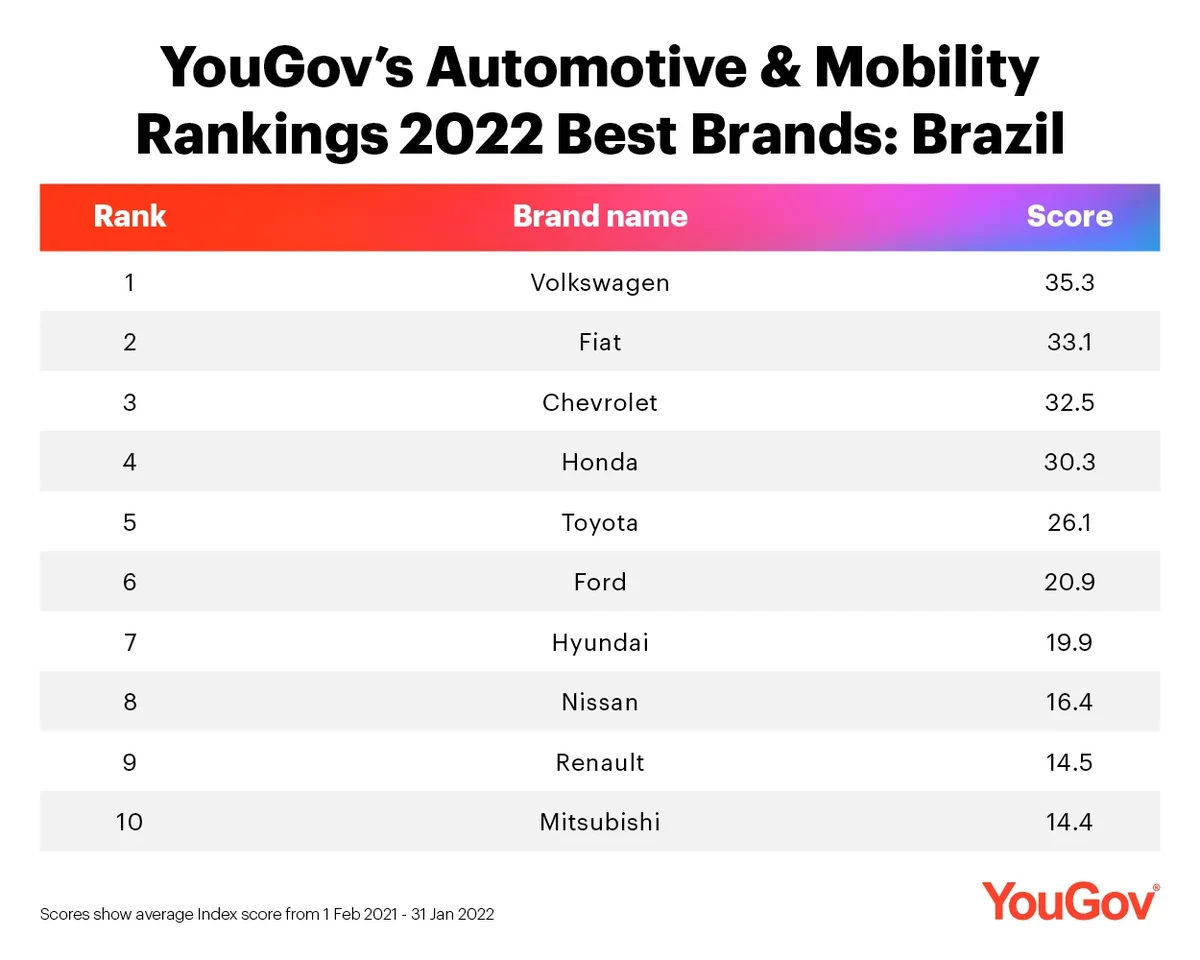 Get in touch to see your brand data.
Click here to see which brands made the global list.
Methodology:
YouGov's Automotive & Mobility Rankings 2022 show the brands with the highest average Index scores between February 1, 2021, and January 31, 2022. The scores are mostly representative of the general population of adults 18+ (some are online-representative or urban rep). All published Index scores listed have been rounded to a single decimal place; however, we have used additional precision to assign ranks. All brands have been tracked for at least 6 months to be included in the rankings. ​
Each day consumers are asked about their views on automotive brands across various markets, which allows YouGov to build a picture of how these brands are perceived by the general public through comparing Index scores – which is a measure of overall brand health calculated by taking the average of General Impression, Quality, Value, Customer Satisfaction, Recommendation and Corporate Reputation by YouGov BrandIndex.​
General Impression – whether someone has a positive or negative impression of a brand​
Quality – whether consumers think the brand represents good or poor quality​
Value – whether consumers think the brand represents good or poor value for money​
Customer Satisfaction – whether someone is a satisfied or dissatisfied customer​
Recommendation – whether someone would recommend a brand to a friend or not​
Corporate Reputation – whether someone is proud or embarrassed to work for a brand