GM's unexpectedly strong new car sales in May might have been boosted by strong brand loyalty among customers who already own GM cars.
Despite widespread press coverage and Congressional hearings surrounding recalls of nearly 6 million defective vehicles this year, GM gets the highest brand health rankings in the domestic car sector from its current customers, according to YouGov BrandIndex, the only daily brand consumer perception research service.
It doesn't stop at brand health: half of GM's current customers would consider purchasing another GM car the next time they are in the market to buy a domestic car, more than any other domestic auto brand tracked by YouGov.
It is possible that current GM customers are benefiting from improved current vehicles that were made after many of the ones that have been recalled. Even Consumer Reports recently said it is okay to buy a GM car, stating that although their reliability is inconsistent, they "generally score well in our testing, with impressive fit and finish, competitive feature sets, and strong performance."
However, former and non-GM customers take a greatly opposing view: they give the troubled car-maker the lowest brand health grades in the category. Yet despite these harsh perception rankings, about 10% of former customer and consumer who have never owned a GM vehicle say they would consider buying a GM car next time they are shopping for a vehicle. That groups them with underperformers such as Buick (9%), Chrysler (8%), Lincoln (6%) and Mercury (4%). This group is far behind other domestic brands such as leading scorers Ford (36%), and Chevrolet (23%).
The domestic automobile sector was measured with two of YouGov's BrandIndex metrics: 1) Index, the company's centerpiece brand health sure which averages several key brand health-scores, including Value, Impression, Quality, Satisfaction, Reputation, and Willingness To Recommend, and 2) Purchase Consideration, which asks "When you are in the market next to purchase a car or truck, from which of the following brands would you consider purchasing?"
All respondents are adults age 18 and over and divided into current customers in the one case and grouped as former customers, and prospects - those consumers who have never owned a GM car.
GM Customers: Index v Purchase Consideration, Domestic Auto Sector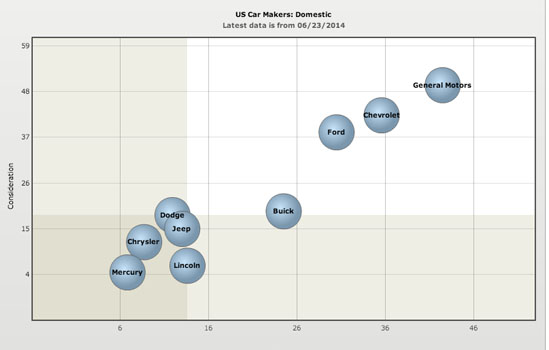 GM Former and Non Customers: Index v Purchase Consideration, Domestic Auto Sector