While YouGov BrandIndex's consumer perception data bears out Nike co-founder Phil Knight's recently-stated worry regarding competitors, the athletic-wear company is surging on key metrics to become our new Brand To Watch. YouGov BrandIndex is the only daily brand consumer perception research service.
Nike's ride up the charts seems mainly fueled by what the company called its biggest advertising push ever targeting women – women's General Impression scores for Nike have been rising steadily since late April. With its #BetterForIt campaign kicking off on the MTV Music Awards, Nike went on to introduce the MetCon1 training shoe for women, complimented by the Roshe and Air Max lines, along with accompanying apparel products.
Nike's ascent has kept it significantly ahead of other rising competitors over the past few months, notably Under Armour, Skechers and Puma.
While Nike's General Impression scores have achieved greater heights with women over men in the last 90 days, its battle with rivals wooing women to consider purchasing their brands has become tighter.
In early June, 28% of overall consumers said they would consider purchasing Nike when next shopping for apparel or footwear. That score increased to 35% for most of August and is now at 32%, putting the brand firmly in the lead on that measure. The next closest brand is Skechers at 25%.
However, women present a more competitive picture: purchase consideration of Nike with women rose from 26% at the end of April to 36% in August, the lead position in the category. Skechers is right behind it at 31% while brands such as Converse and Under Armour have seen their numbers increase as well.
Impression: Nike, Under Armour, Adidas, Reebok, Skechers, Puma, Converse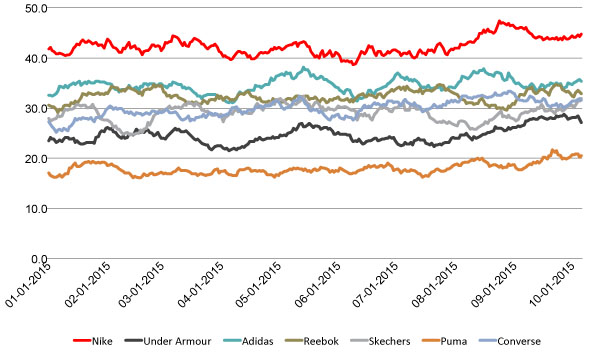 Purchase Consideration: Nike, Under Armour, Adidas, Reebok, Skechers, Puma, Converse