New data from YouGov Profiles reveals why ad content is just as important as ad placement for the retail industry
Next year is expected to be a watershed moment for new media, as digital will finally surpass TV to claim the top spot for U.S. ad spending. One report estimates that marketers will spend $77.4 billion on digital ads in 2017, which equals 38% of all money spent on advertising.
And the biggest spender on digital ads from now through 2020: retail.
While the retail industry may be putting more ads on the web and mobile than, say, billboards or radio, a campaign can't succeed unless it resonates with its intended audience. Indeed, new research from YouGov Profiles shows which customers are attracted to which brands. Much like our report on car brands and their dominant characteristics, we analyzed the personality traits of ten distinct clothing retailers by examining the personality traits of their current and former customers.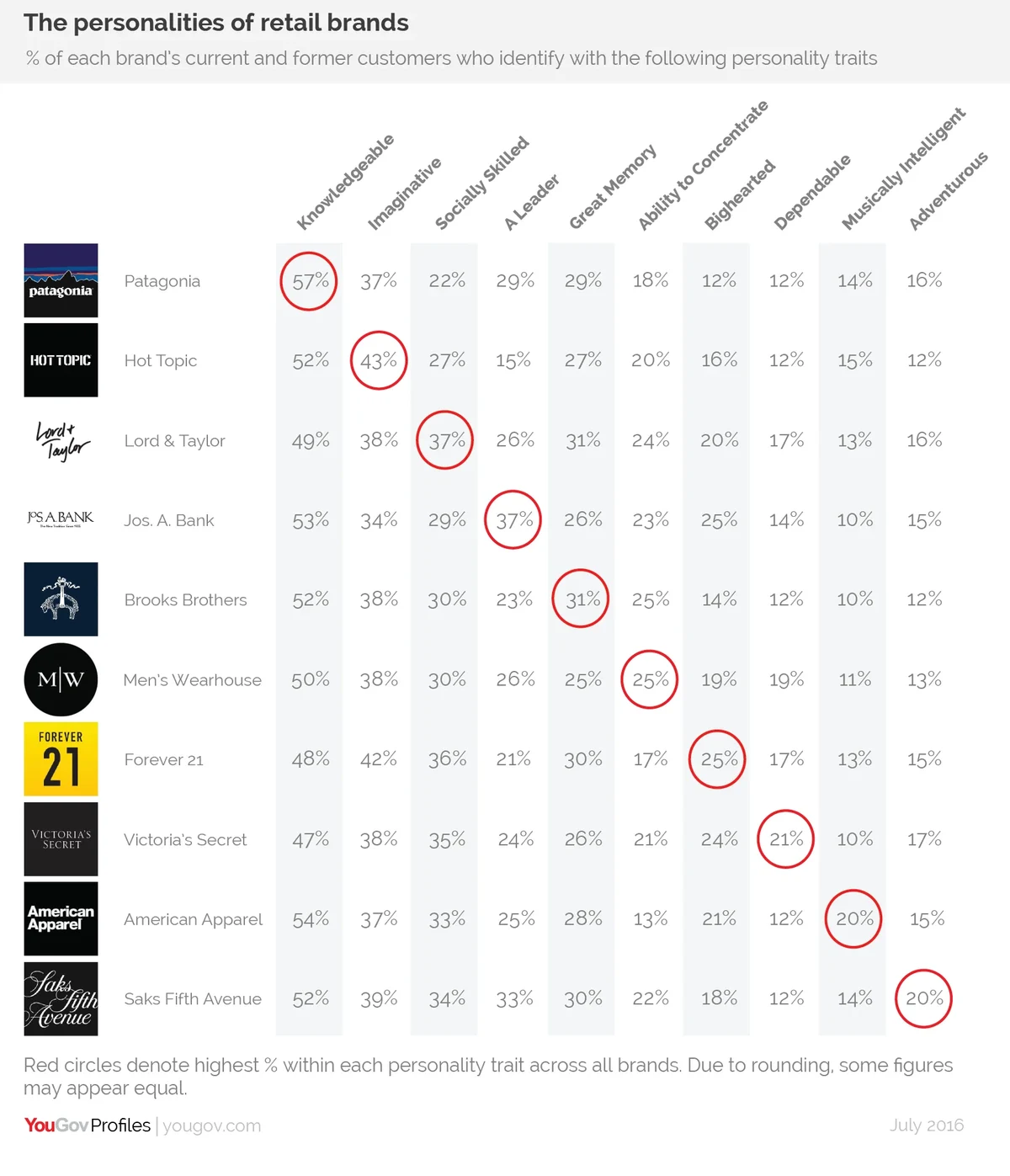 Both current and former customers of the outdoor-clothing company Patagonia, for example, are more likely to consider themselves quite knowledgeable when compared to other shoppers, yet less equipped with social skills than the Lord & Taylor crowd. People who shop at Hot Topic, which caters to a younger, more alternative demographic, see themselves as highly imaginative, while patrons of Jos. A. Bank, which sells men's suits and business casual attire, see themselves as leaders.
One report anticipates that the retail industry alone will spend $15.09 billion on digital ads in 2016, followed by $16.95 billion in 2017 — a 12% increase. While it's important to know the best location to place an ad, knowing the personality of your target audience is just as crucial for a campaign's success.
To explore the dominant personalities of hundreds of other retail brands, click here.