Two years since the last ranking of the 10 best perceived brands by mothers, half of the brands on the list are new, underscoring how difficult it is to stay on top.
While Amazon and Band-Aid switched places to become number one and number two respectively, this year's top 10 is marked by two brands being replaced by their rivals.
Two years ago, on a wave of significant perception gains, Skechers bumped Nike off the top 10 as the seeming moms' footwear of choice. This year, the tables turned once more, with Nike returning to the list in the number four spot and Skechers fell off the list to 90th place out of more than 1,500 brands analyzed.
Similarly, M&M's was in the number four spot in 2015, now replaced by Hershey's. M&M's fell just outside the top 10 to number 14.
Other new brands on the top 10 this year are Netflix (#3), Google (#6), and YouTube (#10).
However, none of the five new entries made the biggest perception gains since last year. The cable TV network TLC made the biggest jump with mothers, likely riding on the reality show successes of "Long Island Medium," "Long Lost Family," "Cake Boss," and "90-Day Fiancé." Even with the most gains, TLC comes in at 223 in the ranking.
T-Mobile was the only mobile carrier on the gainers chart, notching the second biggest climb since last Mother's Day. Chipotle seems to be on the comeback trail with the seventh biggest gains, while two budget hotel chains – Super 8 and Motel 6 – made the biggest gainers chart as well. Motel 6 launched a new national TV campaign in March set to Golden Earring's classic "Radar Love," underscoring their contemporary room design for every kind of traveler.
YouGov BrandIndex filtered their entire 1,500+ brand universe for respondents who identified themselves as women over the age of 18 with children under 18 years old. The firm then ranked them using their flagship Index score, which measures brand health by averaging sub-scores on quality, satisfaction, impression, value, reputation and willingness to recommend.
The Index score can range from 100 to -100 with a zero score equaling a neutral position.
Index Scores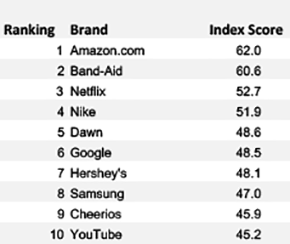 Biggest Movers