YouGov for Traders examines Diageo's biggest brands and explains why Baileys remains one of the best indicators that Christmas is coming
A week before Ivan Menezes celebrates his fourth anniversary as CEO of Diageo, the world's biggest spirits company has added George Clooney's Casamigos tequila to its extensive stable of brands in a $1 billion acquisition. Ahead of Menezes's milestone, we use BrandIndex to take a closer look at consumer opinion of Diageo's biggest brands, how the company is applying pressure to a rival in China, and why you can set your watch to a spike in purchase intent for one of the UK distiller's most famous labels.
In the first three years of Menezes's leadership, Diageo's share price was broadly flat. In the last year, however, it has risen around 25%. During this same time period, consumer opinion of the company's six Global Giants — Baileys, Guinness, Tanqueray, Smirnoff, Captain Morgan, and Johnnie Walker — has followed a similar trend. In fact, without the share price bump that followed the EU Referendum in Diageo's home market near the end of June 2016, the two data sets have followed a relatively parallel path until better than expected sales figures prompted an upward move in share price at the end of last year.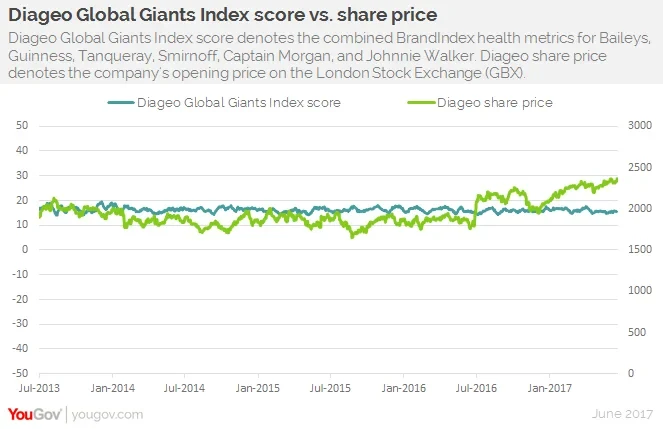 Throughout this timespan, three of Diageo's Global Giants — Baileys, Guinness, and Smirnoff — have held a relatively stable reputation among UK consumers, too. Additional data, however, shows that Guinness, which remains the best regarded of the three, has seen a slight decline in its overall Index score. Although, to put this decline into context, Guinness is still the most popular drink in the UK's beer and cider sector, ahead of over 30 competitors.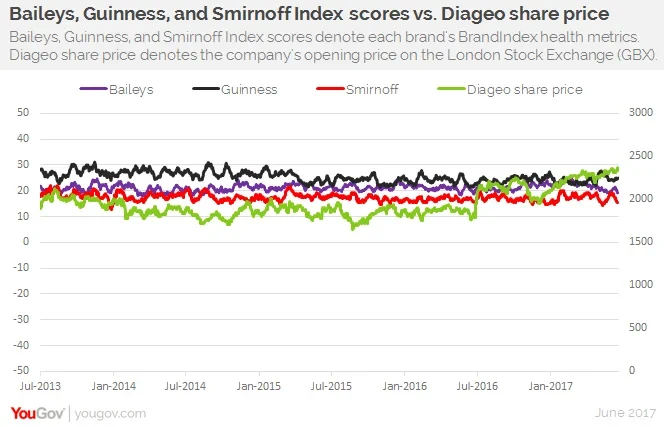 In recent years, as part of its growing global presence, Diageo has also made significant efforts to move into China — the world's biggest market for alcohol sales — both through acquisition of local brands and heavy promotion of its own flagship names, such as Johnnie Walker. In the US, Diageo's biggest market, and even in its home market of the UK, Johnnie Walker is comfortably outperformed, in terms of consumer opinion, by a rival from the other side of the whiskey-bourbon divide: Jack Daniel's.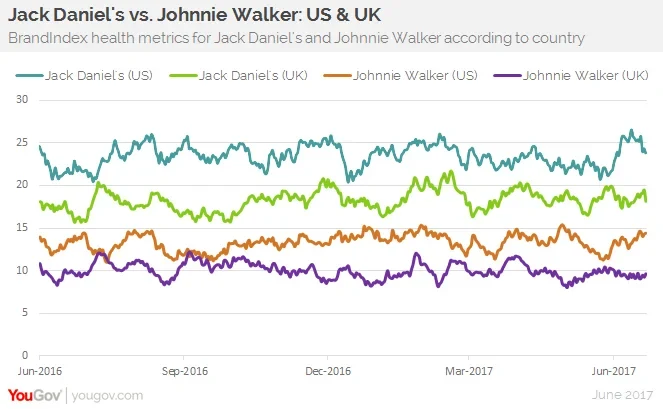 In China, however, the story is different. Across the country as a whole, the two brands have a very similar level of awareness. Yet, in China's top-tier cities, Diageo's efforts to promote Johnnie Walker Black Label to the nation's more affluent consumers — i.e. those more likely to buy imported alcohol — are clearly paying off. Since the beginning of 2017, for example, BrandIndex Awareness scores in these cities for Johnnie Walker Black Label have either been higher or neck and neck with Jack Daniel's.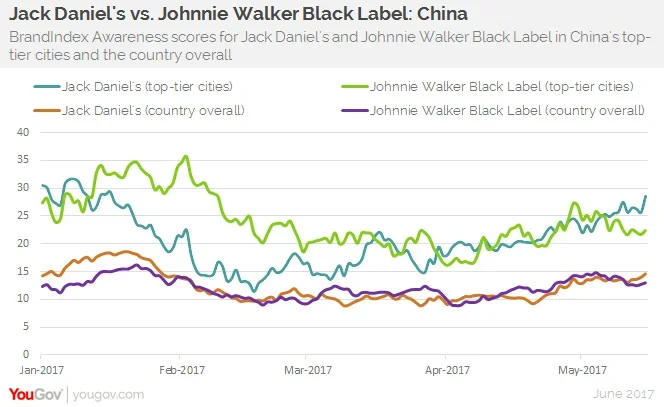 And finally, a special mention for Baileys. It's very rare for the UK public's purchase intentions to follow a rigorous, rhythmic pattern — yet it does for Baileys. In fact, UK consumers' consumption of Baileys seems to be an even better indicator that Christmas is coming than the UK's most famous seller of turkeys, Bernard Matthews.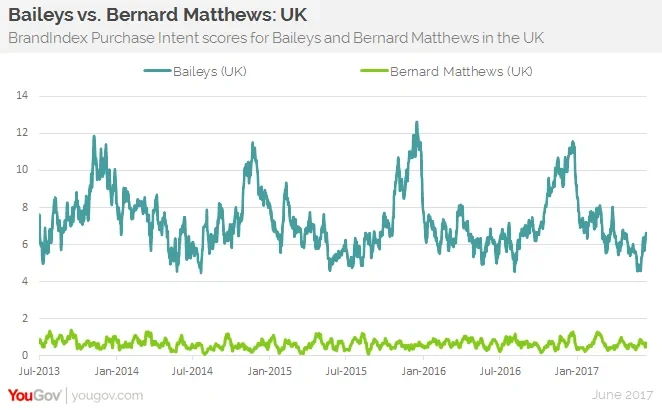 Disclaimer: YouGov for Traders and the data contained within this article do not constitute investment advice.