Ahead of eBay's quarterly report, YouGov for Traders takes a look at the internet giant's reputation with US consumers and examines whether its recent ad campaign raised awareness
In October last year, eBay's quarterly report led to a sharp drop in share prices as the internet marketplace missed analysts' expectations. Since then, the share price has recovered as part of the sector-wide tech stocks rally, and even surpassed the October price.
At the end of last quarter, the continuing pressure from competitors, most notably Amazon, led to sales that missed more expectations. Throughout the reporting period, however, the share price — matching YouGov's BrandIndex data, which measures brand health — has remained relatively flat, as shown in the chart below.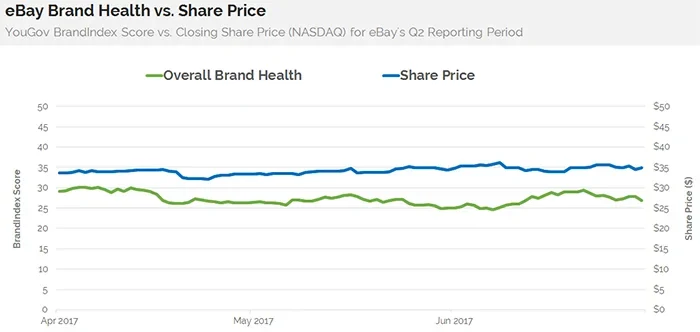 Although flat, eBay's overall brand health is relatively strong when compared to thousands of other US brands. The company sits comfortably in the top half of brands measured, but that list is frequently topped by Amazon.
In the days following the end of this reporting period, eBay launched a significant ad campaign to directly combat the challenge of Amazon's Prime Day on July 11. Looking at YouGov's data for ad awareness, we can see that there was an increase in awareness of eBay's advertising during this period — the most significant increase occurring in the days leading up to July 11.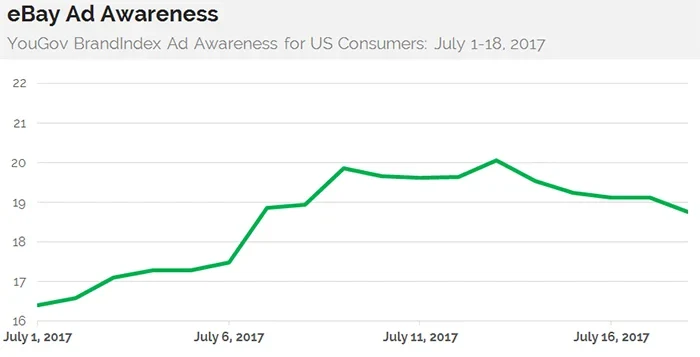 YouGov BrandIndex (www.brandindex.com) is the only daily consumer perception research service of brands, taking more than 4,800 interviews every day from a representative US population sample, and more than 1.5 million interviews per year. Respondents are drawn from an online panel of more than 1.8 MM US adults aged 18+.
Disclaimer: YouGov for Traders and the data contained within this article do not constitute investment advice.