A Majority of Americans feel the recent stock market anxiety driven by coronavirus fears will have a lasting impact on the economy.
According to a survey taken of more than 7,000 Americans, more than half (56%) feel as though a recent drop in stock prices will have at least somewhat of an impact on the economy in the long term, with more than one in five (21%) saying it will have a strong impact.
On the flipside, roughly three in 10 Americans (31%) say recent stock market turmoil won't have much or an impact or no impact at all.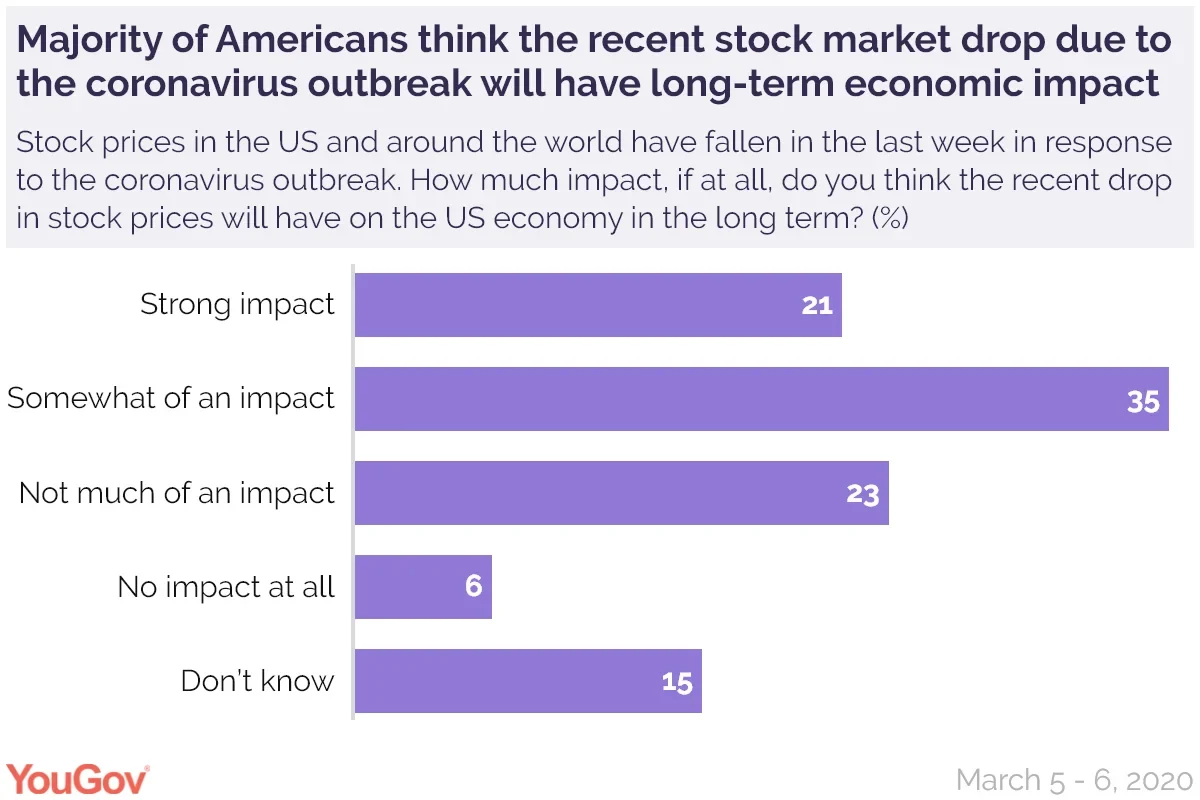 Following more than a week of market uncertainty, investors awoke on Monday March 9 to a plummeting Dow Jones and S&P 500 yet again. The latest sell-off even triggered a key market circuit breaker, which automatically halts trading for 15 minutes during sharp market declines.
In response to recent market unrest, the Federal Reserve pushed through an emergency rate cut on March 3 — the first it's done so since the 2008 financial crisis. On March 6, US Bureau of Labor Statistics also reported the economy added 273,000 jobs in February, results from before market fears set in.
The markets are responding to a number of fears, including supply-chain issues that have affected several industries, as well as an expectation that consumers will stay home and avoid shopping, events and travel.
Shortly before the Wall Street panic set in, recession fears among Americans tracked monthly by YouGov showed little change compared to recent months, with roughly one in five US adults (21%) saying they believe a major economic recession will arrive within a year (up slightly from 18% in January but in line with 21% in December).
Methodology: Total unweighted sample size was 7,050 US adults. The figures have been weighted and are representative of all US adults (ages 18+). Interviews were conducted online between March 5 - 6, 2020. For further information, please email pr@yougov.com.
Image: Getty
More coronavirus findings from YouGov
February 6: America isn't overly concerned about coronavirus but still want action
February 17: How do attitudes to coronavirus differ across the world?
February 26: Corona beer brand is impacted by the coronavirus news
March 3: Lysol Brand Sees Boost Amid COVID-19 Concerns
March 6: Uber Eats, Blue Apron brands see gains as Americans told to stay home