Most Americans would be glad to ban vaping, according to the latest Economist/YouGov Poll, with support for the ban across gender, partisanship, and age groups—although younger adults and current smokers express more opposition. Still, majorities in all these groups favor a ban.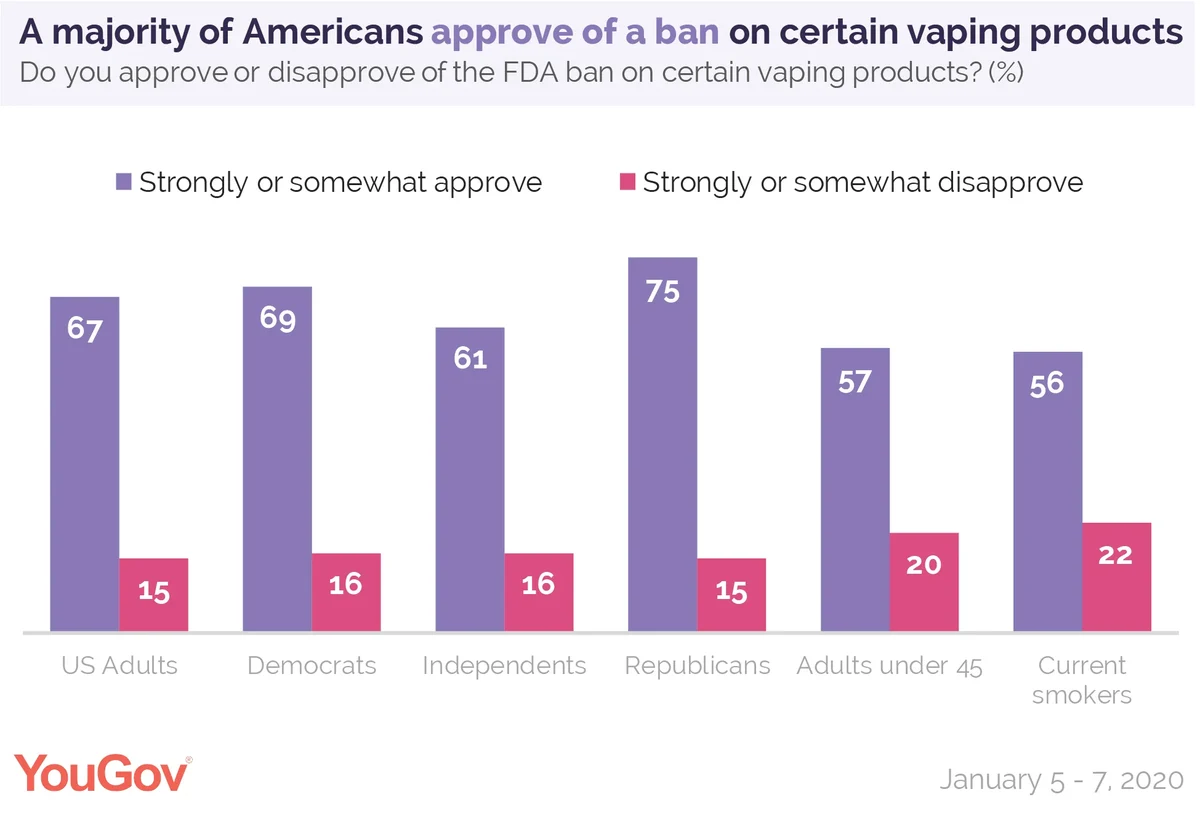 Last week, the US Food and Drug Administration banned the manufacture and sale of most flavored vaping products, with an exception granted for tobacco and menthol. The decision came after more than 50 people died across 27 states due to vaping-related complications. Over 2,500 people have been hospitalized.
Despite the overwhelming support for the ban, those who use e-cigarettes and vaporizers to are less likely to approve of the new policy. Nearly two in five (39%) of this relatively small group approves of the ban, 47% do not.
People aren't just vaping tobacco or nicotine products. While smoking continues to be the most popular way of consuming marijuana (22%), edibles are also popular (19%). And 11 percent say they have taken vaped marijuana concentrate. However, no matter how people consume marijuana, majorities in all these groups support a vaping ban.
About half of adults under the age of 65 have used marijuana in some form. Those 65 and older, which includes the first wave of the post-World War II baby boom, are much less likely to say they have used marijuana.
The legal use of recreational marijuana has spread to eleven states, as Illinois now permits the use of recreational marijuana. Many more states (39, including the 11 that have legalized non-medical use) allow marijuana use for medical reasons, though a few of those states limit its use to CBD oil. By two to one, Americans support legalizing marijuana use in general, though, on this question, gender, party, and age groups have different points of view.