Canada and the United States may share a continent and border, but each country has responded differently to the coronavirus crisis. Since March, YouGov surveyed adults in each country on their behaviors during the pandemic as well as how they perceive the federal response in their respective nations. The trackers reveal variations in the number of people in each country who say they wear face masks in public and point to new lows in the perception of how each government is handling the issue of COVID-19.
In August, the share of Americans who say they wear a face mask in public sits at 81 percent — an all-time high since the survey was first administered in March and when just seven percent of Americans reported wearing a mask. The Centers for Disease Control and Prevention recommends that people wear masks in public especially in places where it is difficult to maintain six feet of distance. Despite this recommendation from the CDC and similar ones from other scientific communities, face masks remain a contentious issue in American politics.
Some argue that forcing people to wear masks is an infringement of individual freedoms and that it should be a personal choice on whether to wear one. But most Americans would support a national mask mandate if it came. Better than two-thirds of Americans (67%), including most registered voters (71%), say they would support such a policy, according to separate polling conducted by The Economist/YouGov.
Compared to Americans, Canadians were slower to adopt mask use, but have since caught up. As of August 19, 80 percent of Canadians say they wear a mask when in a public place, most likely spurred by successive mandates put in place by provinces and major Canadian cities, including Toronto, Montreal and Ottawa.
But mask mandates remain a patchwork in Canada. The prairie province of Manitoba, for instance, is right now experiencing a significant spike in cases, but right now, does not have any provincewide mask mandate in place.



The first cases of coronavirus reached the shores of the United States and Canada at roughly the same time, yet there are sharp differences in how people in each country rate their government's response to the outbreak.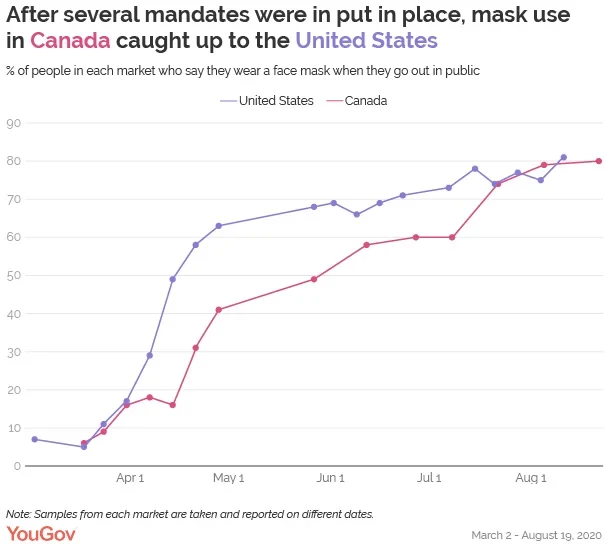 As of August, 75 percent of Canadians say their government did well in the handling of the novel coronavirus. That perception of the Canadian government's performance on COVID-19 has been high, as provincial premiers and the federal government have been largely working in concert to address the health and economic effects of the virus. But government perception has slipped from its high of 80 percent who said the government was doing well at the end of June, to 74 percent in mid-August. In that time, Prime Minister Justin Trudeau's Liberal government has been marred scandal after it awarded a $912-million contract to WE Charity — with which Trudeau and his family has ties — to administer a coronavirus-related youth grant program without going through a bidding process. The scandal has led to the resignation of Finance Minister Bill Morneau, a prorogued (suspended) parliament, and a forthcoming confidence vote in September which could trigger a snap election.
Just across the border, American approval of their government's handling of COVID-19 declined with each ensuing month of the outbreak. When an estimated 3,000 deaths related to COVID-19 were recorded in late March, a bare majority of Americans (51%) thought the United States government was handling the issue well. The coronavirus death toll in the United States eventually reached 170,000 in August and American approval of how the government was handling the issue slipped to 38 percent — a 12-point decrease in five months.

Read more about our international COVID-19 trackers on face mask usage and government handling