Our New Partnership
YouGov has partnered with The Huffington Post to conduct daily public opinion polls on the issues of the day, and provide a polling widget allowing readers of the online news site to compare their views to those of the nation as a whole.
Become a YouGov Panelist
Tell the world what you think about the issues dominating public debate such as health care, the political landscape, gun control, gay marriage, bias in the media, and more. When you join the YouGov panel you are joining a worldwide community of people who like to express and share their opinions. By participating in our surveys you earn points and win prizes.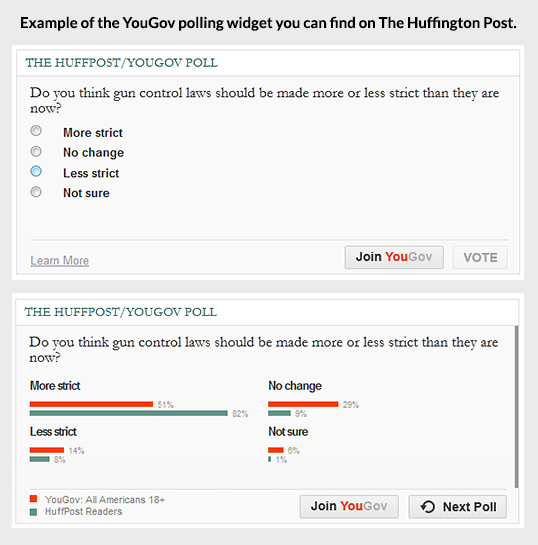 Read YouGov survey results published on The Huffington Post.
Methodology
YouGov's general population samples are selected from its panel to match the distribution of demographics and other characteristics in the adult U.S. population: age, race, gender, education, employment, income, marital status, number of children (from the 2010 American Community Survey), voter registration, time and location of internet access (from the Current Population November 2010 and October 2009 supplements), interest in politics, religion, and church attendance (from the Pew Religious Landscape Survey of 2008).
Stratified subsamples (on four demographics) are selected from YouGov's opt-in panel and invited to participate in surveys. Samples are weighted by propensity score deciles estimated from the remaining variables using a case-control logistic regression.