Majorities in Germany, Britain and the United States now support trade sanctions, but the French remain more hesitant
Russia has announced a year-long ban on the import of foods from the EU, United States and several other Western nations in response to sanctions imposed against Russia by the West. Russian Prime Minister Dmitry Medvedev said Moscow would also be banning flights from Ukraine from entering Russian airspace and would consider a similar ban against European and American flights.
YouGov's latest research into public opinion on the crisis in Ukraine finds that support has held up for trade sanctions in Germany and Britain since the immediate aftermath of the downing of flight MH17 over Ukraine, and that the American public is mostly on-board as well.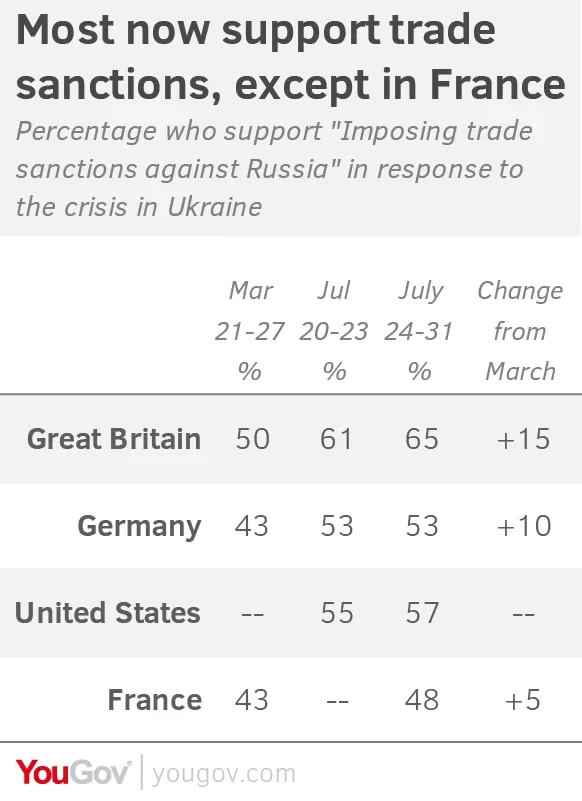 The survey was conducted before the announcement of counter-sanctions by Russia, but after the announcement of the latest round of sanctions by the EU and the United States.
As it stands, the majority of the public support sanctions in the United States, Great Britain and Germany. In France, however, the level of support is only slightly higher than where it was in March, at 48%. Only 25% oppose sanctions in Frace.
Because of Germany's reliance on Russian energy, British ties with Russian banking, and French arms deals with Russia – all of which were affected by the new Western-backed sanctions – these three countries are particularly vulnerable to economic damage as a result of the sanctions, even without counter-sanctions like those announced by Moscow today.
In contrast to their Western allies, the French also tend to see the conflict between Ukraine and Russia as a limited, regional issue. By wide margins people in Britain and Germany – and to a lesser, but still significant extent in the United States – think the crisis is something that should concern their domestic governments and other Western governments. In France, the public is divided, and narrowly tend to say the situation should remain a matter between Russian and Ukraine only.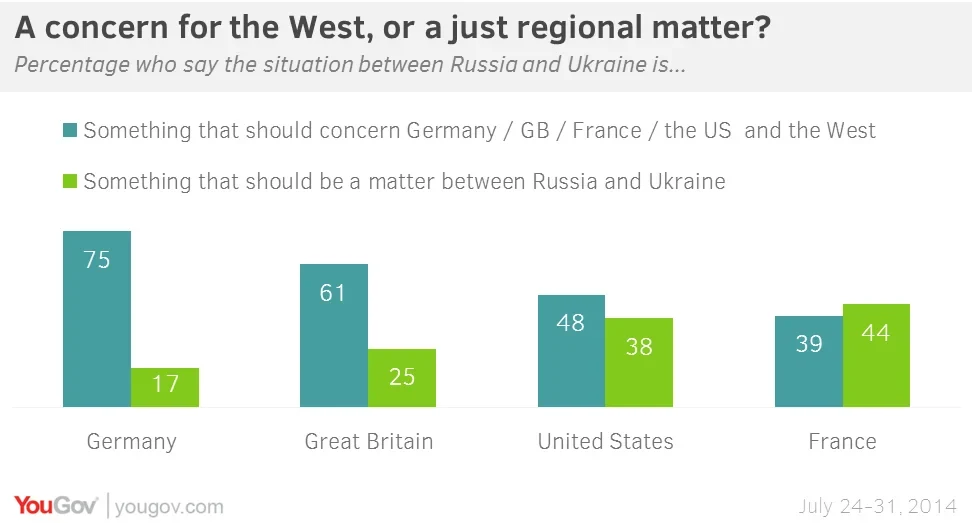 Continuing French pessimism
YouGov's polling finds that France stands out in another way – the public there remain particularly negative about their government and their economy.
Three-quarters (75%) of the French public disapprove of the job their government is doing, compared to only about half in Britain (50%) and Germany (51%). (In the United States, just over half disapprove of the job President Barack Obama is doing and about two thirds disapprove of Congress.)
The majority of the German and British publics also say their country's economy will get better or at least stay about the same over the next 12 months – 66% in Germany and 73% in Britain. Only 28% of the French say the same. Two-thirds (68%) expect the French economy to get worse.
Image: PA
See the full European poll results