Europe's summer of economic optimism is over, according to the latest data from YouGov's EuroTrack survey, which tracks economic sentiment across seven European nations
Economic confidence has fallen from recent highs in most of the countries polled, which include Germany, France and Great Britain – the continent's three largest economies.
YouGov's EuroTrack asks people in each of the seven nations if they expect their country's economy to get better or worse over the next 12 months. The question has been asked since the end of 2012. Taken as a net score (subtracting the percentage who expect the economy to get worse from those who expect it to get better), economic optimism in most countries generally rose at the end of 2013 and the beginning of 2014, but has fallen since then.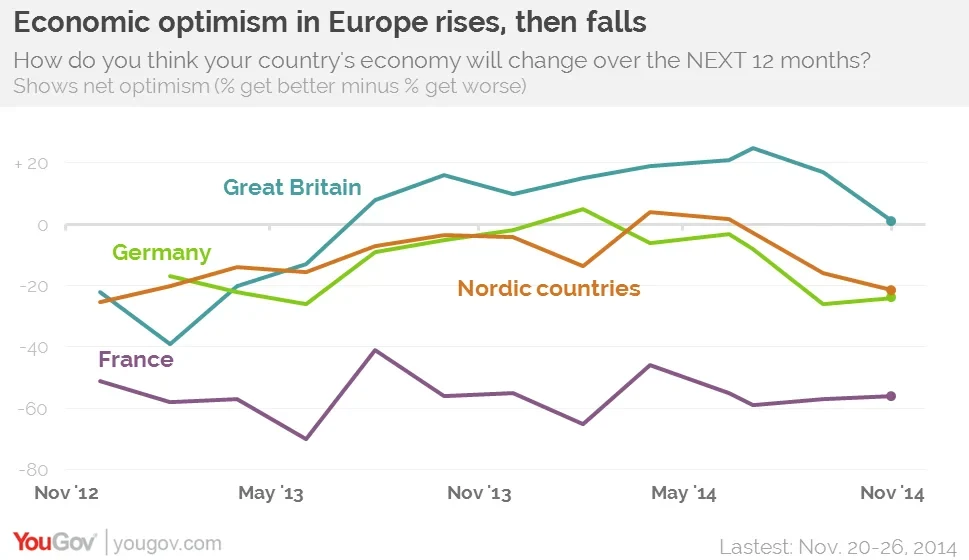 Great Britain, for instance, reached +25 in July, and has settled back down to +1 this November. The Nordic countries (Denmark, Norway, Sweden and Finland) averaged together reached +4 in April, but have now fallen back down to -22.
In Germany, Europe's economic powerhouse, economic optimism peaked +5 in February. It now rests deep in negative territory, at -24.
France actually reached its high of -41 in August 2013, but nearly matched that in April 2014 (-46). The French have been especially pessimistic since at least 2012, and little has changed there since – the French score for November 2014, -56, is actually an improvement from an all-time low of -70 (June 2013), but remains lower than any of the other nations polled.
The same trend – a peak in good feelings during the spring and summer of 2014, followed by a decline – is also seen in ratings of each country's economic performance over the previous 12 months.
As for respondents' feelings about their personal financial situtation, sentiment rose over the course of 2013, but has been generally flat during 2014.
Some European economies showed signs of improvement early in 2014, but an escalating sanctions campaign against Russia and continued problems with low inflation have dampened economic prospects across the continent.