And only 25% of Americans think we should pull out of the Iranian nuclear deal
Foreign policy success may all come down to respect. In the latest Economist/YouGov Poll, the public thinks President Donald Trump and world leaders don't get much respect from each other.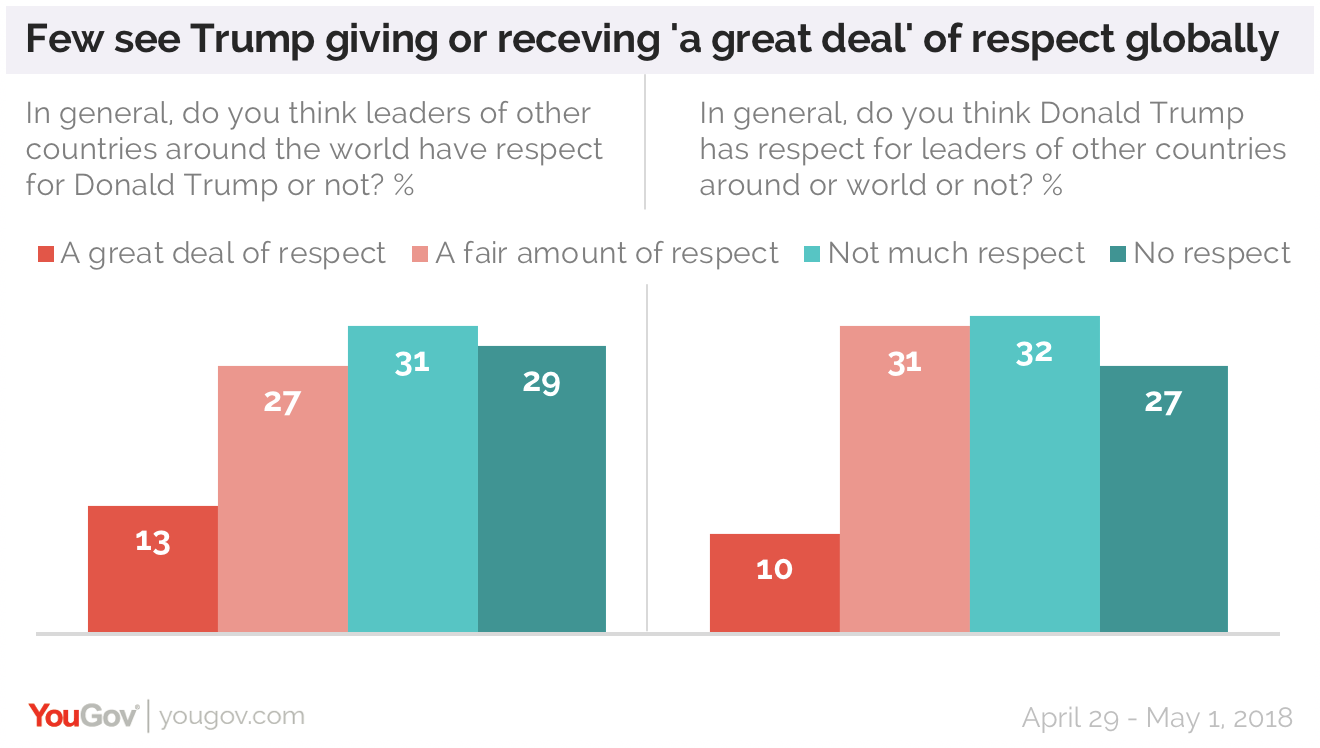 Majorities see each side having "not much" or even "no respect" for the other. Republicans say there is respect on both sides, though less than a third of Republicans think there is a "great deal" of respect for President Trump from world leaders, and even fewer (23%) say he gives those leaders a great deal of respect.
Two years into Barack Obama's first term, 56% thought world leaders had at least some respect for the Democrat.
This week's poll was conducted following two trips to the United State by leaders of two important European allies – President Emmanuel Macron of France and German Chancellor Angela Merkel. Americans think of both of those countries as friends or allies of the US, and both leaders are liked by Americans, though many have no opinion.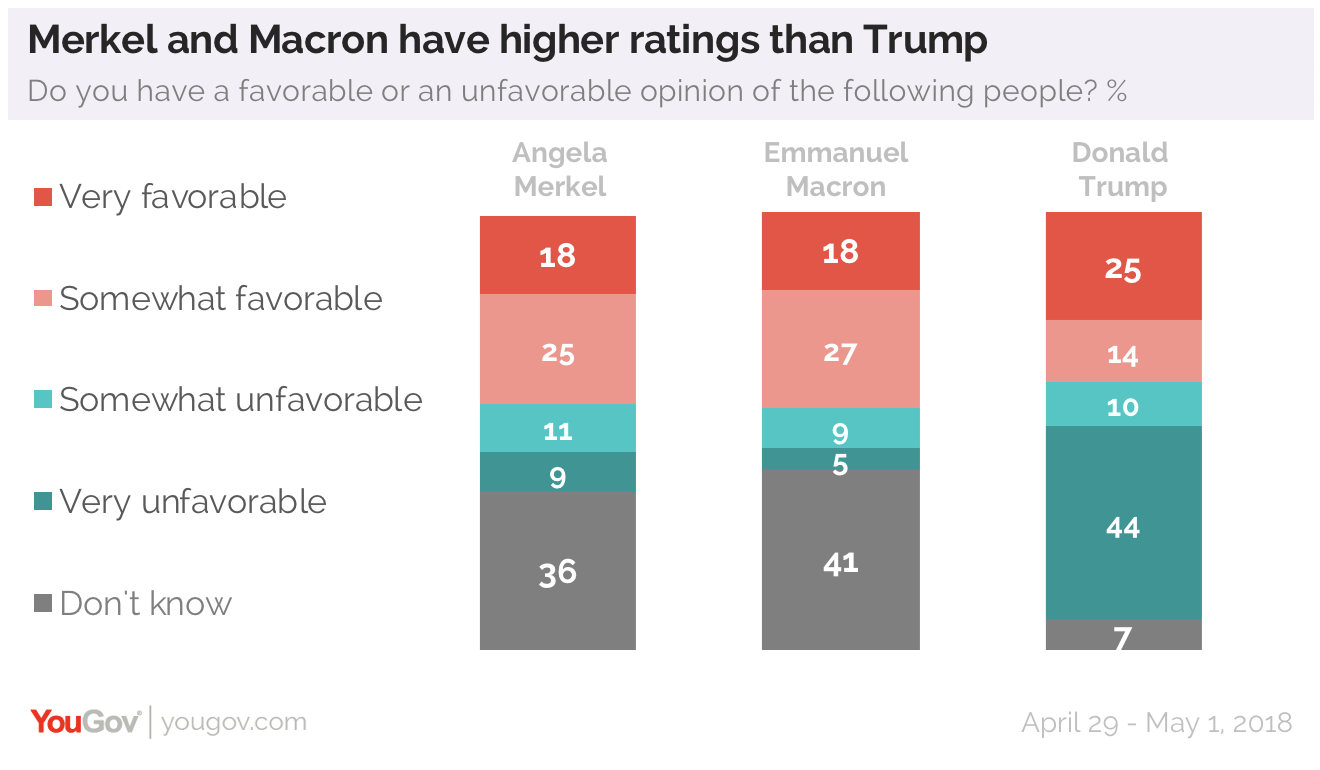 Just 38% approve of the way President Trump is handling foreign policy, but there is one area where he gets a positive evaluation: his dealing with North Korea. 43% approve of his handling of that country, 38% disapprove. In this case, the President is dealing with a leader whom Americans overwhelmingly dislike – just 7% have a favorable opinion of Kim Jong-un. Still, Americans overwhelmingly support negotiations with the North Korean leader (69% to 10%).
Public support for direct talks exists despite the relatively low expectations for a US-North Korea summit. As many think they are just for show as believe they will be an important step forward. There are potential stumbling blocks, including the leaders themselves. Only 8% regard Kim Jong-un as an "honorable man." Eight times as many disagree. For comparison, 30% say President Trump is "honest and trustworthy," and 54% do not.
But American do think advances are possible from the summit between the leaders of North Korea and South Korea, in terms of ending the Korean War and allowing travel and trade between the two countries.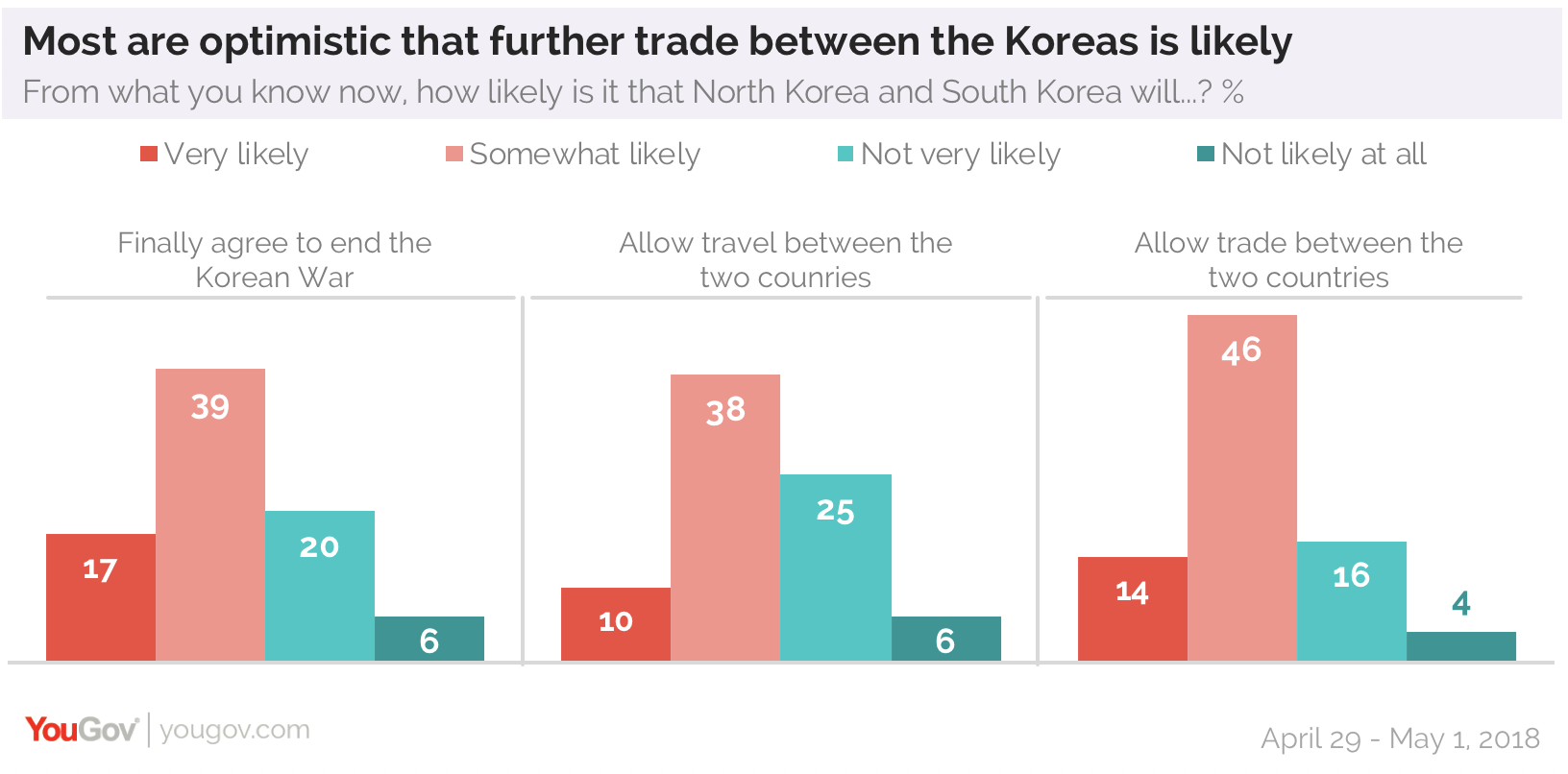 The big issue in US talks with North Korea is the North Korean nuclear program. That is also the problem the President is confronting as he decides whether to continue or to withdraw from the multi-nation agreement with Iran. The agreement prevents Iran from developing nuclear weapons, and provides for inspections of its facilities. It is an agreement the President criticized throughout his campaign, and the next date when the US must ratify that Iran has been following the agreement is coming up on May 12.
Iran's and North Korea's programs are both seen as threats by Americans. 54% say Iran's program poses at least a somewhat serious threat to the US. Even more (64%) say the same about North Korea's program, which has already developed nuclear weapons.
Although four in ten believe that the United States could get a better deal from Iran, there is opposition to withdrawing the US from the agreement. But many aren't sure.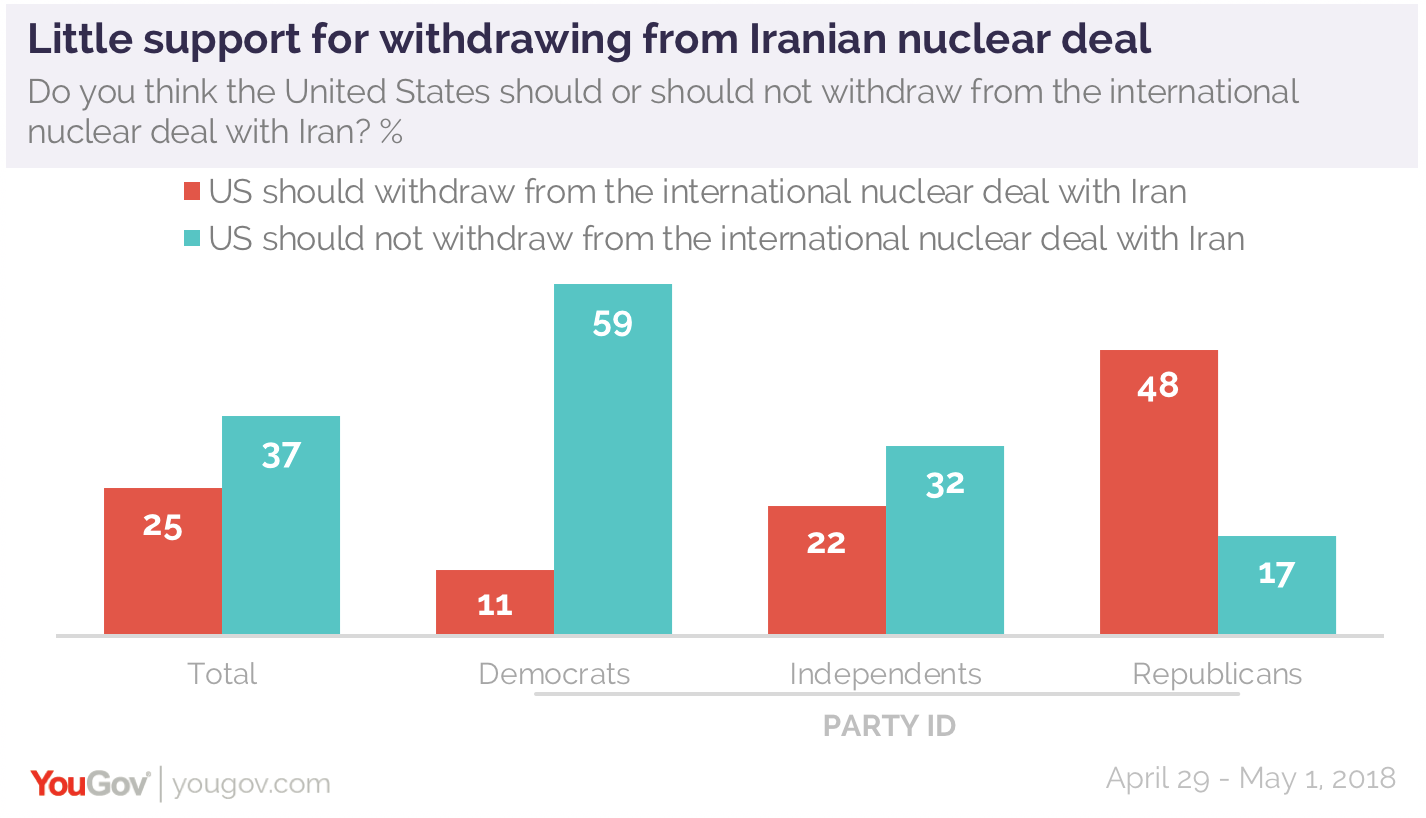 Nearly half of Republicans favor withdrawal from the agreement, while Democrats and independents do not.
There is some worry that withdrawing from the Iran deal could impact the President's ability to negotiate with North Korea: 29% believe it will make securing a deal harder. Republicans are more hopeful it will make a North Korea deal easier, though that position is expressed by just 26% of Republicans.
There is one standout in the President's foreign policy team: United Nations Ambassador Nikki Haley. Unlike new Secretary of State Mike Pompeo or new National Security Advisor John Bolton, Americans think well of Haley. Even Democrats are as likely to say they have a favorable as unfavorable opinion of her.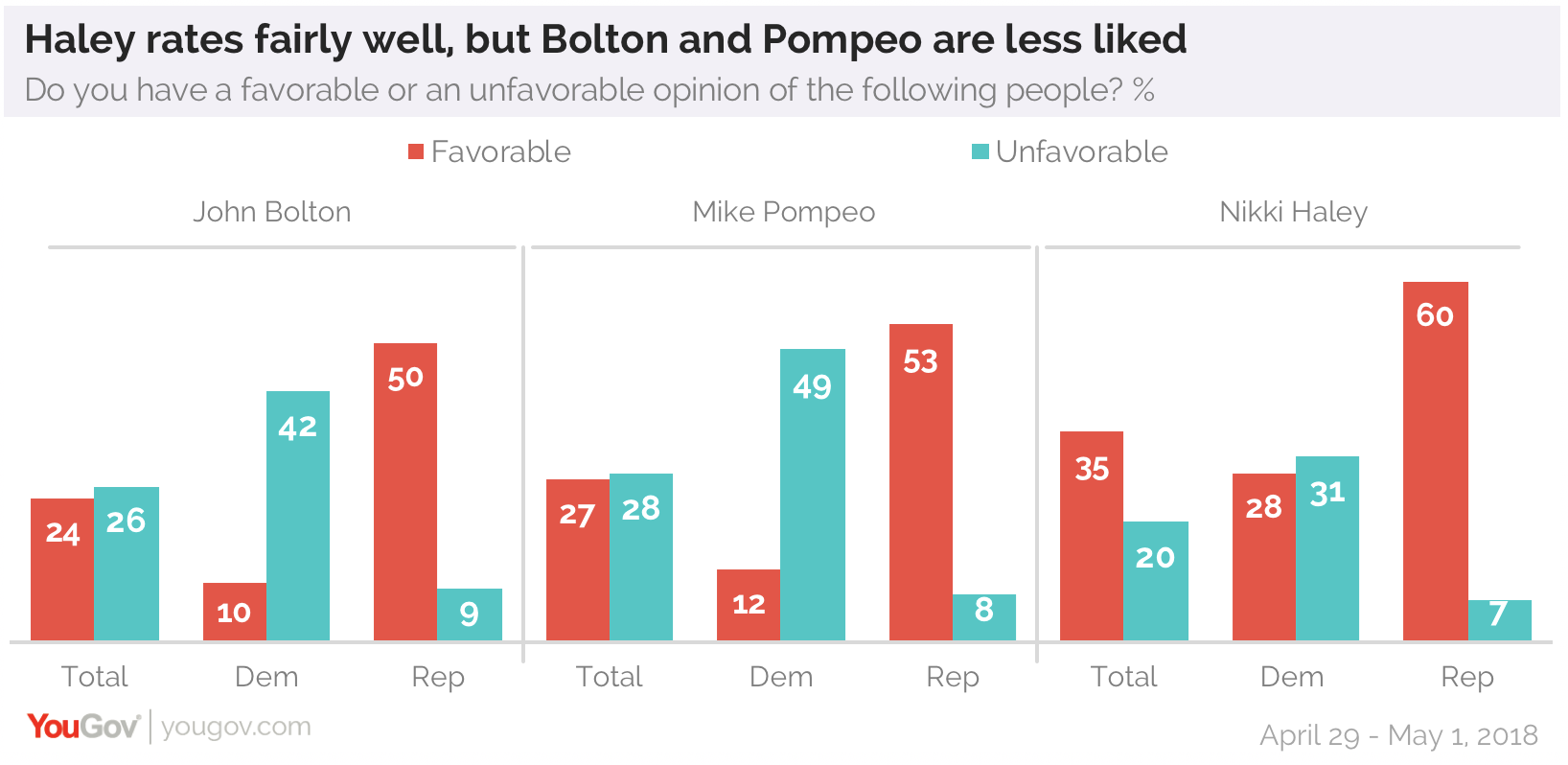 While Haley has been U.N. Ambassador since the beginning of President Trump's term, both Pompeo and Bolton are replacements. And the public has noticed the number of changes in officeholders so far in this Administration. The vast majority of those with an opinion believe there have been more resignations and firings of senior government officials in this Administration than usual. And this is generally a bipartisan view.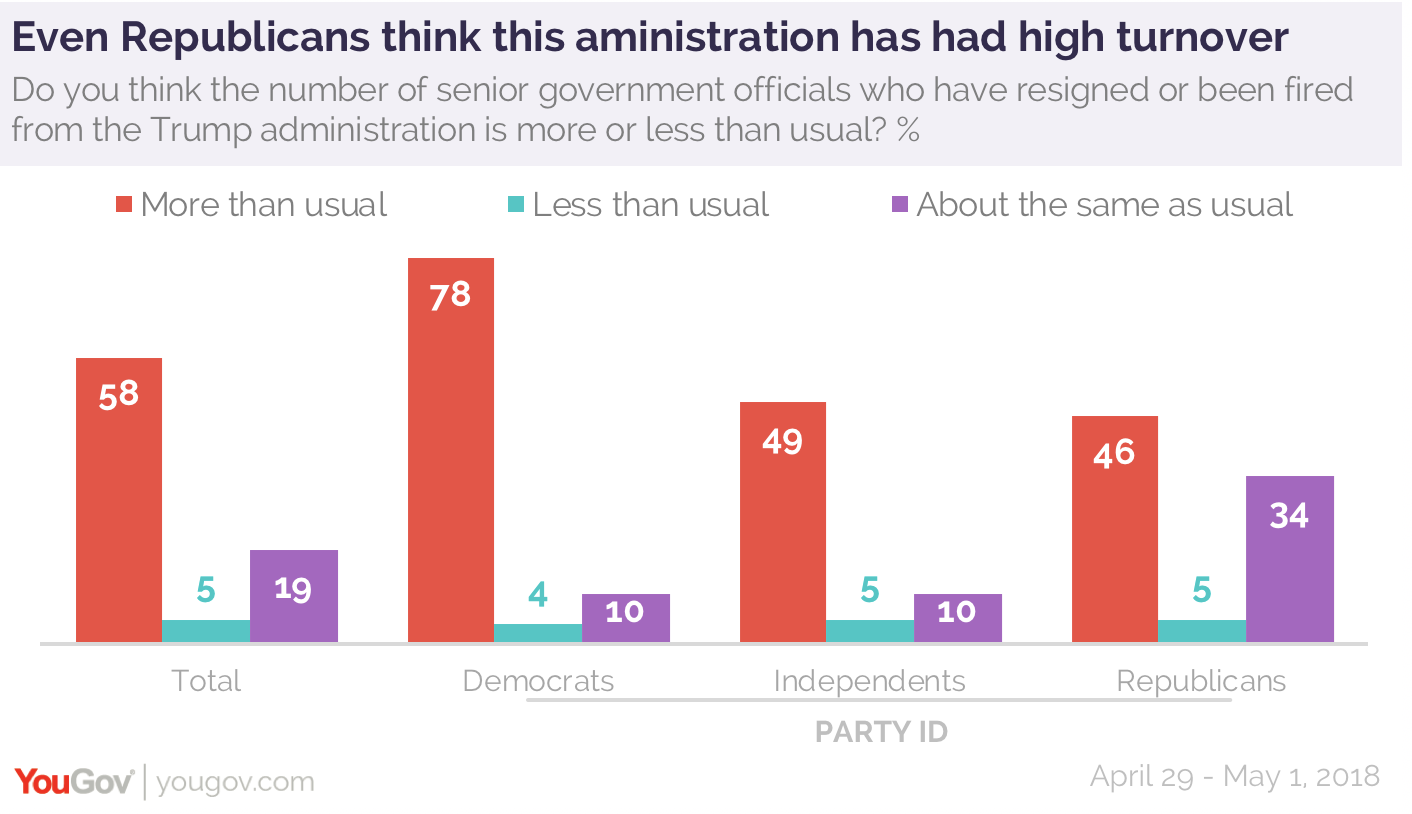 Read more toplines and tables results here
Photo: Getty