Just 37% of Americans believe the Trump-Kim meeting will be an important step forward
With the historic off-again and on-again summit between President Donald Trump and North Korean leader Kim Jong-un now less than a week away, Americans in the latest Economist/YouGov Poll remain dubious about what they can expect from the meeting. They are divided on just how good a negotiator President Trump really is.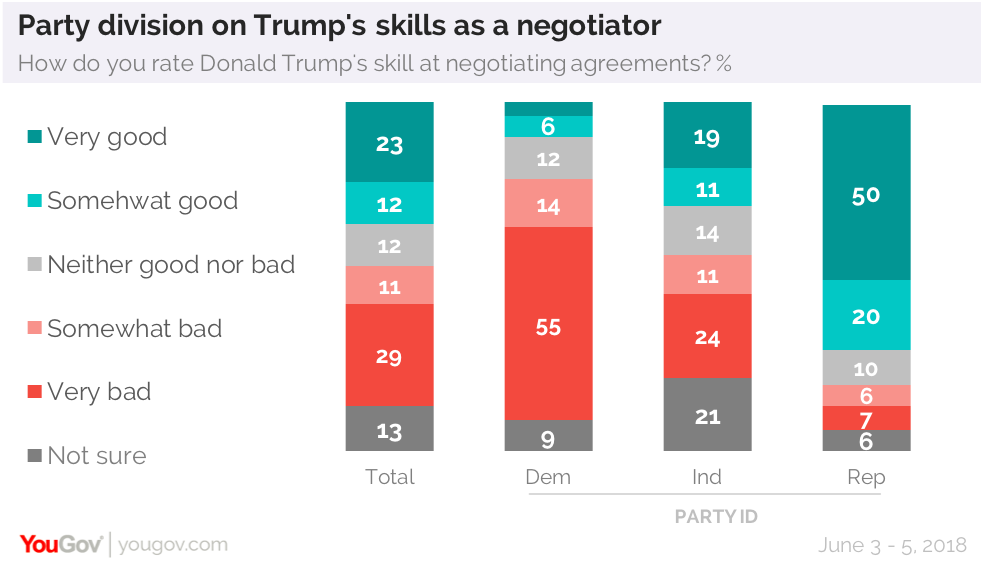 Just over a third rate the President as a good negotiator, but slightly more rate the entrepreneur-President as a bad one. Half of Republicans describe the President's negotiating skills as "very good;" more than half of Democrats say they are "very bad." Independents are divided.
That same party division exists in the assessment of President Trump's handling of North Korea – a country that more than half the public continues to regard as an enemy of the United States. Two-thirds believe its nuclear program is a serious threat to the United States. In this week's poll, 40% approve of how the President is handling North Korea, while 43% disapprove. The percentage approving has slipped in the last few weeks in the period of uncertainty about a summit meeting actually taking place. Americans have consistently favored direct talks with the Hermit Kingdom's leadership.
While the public believes next week's meeting will take place, there is division about its long-term impact. 42% say it will be more for show; just 37% believe it will be an important step forward. Less than a third believe it will make relations between the two countries better.
The U.S.'s goal for the meeting is the denuclearization of the Korean peninsula, which would require North Korea to give up its nuclear program. That's not something Americans expect will happen.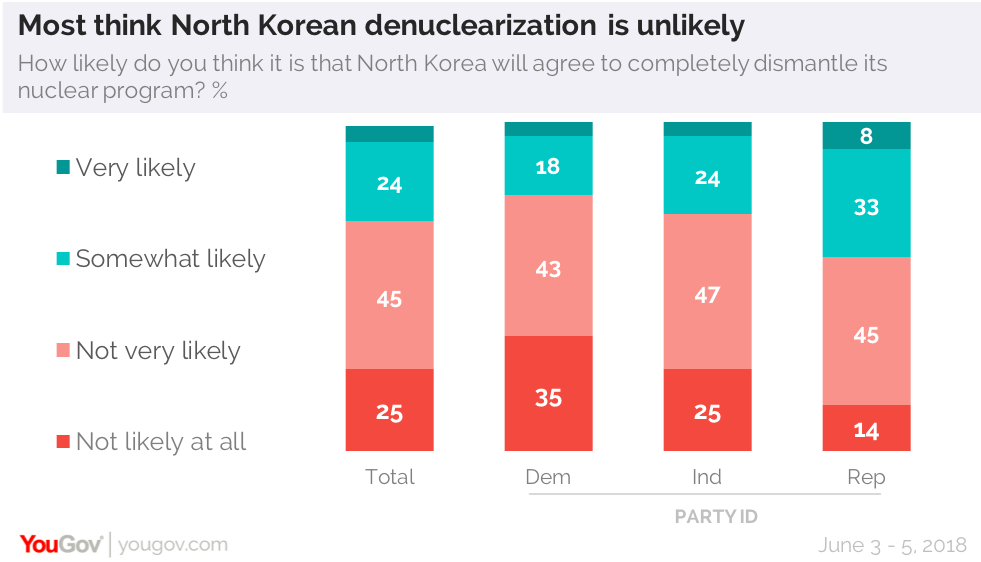 More Republicans are hopeful, but a majority of them still finds that outcome unlikely.
The President's overall approval rating remains low: 39% approve, 53% do not. With few exceptions, that has been where his approval rating has stayed throughout this year. It peaked in early May when the first discussions about a possible summit took place. Although Americans aren't sure the talks will be successful in meeting the goal of denuclearization, if they are successful, it could improve public evaluation of the President's negotiating skills and his job performance.
Read more topline and tables results here.
Photo: Getty