In recent months, tensions between China and Taiwan have risen, leading some to question what role the U.S. should play in the conflict. Consistent with our polling from last summer, new findings from the Economist and YouGov show that many Americans remain committed to protecting Taiwan from Chinese interference. By 51% to 24%, Americans say it is more important for the U.S. "to take a strong stand so that China does not take over Taiwan by force" than "for the U.S. to maintain good relations with China."
An even larger share of people who are paying close attention to the conflict hold this view: 70% of Americans who say they've heard a lot about relations between China and Taiwan think the U.S. should take a strong stand to prevent a Chinese takeover of Taiwan. Views on the issue are bipartisan, with roughly equal shares of Democrats (55%) and Republicans (58%) saying it's best to take a strong stand.
By 37% to 22%, Americans say that if an armed conflict were to arise between China and Taiwan, the "U.S. should help protect Taiwan with military force." A large share (41%), however, say that they don't know enough about the topic to offer an opinion. People who have heard a lot about the conflict are especially likely to support the U.S. military intervening in such a scenario: 63% say the U.S. should help protect Taiwan with military force, while just 25% say it should not. Opinions on this question are also bipartisan, with Democrats and Republicans holding similar views.
Three-quarters of Americans view China as either an enemy (40%) or unfriendly to the U.S. (35%), while Taiwan is seen by most as either an ally (24%) or a friend (37%). Over the past few months, a growing share of Americans have come to view China as an enemy. Prior to 2020, only around one in five or fewer said China is an enemy.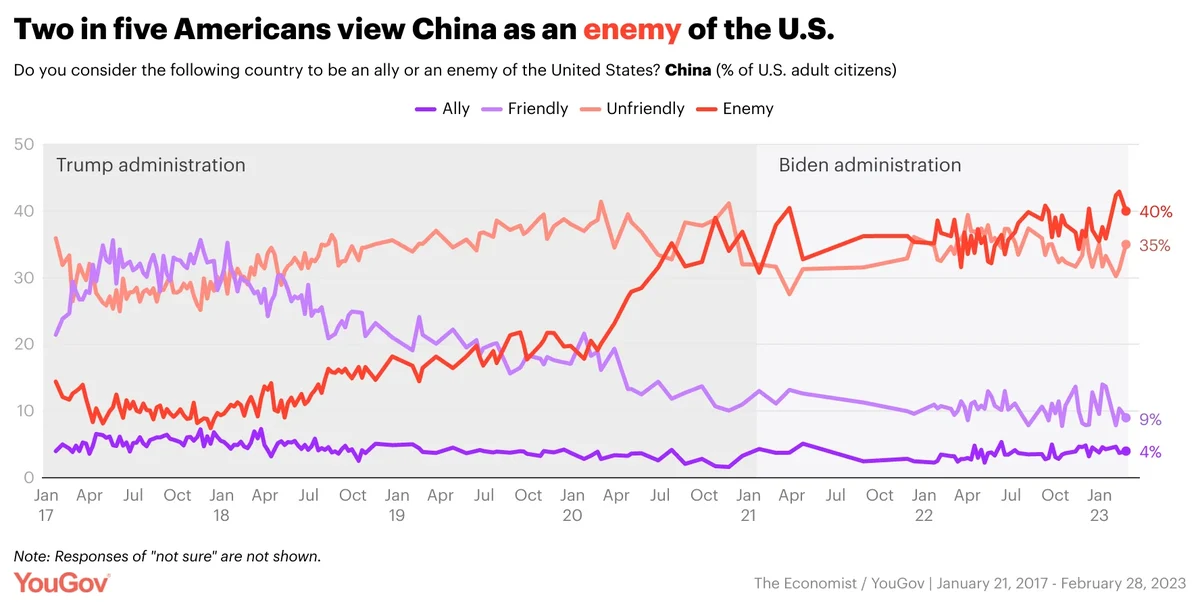 — Carl Bialik and Kathy Frankovic contributed to this article
See the toplines and crosstabs from the Economist/YouGov poll conducted on February 25 - 28, 2023 among 1,500 U.S. adult citizens.
Methodology: Respondents were selected from YouGov's opt-in panel using sample matching. A random sample (stratified by gender, age, race, education, geographic region, and voter registration) was selected from the 2019 American Community Survey. The sample was weighted according to gender, age, race, education, 2020 election turnout and presidential vote, baseline party identification, and current voter registration status. Demographic weighting targets come from the 2019 American Community Survey. Baseline party identification is the respondent's most recent answer given prior to June 1, 2022, and is weighted to the estimated distribution at that time (34% Democratic, 31% Republican). The margin of error for the overall sample is approximately 3%.
Image: Getty Images (bymuratdeniz)