Ties between the United States and China have deteriorated in recent years, straining a once-promising diplomatic partnership between the world's two largest economies and sparking fears of an eventual military or economic showdown. New Economist/YouGov polling examines the views of Americans about relations with China, finding that growing shares see the country as an enemy and as an economic threat.
Americans' perceptions of U.S.-China relations have become more negative over time, particularly since the start of 2020 — near the start of the COVID-19 pandemic. Today, 40% of Americans consider China an enemy of the U.S., while 32% say it is unfriendly, 12% say it is friendly, and 5% say it is an ally.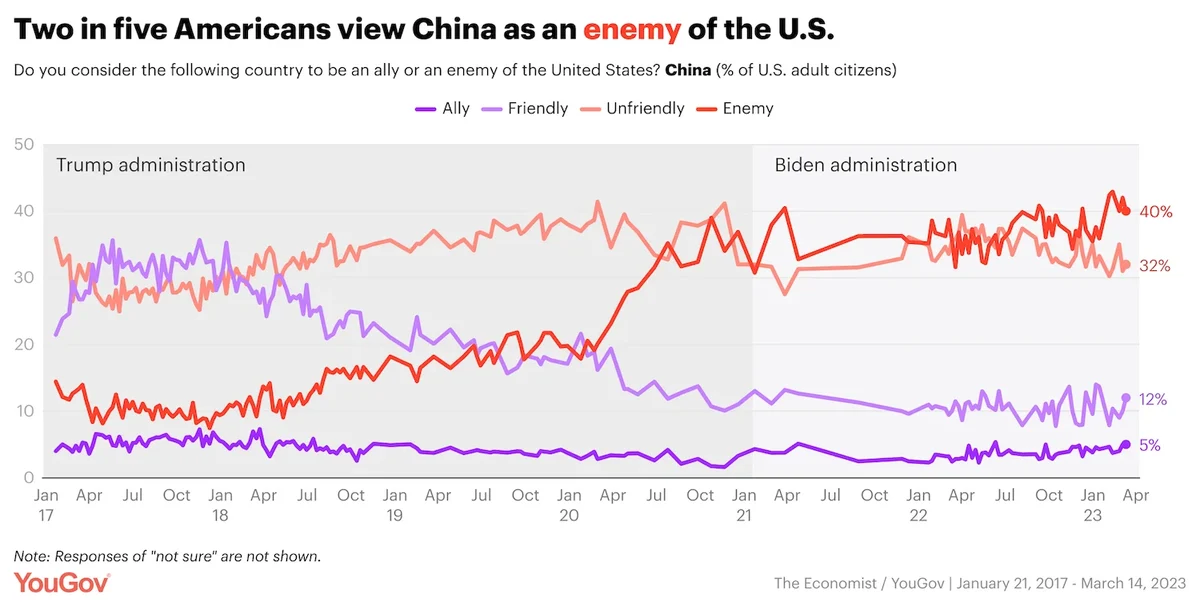 While fewer Americans view China as an enemy (40%) than believe Russia is one (53%), when asked to choose which of the two countries presents a greater threat to U.S. national security, more say China (24%) does than say Russia does (16%). A large share – 43% – say Russia and China are equally great threats, and just 6% say neither is one.
Many Americans continue to view China as a threat to the United States, both militarily and economically: 65% say China is at least a somewhat serious economic threat to the U.S. and 57% say it is at least a somewhat serious military threat.
The share of Americans who view China as an "immediate and serious" economic threat has grown over the past five years — particularly among Republicans. Today, 36% of Republicans say this is the case, double the share who said so in 2018. Democrats' views on China as an economic threat have changed little since 2018.
One 9% of Americans see China's rapid economic rise as having been good for the U.S. Far more see it as either bad (33%) or neither bad nor good (39%). Republicans (45%) are nearly twice as likely as Democrats (25%) to describe China's economic growth as bad for the U.S.
Nearly half of Americans — 45% — say they feel threatened by China as a world superpower, while 36% say they do not feel threatened. Republicans are especially likely to feel threatened by China: 60% say they do, compared to 38% of Democrats and 39% of Independents.
When it comes to managing U.S.-China relations, nearly as many favor closer ties with China (29%) as more distant ones (33%). Republicans are more likely to want more distant relations with China, while Democrats are more likely to prefer closer ones.
Can China and the U.S. both get what they want in the world, or do their interests conflict fundamentally? On this, Americans lean slightly toward conflict: 44% say the two countries' interests conflict fundamentally and 37% say they can both get what they want in the world. Younger American adults are more likely to believe that the U.S. and China can both get what they want, with nearly half of people under 45 saying this is the case. Americans 45 and older are more likely to think that the countries' interests conflict.
— Carl Bialik and Linley Sanders contributed to this article
See the toplines and crosstabs from the Economist/YouGov poll conducted on March 11 - 14, 2023 among 1,500 U.S. adult citizens.
Methodology: Respondents were selected from YouGov's opt-in panel using sample matching. A random sample (stratified by gender, age, race, education, geographic region, and voter registration) was selected from the 2019 American Community Survey. The sample was weighted according to gender, age, race, education, 2020 election turnout and presidential vote, baseline party identification, and current voter registration status. Demographic weighting targets come from the 2019 American Community Survey. Baseline party identification is the respondent's most recent answer given prior to June 1, 2022, and is weighted to the estimated distribution at that time (34% Democratic, 31% Republican). The margin of error for the overall sample is approximately 3%.
Image: Adobe Stock (William W. Potter)