Rick Perry may have overcome doubts about his intelligence, but many questions remain
Texas Governor Rick Perry may be trying to redeem himself with Republican voters after his failed 2012 presidential campaign: his recent activity in the child immigration crisis (deploying 1,000 National Guard to the Mexican border) along with four trips to Iowa in eight months, has made him more visible. But Perry has yet to convince most Republicans that he should run in 2016 or that he has the qualifications to be President, according to the latest Economist/YouGov Poll.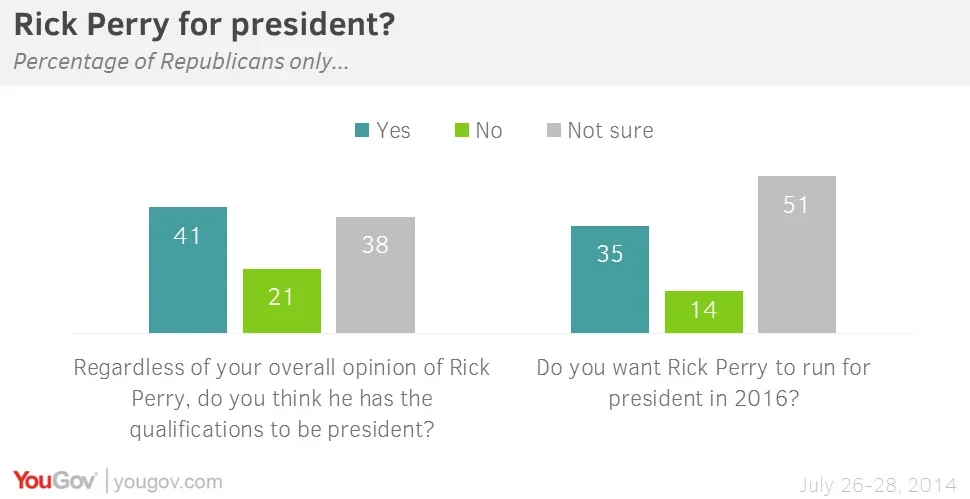 Perry hasn't set himself off from the many other Republicans who may be exploring a 2016 run. He gets favorable ratings from Republicans, but nearly a third aren't sure what they think of him. And the public overall is unfavorable.
Those ratings are similar to those of several other possible Republicans candidates. In this week's poll, only Wisconsin Representative (and 2012 GOP vice presidential nominee) Paul Ryan fares significantly better with Republicans; New Jersey Governor Chris Christie fares significantly worse. But, as with Perry, many Republicans express no opinion about the other candidates.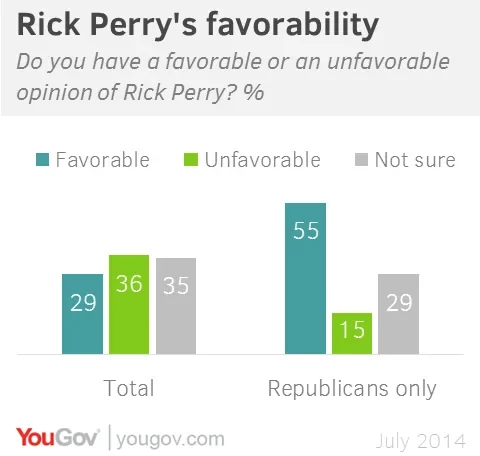 Perry's gaffe in a 2012 GOP debate (when he couldn't remember the third of the three federal departments he planned to eliminate were he elected President), clearly raised questions about his capabilities. And for his detractors, this has become a major part of his image. But Perry has managed to put that concern behind him with Republicans – and with other in the overall public. 40% of Republicans describe him as "very" intelligent, while three-quarters say he is at least somewhat intelligent. And in the public overall, Perry is also viewed as intelligent.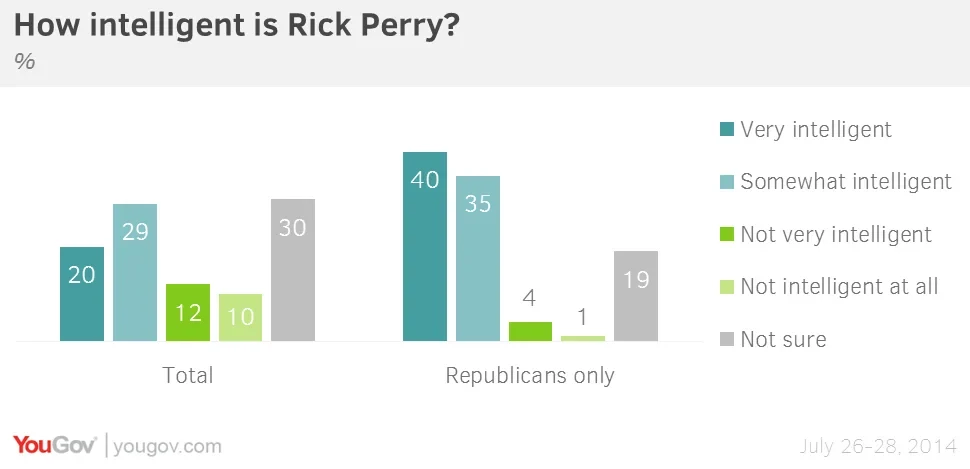 But concerns about his intellectual capabilities remain part of Perry's image among those of all parties who view him negatively. Among the 36% of the public with an unfavorable view of Perry, words raising concerns about his intelligence rank among the most ones Americans use to describe him. His ideology gets comparatively little mention.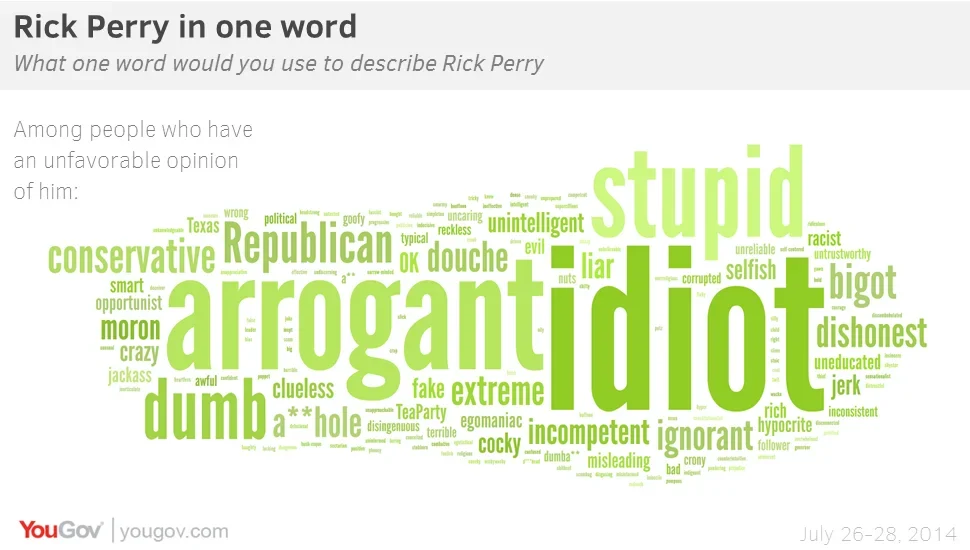 But those who like Perry, which includes more than half of Republicans, like the way he presents himself (the "arrogant" label some of his detractors apply to him turn into "strong," "bold" and "leader" among those with a favorable view of Perry).
In addition, many of those who like Perry also mention his political ideology.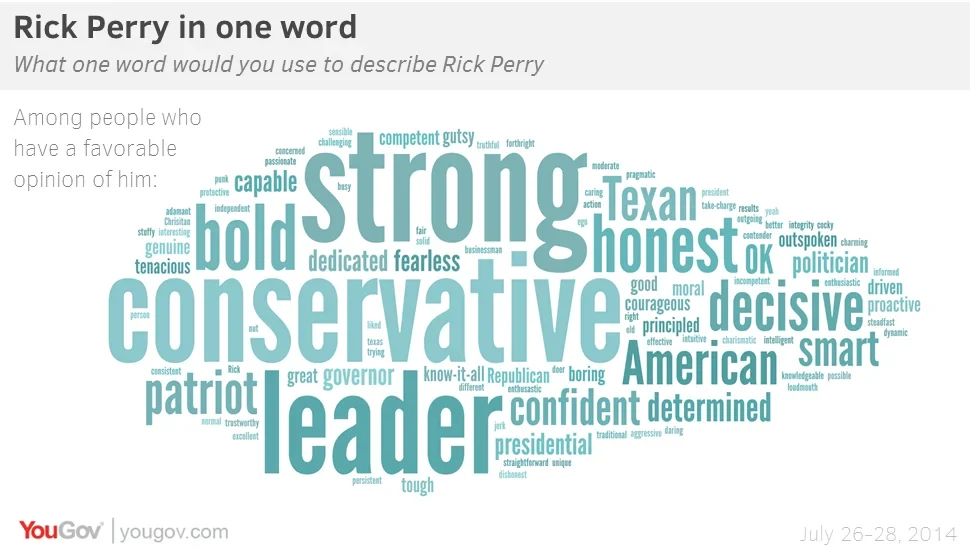 More than half the public (and a similar percentage of Republicans) view Perry as conservative. The 55% of Republicans who describe Perry as conservative is about the same as the percentage of Republicans who say this about Texas Senator Ted Cruz (57%) and Wisconsin Congressman Paul Ryan (56%). More, nearly two-thirds (63%) describe former Arkansas Governor Mike Huckabee as conservative. And in a party where 77% of identifiers say they are personally conservative, being conservative can help in a presidential contest.
Half say Kentucky Senator Rand Paul is conservative, and even fewer say that about Florida Governor Jeb Bush and New Jersey Governor Chris Christie. Just 40% of Republicans call Bush conservative and only 38% say that about Christie.
Perry does well with Republicans on such things as sharing their values (66% agree he does, the same percentage as said that about Mike Huckabee and more than did for other GOP possibilities). By 58% to 19%, Republicans agree that Perry is more likely to say what he really believes, as opposed to what he thinks people want to hear.
But Perry suffers from the same difficulty most other 2016 hopefuls face: at least as of now, less than half of Republicans believe Perry has the qualifications for the job of President. The only two possible candidates that a majority of Republicans believe have those qualifications? Paul Ryan and Mike Huckabee.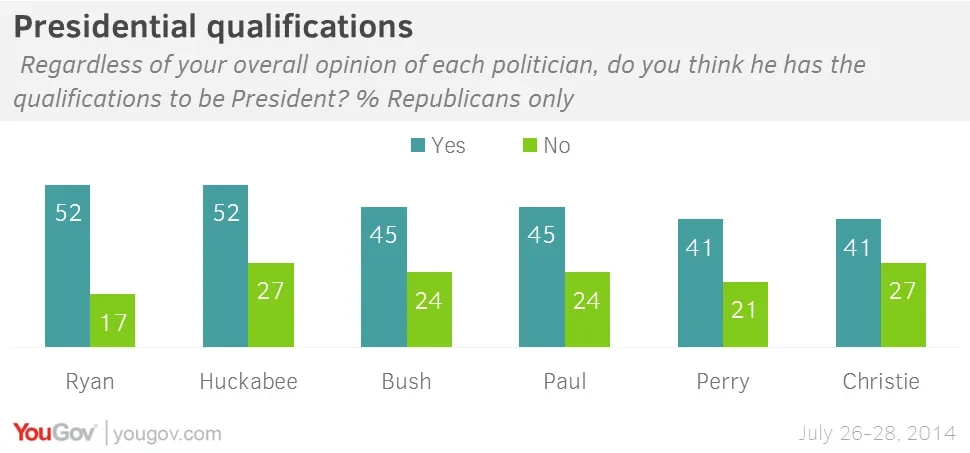 Perry fares better than several other Governors (like Christie) and former Governor (like Bush).
So, it might be no surprise that Republicans aren't sure they want Perry in the 2016 contest. Just over a third do, but 19% do not and the rest aren't sure. Moreover, should Perry run, Republicans are divided on whether or not he is likely to win. By two to one, all adults think he is not.
Image: Getty
Full results can be found here.
Economist/YouGov poll archives can be found here.