A new survey allows a closer look at whether key Democratic voters would break for Hillary Clinton or Elizabeth Warren in a theoretical 2016 match-up
Hillary Clinton will be returning to Iowa later this month to speak at retiring Senator Tom Harkin's annual steak-fry fundraiser. It is a long way from the 2016 Democratic primary, but the move will be seen by many as a political one from the former Secretary of State, who has not visited the state of Iowa since she lost the Democratic primary there in 2008 to Barack Obama. A recent national YouGov survey shows just how formidable a contender the 2008 runner-up could be in a second go-round, even against popular Massachusetts Senator Elizabeth Warren. Some commentators have compared Warren to President Obama for her sudden arrival on the national scene – she was elected in 2012 – and her popularity with the liberal and activist base of the Democratic Party.
For the survey, YouGov gathered the opinions of 3,000 U.S. adults, a larger-than-usual sample size that included over 200 strong liberals (those who identify as "very liberal" in their political views) and nearly 1,000 self-identified Democrats. Asked whether they would vote for Hillary Clinton or Elizabeth Warren in the 2016 Democratic Primary, both groups leaned heavily towards Clinton. The survey was conduced from 22-25 July.
Fully half of Democrats say they would vote for Hillary Clinton in the Democratic primary over Elizabeth Warren, who wins the support of just 10%. About a third of both groups either don't know whom they would vote for or say they probably wouldn't vote in the primary. Warren gets her most substantial support among strong liberals, a quarter (26%) of whom would pick the recently elected senator from Massachusetts. But 39% – over half of those with a preference and expecting to vote – would back Hillary Clinton.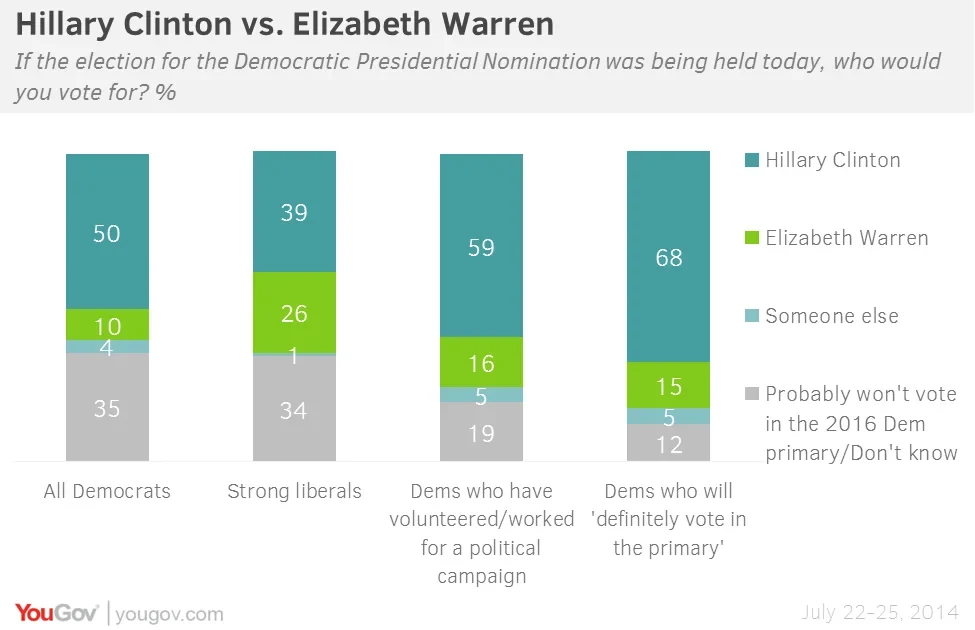 Clinton's support was even higher among Democrats who said they had volunteered or worked for a political campaign. Nearly six in 10 in this group (59%) broke for Hillary Clinton, compared to just 16% for Elizabeth Warren. This was also a group particularly likely to have a preference and say they probably would vote in the primary – only 19% responded that they don't know or probably wouldn't vote, and 85% said they would 'definitely vote' in the 2016 Democratic primary. Within the larger group of all Democrats who 'definitely' plan on voting, Clinton does even better, with the support of over two thirds (68%) compared to 15% for Warren.
Clinton's dominance over the possible rival (though Warren has insisted she will not run) extends to key constituencies of the coalition that helped to elect Barack Obama twice, including blacks (36%-3%), Hispanics (31%-3%), under-30s (17%-4%) and women (23-4%).
As in other 2016 Democratic primary surveys, Clinton likely benefits from greater name recognition. A recent YouGov poll found only 5% of liberals to respond "don't know" when asked how favorably they viewed Hillary Clinton, who has been a national public figure for over 20 years, compared to 29% for Elizabeth Warren, who has only been a senator for two years. Both women are overwhelmingly popular with Democrats.
In Iowa in 2008 then-Senator Hillary Clinton was beaten into third place, falling narrowly behind the 2004 vice-presidential candidate, John Edwards. Both were around 8 points behind Barack Obama, then the junior senator from Illinois, who rode a wave of support from young and first-time caucus voters to victory. But Obama also won among various other groups, including men and women, Democrats and independents, blacks and whites.
Full poll results can be found here.
Image: PA