Most Americans approve of the Pope's efforts to normalize relations between the US and Cuba
In the wake of the historic rapprochement between the United States and Cuba, it has emerged that the Vatican played a crucial role in bringing the two sides together. Last summer Pope Francis sent letters to Obama and Castro calling upon the two to 'resolve humanitarian questions' and build a new relationship. The Vatican also hosted and faciliated some of the first meetings between American and Cuban diplomats.
Research from YouGov shows that most Americans (59%) approve of Pope Francis' efforts to help normalize relations between Cuba and the United States, while 21% disapprove. The Pope's work was most appreciated by Democrats (76%), but even Republicans tended to approve (43%) rather than disapprove (38%) of the Pope's role in mediating between Washington and Havana, despite tending to disapprove of the recent deal to re-establish diplomatic relations.
Catholics (68%) were also more likely than the rest of the country to think that the Pope's efforts were good, though 22% do disapprove of the Pope's intervention in US-Cuba relations.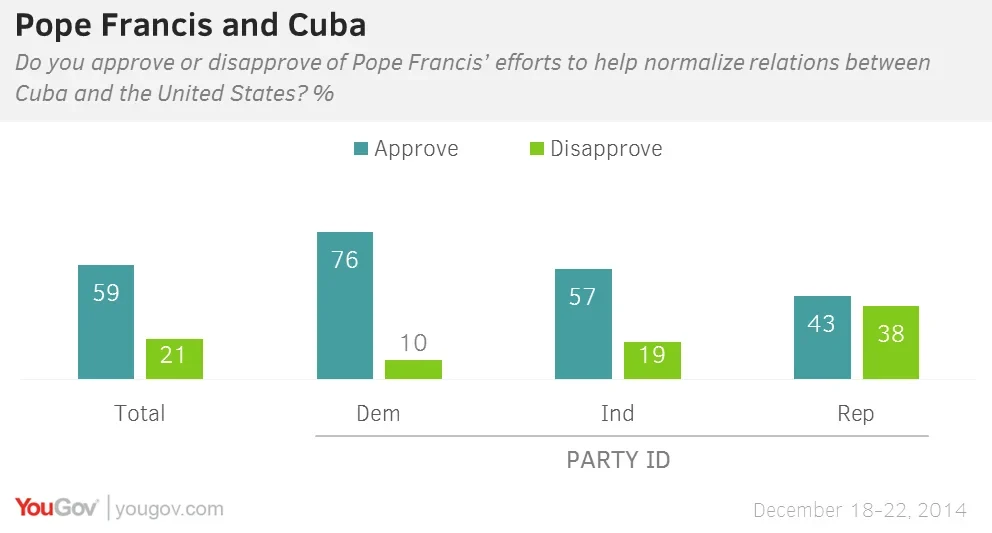 Looking back at Pope John Paul II's efforts to fight the spread of Communism, 69% of Americans approved of his work. This was largely because support for this Papal intervention in world politics was approved of by 73% of Republicans, along with 69% of Democrats.
Asked more generally about whether it is approve for the Pope to try and influence world affairs, just under half (46%) of Americans say that it is an appropriate role for the Pope, while 25% say that it isn't. Catholics (62%) tend to be much more likely than Protestants (46%) to say that this is an appropriate role for the Pope. 20% of Catholics and 25% of Protestants believe that it is inappropriate for the Pope to try and influence world affairs. 38% of agnostics and atheists, and 36% of people with another religion, think that it is OK for the Pope to involve himself in international politics.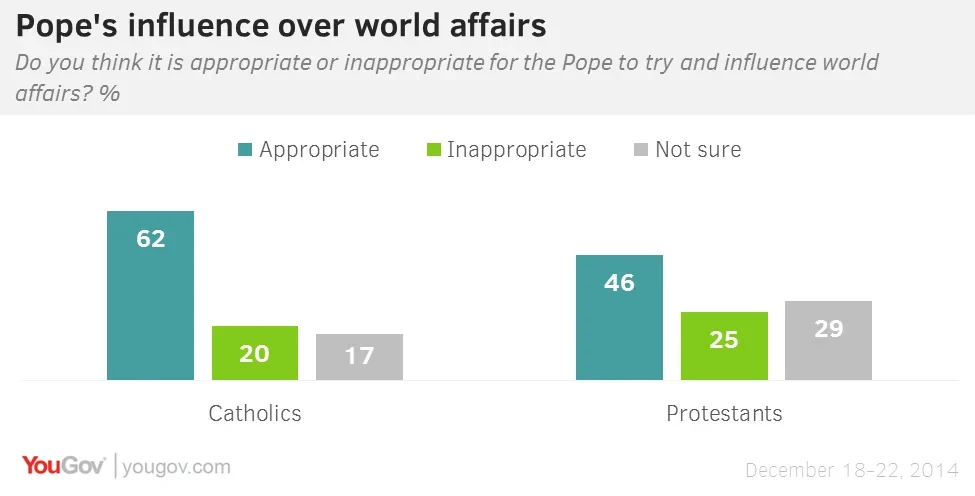 Full poll results can be found here.