Just over a third of Americans support the Iran nuclear deal based on what they know now, but many still say they don't know enough about the deal yet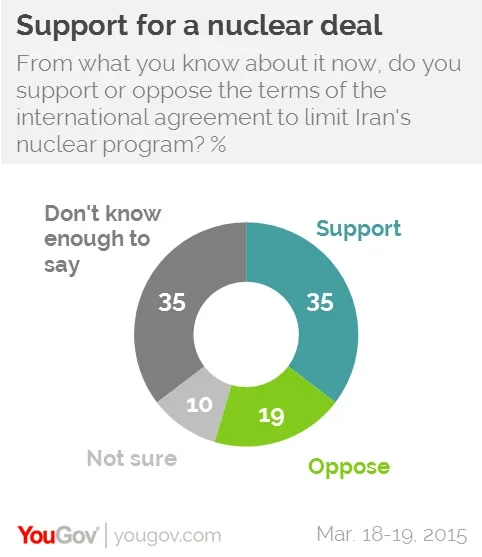 The last day of March is the deadline for a deal between Iran and the West which would put limits on Iran's nuclear program in return for lifting sanctions. Though these broad outlines of a deal are well known, a deal is by no means certain, as the combination of Republican disapproval in Congress and the Iranian reluctance to sign up for strict controls risk derailing the international accord.
At the beginning of March YouGov began tracking public opinion on the potential nuclear deal. When asked whether they support or oppose the international agreement to limit Iran's nuclear program, based on what we know now, 35% of Americans say that they support the deal and 19% say that they oppose it. A further 10% say that they aren't sure either way while 35% say that they don't know enough about the deal to say at this time.
Support for the deal is highest among Democrats, 53% of whom back the deal as it currently stands. Independents narrowly support (27%) rather than oppose (23%) the deal, while Republicans oppose it 33% to 27%.
When this question was first asked, 34% of Americans backed the deal and 16% opposed it. Republicans also narrowly supported the deal 30% to 25%.
Republicans also continue to be much more likely than Democrats or independents to see Iran's nuclear program as being a significant threat. 40% of Republicans view the nuclear program as an 'immediate and serious threat', something only 15% of Democrats and 22% of independents agree with. Over a quarter of Democrats (28%) and independents (26%) say that their nuclear program is either a minor threat or not a threat whatsoever.