While Bush is not Republicans' preferred candidate, he is seen as the most likely primary winner
In the latest YouGov/Economist poll, there is no clear favorite for the 2016 Republican presidential nomination, but Jeb Bush has a clear lead when Republicans are asked who they expect to be the eventual nominee.
Florida Sen. Marco Rubio and neurosurgeon Ben Carson tie for the top spot in a crowded GOP field, but even then they only receive 10% support from Republicans nationally. Two others, Kentucky Sen. Rand Paul on 9% and former Florida Gov. Jeb Bush on 8%, are close behind.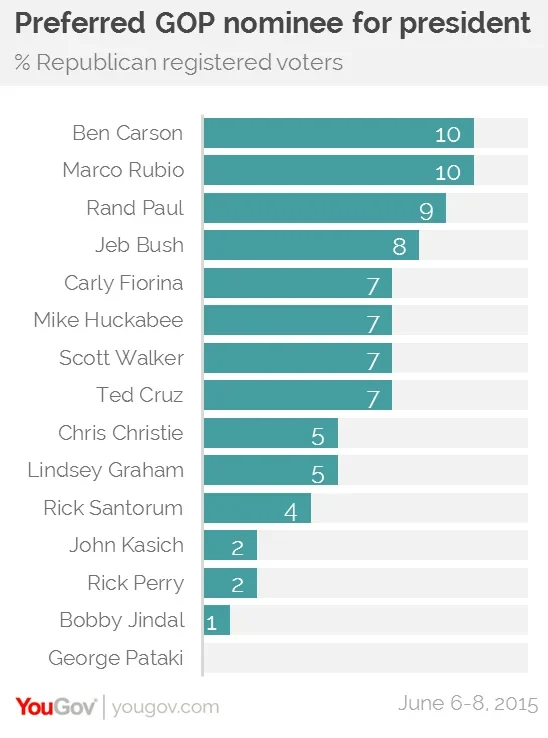 Preferences are increasingly spread thin: no fewer than 10 of the candidates on the list of 13 Republican hopefuls receives between 5-10%.
Worryingly for Jeb Bush, the flattening of support also sees his number fall near its lowest level all year.
However, as the Florida Republican officially launches his campaign he can find some relief in a separate finding: 21% of Republicans still think Bush is the most likely candidate to win.
10% of Republicans think Rand Paul has the best chance of winning the primary, putting him in second. Ted Cruz, Marco Rubio and Scott Walker have the faith of 8% of Republicans.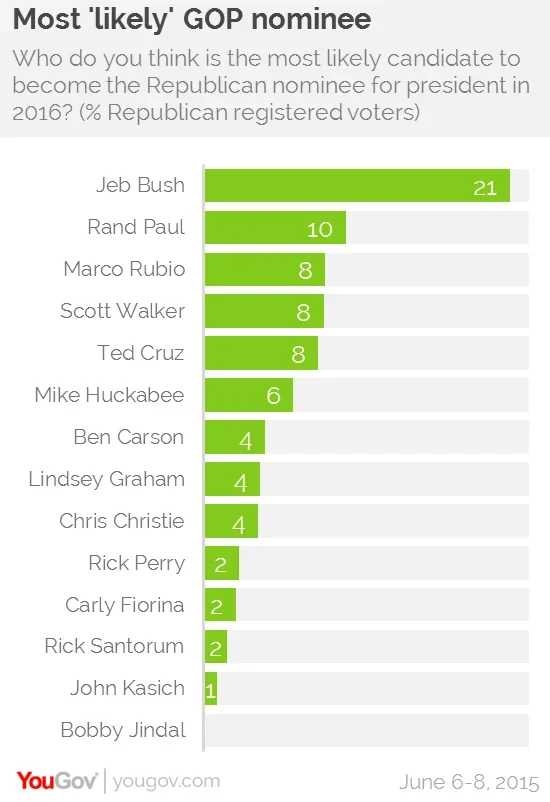 Nationally, Bush's lead in expecations is even greater: 25% of all registered voters expect him to win the GOP primary, compared to 8% for Rubio and Walker in second place.
While Bush has not garnered an especially large number of endorsements from prominent Republcians, he has used the pre-launch period to establish a formidable fundraising operation. He plans to kick off his campaign with a speech at the Miami Dade College Kendall Campus in Florida.
Economist/YouGov poll archives can be found here.