New YouGov/CBS News polls survey likely G.O.P. primary and caucus voters in Iowa, New Hampshire and South Carolina
Donald Trump has fended off a challenge by Ben Carson in the early voting state of Iowa and maintained his lead elsewhere, according to the latest wave of the YouGov/CBS News Battleground Poll.
30% likely Republican caucus goers in Iowa name Trump as their choice for the 2016 Republican presidential nomination. Carson, a retired neurosurgeon, receives 19% support, behind Sen. Ted Cruz of Texas who receives 21%. Sen. Marco Rubio of Florida receives 11%.
In a YouGov/CBS News poll last month, Trump and Carson were tied with 27% support each among voters in the Hawkeye State. Other polls even found Carson with narrow leads in Iowa and nationally, shaking up a race Trump had dominated for months. However, amid the increased scrutiny that accompanies front-runner status, questions have been raised about claims Carson has made about his personal history. Since October, support for Carson is 8 points lower in Iowa, two points lower in New Hampshire and four points lower in South Carolina.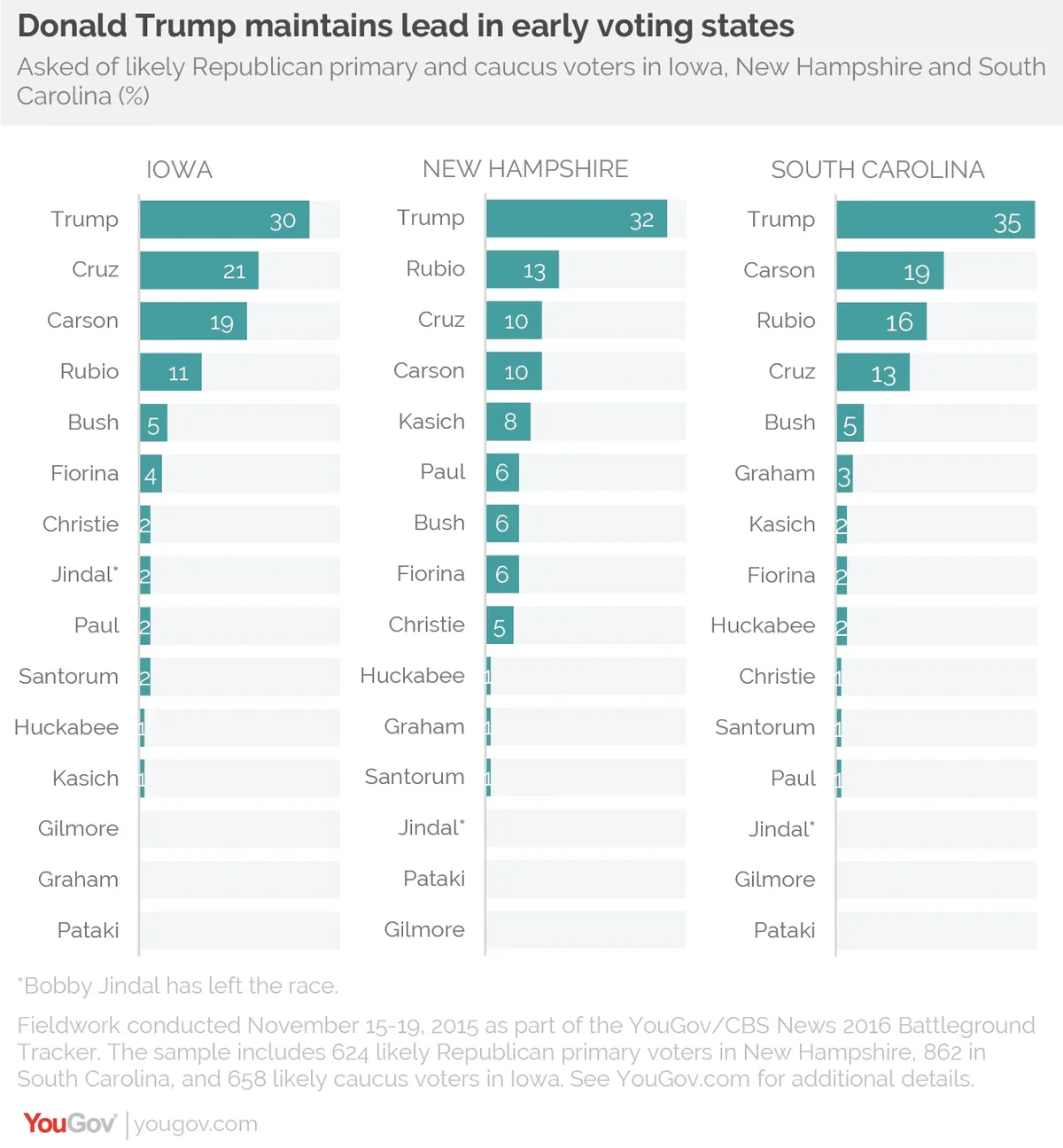 In New Hampshire and South Carolina Trump's support has fallen by 6 and 5 percentage points, respectively, but he remains firmly ahead of the G.O.P. field in both states.
Specifically, Trump now has the backing of 32% of likely Republican primary voters in New Hampshire. Florida Sen. Marco Rubio is a distant second with 13%, while Carson and Cruz are each the choice of 10% of likely voters.
35% of likely South Carolina Republican primary voters give Trump their support, followed by Carson with 19%, then Rubio with 16% and Cruz with 13%.
Taken together surveys suggest a narrowing of the top tier to four candidates with consistent backing. In this group Rubio and Cruz are now the insurgents, each seeing increased support across the board, including 9-point improvements for Cruz in Iowa and for Rubio in South Carolina compared to YouGov's October survey. Jeb Bush, once a front-runner in the polls, may have fallen out of this top tier. The former Florida governor garners between 5-6%, putting him closer to candidates like Fiorina and Kasich than Rubio or Cruz.
Cruz's rise may be associated with Carson's decline, but there is evidence the Tea Party star has developed a solid support base of his own, particularly in Iowa. 80% of Cruz's Iowa supporters are "enthusiastic" about supporting him compared to 64% for Trump and 52% for Carson. This month 42% of Carson's Iowa backers are backing him with "some reservations", up from 30% in October.
The Paris attacks
The recent terrorist attacks in Paris may have helped tilt the G.O.P primary race away from Carson.
Notably, most Republicans in the early states say the attacks will not have a major impact on their vote, and memories may fade over the more than two months until voting begins. But among those who do say the attacks matter "a lot", Trump has an especially large lead over Carson – and the rest of the field. This finding bucks a conventional wisdom that had developed quickly after the attacks, stating that Trump's support would wane as voters searched for a candidate with more substantial foreign policy experience.
In a separate sign of strength for Ted Cruz, respondents in Iowa are especially likely to say the first-term senator is prepared to fill the role of Commander in Chief. Two-thirds of likely caucus goers there think Cruz is "ready", giving him a significant advantage over Carson, Rubio and Trump. Cruz performs well elsewhere on this measure, along with Trump and Rubio.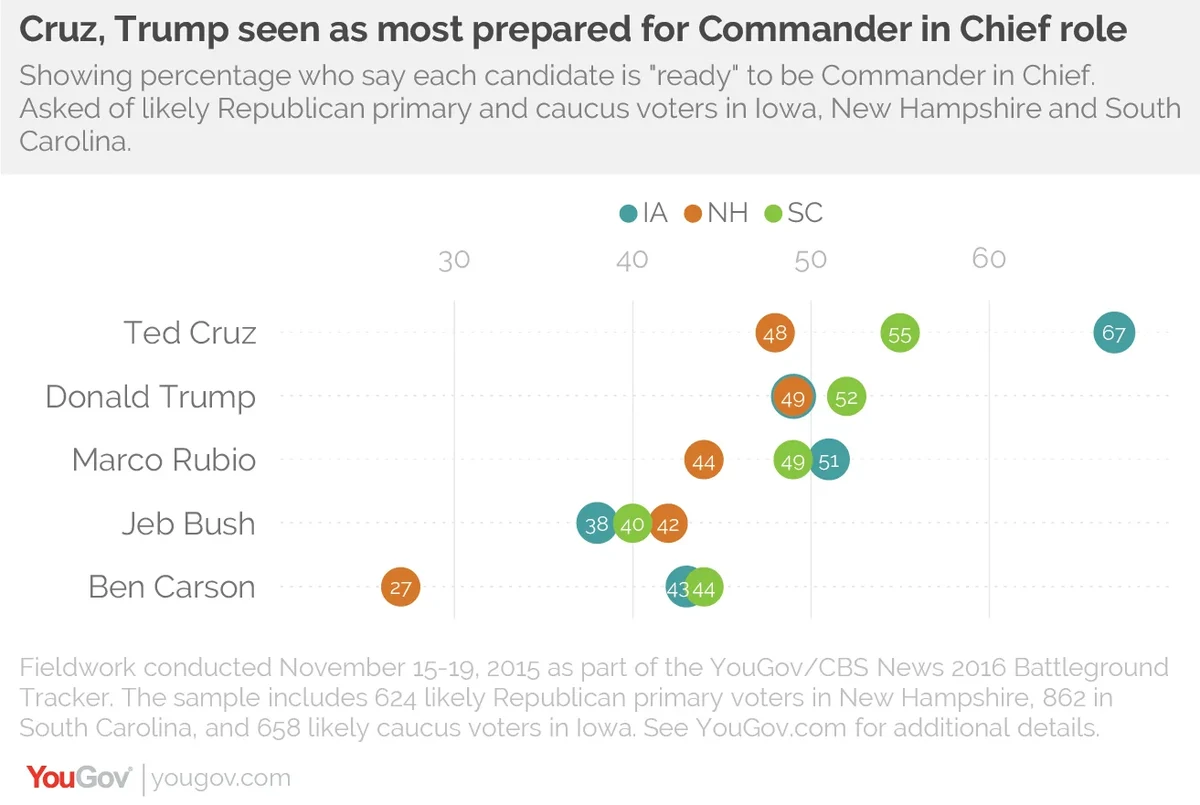 This is also an area where Carson looks vulnerable. In New Hampshire, only 27% of likely primary voters say Ben Carson is ready to be Commander in chief. Carson, along with Jeb Bush, also receives some of the lowest ratings in South Carolina and Iowa out of the top five contenders.
Large majorities of potential Republican voters in these three states tend to favor sending US ground troops to fight ISIS, from 65% in New Hampshire to 74% in Iowa and 79% in South Carolina, suggesting a hawkish electorate.
The fieldwork for the surveys was conducted from November 15-19. The Paris attacks took place on Friday, November 13.
The YouGov/CBS News 2016 Battleground Tracker is based on surveys of registered voters who had previously voted in primaries in Iowa, New Hampshire and South Carolina. The poll was conducted online but included registered voters who were contacted by phone. The sample includes 624 likely Republican primary voters in New Hampshire, 862 in South Carolina, and 658 likely caucus voters in Iowa. See a more detailed description of the methodology used here.
See full results with demograhic breakdowns and margins of error: IA, NH, SC