Most Americans support a national registry for gun owners, not Muslims
Donald Trump has walked back from earlier comments calling for a national registry of Muslims in the United States, but the comments highlighted the increasingly tough line Republican leaders are taking not only towards Syrian refugees but towards America's Muslim community. The comments calling for a Muslim registry were seen as a step too far even by many conservative thinkers, who noted that the move would be unconstitutional and likely counter-productive.
YouGov's latest research shows that Americans tend to oppose a national registry for Muslims, though only narrowly (49% to 40%). More Americans oppose registering marijuana users (54%), Christians (64%) and Jews (67%) as well as a national registration system encompassing all Americans (52%) than Muslims, however. Most Americans do support a national registry of gun owners, by 53% to 41%.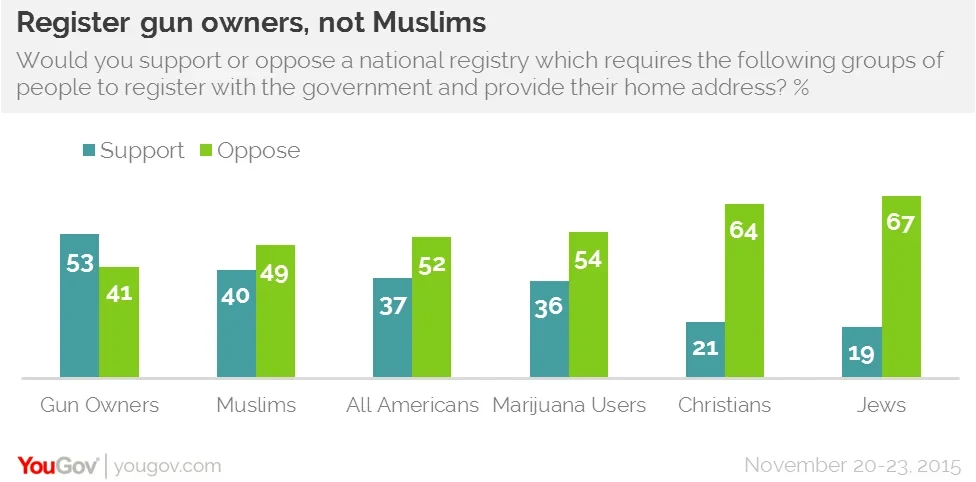 Support for a national registry of Muslims is not dramatically different between parties. 41% of Democrats support it, along with 49% of Republicans. The significant difference is, however, that support for a national registry of Muslims among Democrats (41%) is effectively the same as Democratic support for a national population registry for all Americans similar to that in many European countries. Among Republicans, however, 49% support a Muslim registry while only 34% support a national registry for all Americans.