MAC cosmetics's new partnership with Star Trek is a bold new experiment in tying together mismatched brands
Most brand partnerships, whether sponsorships, affiliate deals, or co-branded ventures, work on the basis of affinity. You take two strong brands with overlapping customer bases and mash them together, allowing both brands to benefit from the larger whole. In an affinity partnership, the two brands reinforce each other's values while expanding each other's audiences. Everyone wins — including the customer.
Data from YouGov Profiles reveals how MAC's recent brand tie-ups have fallen neatly into this category. The cosmetic giant's partnership with Disney's Maleficent, for example, made sense because the film's star, Angelina Jolie, was already rated particularly highly by MAC customers. Likewise, when MAC named Nicki Minaj its Viva Glam spokesperson back in 2013, the decision was sound marketing since MAC customers consider the Grammy-nominated rapper one of their favorite musical artists.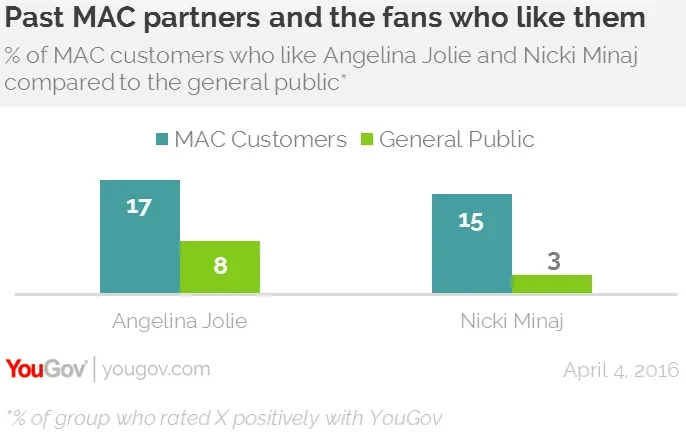 Recently, news broke that MAC has partnered with Star Trek to launch a special 25-piece makeup collection to commemorate 50 years of the sci-fi franchise. Instead of an affinity partnership, however, this is what we might call an oppositional partnership. Unlike Jolie or Minaj fans, Star Trek fans couldn't be further from MAC's customer base.
Data from YouGov Profiles shows that the vast majority of MAC customers are female (93%), but over two thirds of Star Trek fans* are men. Even when you focus on just the female trekkies, they're much less likely to wear makeup every day than most women.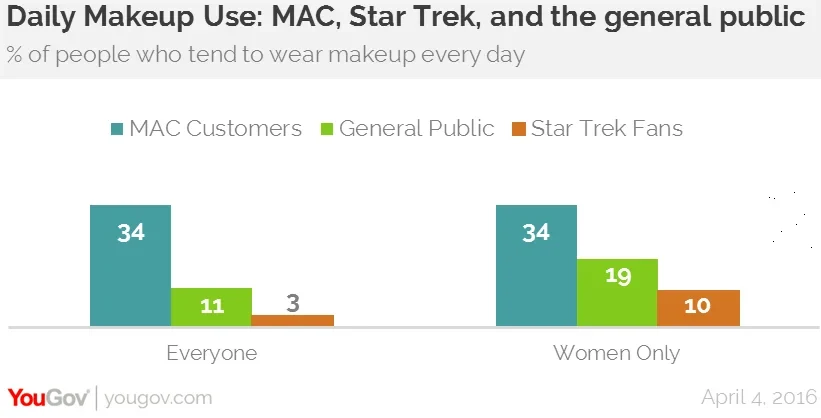 Of course, Star Trek isn't just any brand. The series has one of the most powerful cult followings around — perhaps enough to make its followers consider purchasing products they probably wouldn't go near normally. If you're going to experiment with an oppositional partnership, a brand such as Star Trek might just have the clout to make it work, potentially putting partner brands in touch with customers they never would have reached before.
Most likely, MAC will return to the safer ground of affinity partnerships. A look at YouGov Profiles instantly suggests some interesting candidates for future tie-ups: Kat Von D, Sade, and Karen O, lead singer of the Yeah Yeah Yeahs.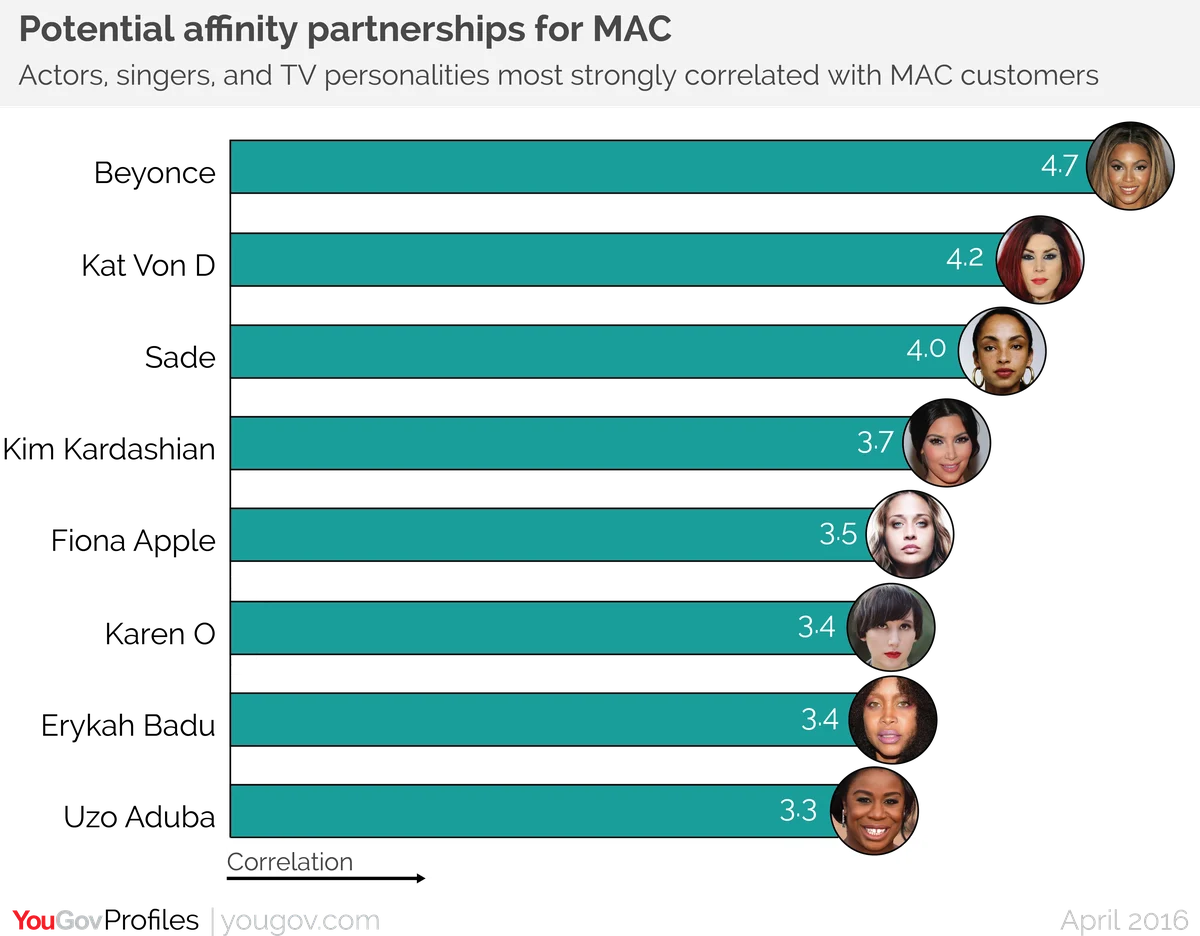 With one report estimating that the global cosmetics market will hit $675 billion by 2020, there's plenty of money to be made (and lost). Going forward, the key for successful makeup brands is to establish partnerships that both appeal to their target market and distinguish them from their competitors.
*Star Trek fans include everyone in YouGov Profiles who likes at least one of the franchise's 12 films, from 1979's Star Trek: The Motion Picture to 2013's Star Trek: Into Darkness.