Political independents and partisan opponents are slightly more likely to understand someone voting for Trump than for Clinton
Even in an era of contentious elections, the 2016 election is shaping up to be one of the most vitriolic in living memory. Fears of violence at the Republican National Convention are unlikely to be realized in the wake of Trump's primary victory, but Democrats aren't so lucky. The Nevada Democratic Convention was called off early and police were called in after unruly disputes between supporters of Bernie Sanders and Hillary Clinton. A significant number of partisans are unable to understand why someone would support their opponent.
YouGov/HuffPost's latest research shows that, by a narrow margin, Americans who aren't partisans of the two leading 2016 contenders' parties are more understanding of a vote for Trump than Clinton. While 25% of Republicans say that they understand why someone would vote for Hillary Clinton, 30% of Democrats can understand why someone would vote for Donald Trump. Independents are more likely to understand a vote for Trump (49% to 39%), but slightly more likely to not understand a vote for Clinton (45% to 41%).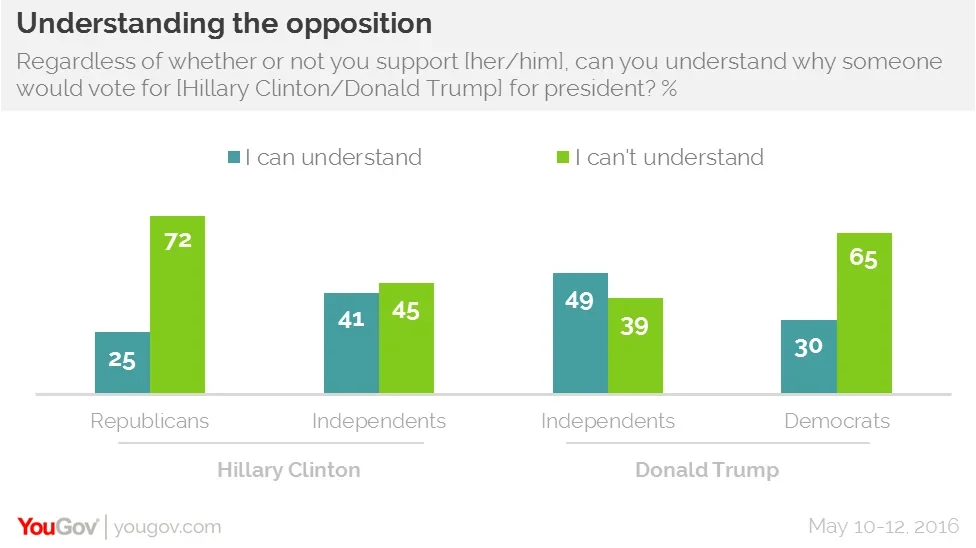 A quarter of Americans say that the 2016 election has been a source of conflict in their personal lives, with 23% saying that they've argued with family over the election and 26% saying that they've argued with friends.
Full poll results and margin of error can be found here.