As the Republican National Convention begins, the GOP nominee has stalled at 37% nationally, three points behind Hillary Clinton
Donald Trump begins the convention that is set to name him as the official GOP presidential nominee with Republicans generally happy about his selection of Indiana Governor Mike Pence for his running mate, but the latest Economist/YouGov Poll suggests Trump still needs to improve his image on the issues that dominated the last week – security at home and terrorism abroad.
Trump continues to trail former Secretary of State Hillary Clinton, the presumptive Democratic nominee, narrowly this week as the choice of registered voters, though Clinton's lead is about as small as it was a week ago, just after FBI head James Comey called her "extremely careless" in her use of a private email server while Secretary of State.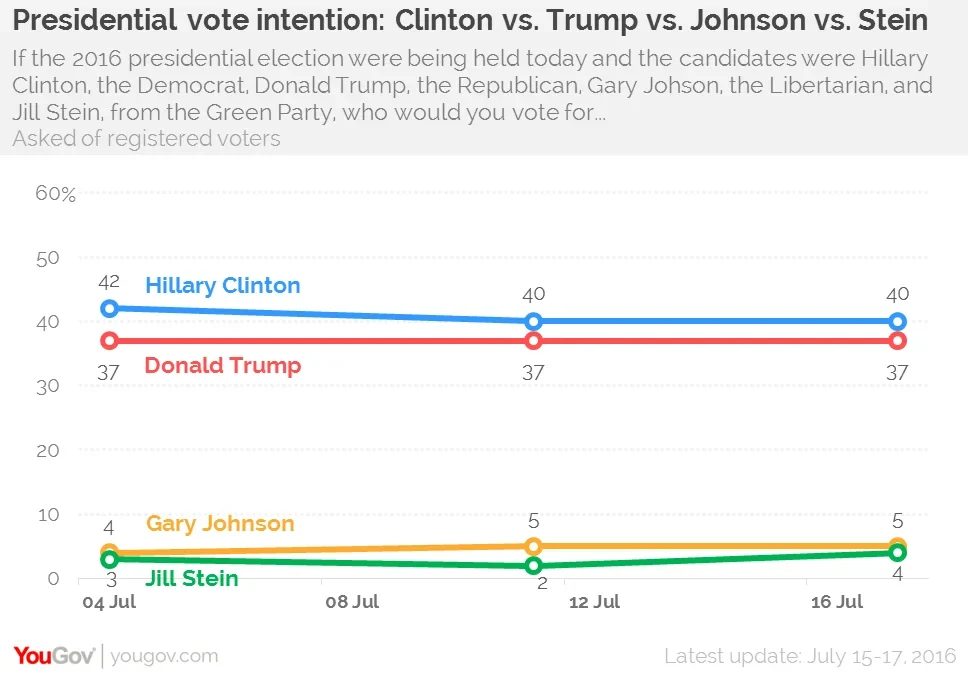 More than one in ten registered voters would not choose either Trump or Clinton, but say they would select other options if they could.
Clinton has yet to make inroads with most of those who supported Vermont Senator Bernie Sanders during the primary season, at least when people are offered other options, even though he has formally endorsed her. Before the Comey tongue-lashing, more than half of Sanders voters said they would vote for Clinton. Afterwards only 41% said they would. This week, even after Sanders' endorsement, one in three Sanders supporters want Libertarian Gary Johnson, Green Party candidate Jill Stein, or "someone else."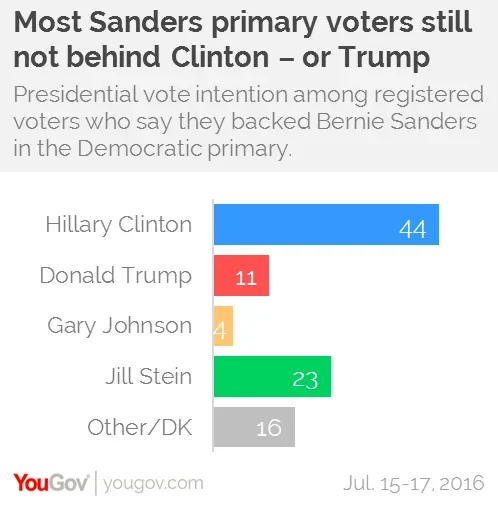 Trump's first presidential decision – the choice of a Vice Presidential running mate – seems to have been a good one. It doesn't hurt Trump, and could help him with some groups. Most conservatives see Pence as one of them, and Trump supporters overwhelmingly view Pence as a good choice.
Although nearly half the public isn't sure whether Pence was the right or wrong choice, more think he was right. Even two in three Republican primary voters who did not support Trump say Pence is a good. That's a good sign, since Trump is also having a hard time mobilizing many who favored other candidates this year. Just 47% say they will vote for Trump in the fall, while 23% would vote for Clinton.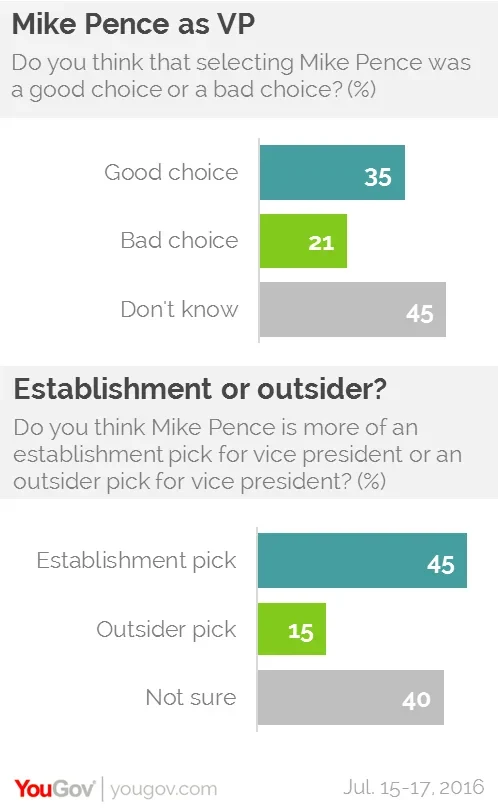 Pence is seen as an establishment candidate with experience – something most Republicans last week said would be the right decision.
Of course, Pence is still unknown to many. And most say Trump's naming him won't affect their own vote. But one in three think he will help Trump in the election, while just 9% think he will hurt Trump's campaign. Half of those Republican voters who did not support Trump agree Pence is a good choice.
Security is still a concern at the GOP convention. Two in three think there are likely to be violent protests. Even more Trump voters – nearly three in four – agree.
Conventions can legitimize candidates. Pence – and Trump – are not yet trusted by a majority of Americans to serve as President, or to serve as Commander-in-Chief. 60% aren't confident in Trump's ability to handle terrorism, which emerged once again last week as a major concern of Americans. (Hillary Clinton is much more likely than Trump to be seen as having the qualifications to serve as President, though 53% are uneasy with her approach to terrorism). Nearly one in three registered voters say terrorism or national security will be the most important issue determining their vote this fall – outpacing job creation, and Social Security.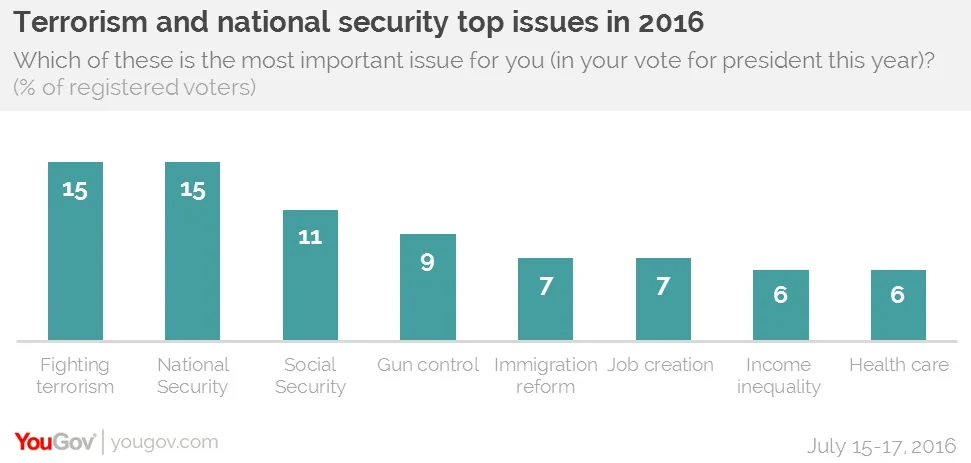 Americans have been worried about the possibility of another terrorist attack for a while: this week, after the truck attack in Nice, 40% say an attack in the U.S. is "very likely" in the next 12 months. The percentage was about the same two weeks ago, after the attack at Ataturk Airport in Istanbul. But Trump's voters are especially worried: two in three think an attack is "very likely."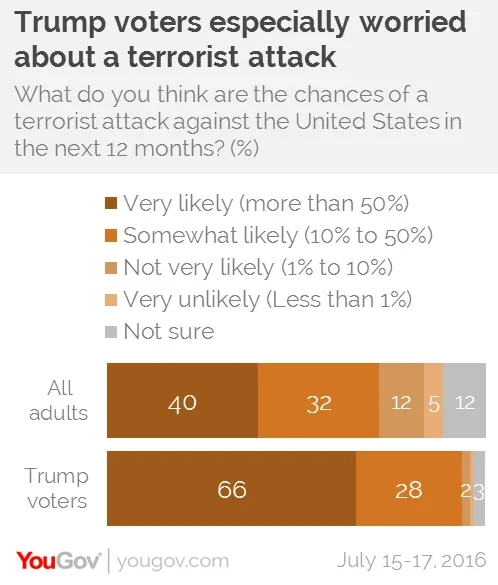 Three is four Trump supporters say the country is less safe than it was in 2001.
Trump supporters are also distinctive when it comes to dealing with terrorism. They overwhelmingly favor Trump's proposals. In previous polls, they agree with Trump that Muslim should not be allowed to enter the United States for a time. In this poll, they would monitor mosques, something that half the public overall supports, though many aren't sure it would be constitutional (Trump voters think it would be). And Trump supporters also favor suggestions made by former Speaker of the House Newt Gingrich to "test" Muslims and deport those who believe in Sharia.