This is a summary of a YouGov/Economist Poll conducted September 4-6, 2016. The sample is 1300 general population respondents with a Margin of Error of ±4.4% (4.7% for 955 registered voters).
GENERAL ELECTION (among registered voters):
If the 2016 presidential election were being held today and the candidates were Hillary Clinton, the Democrat, Donald Trump, the Republican, Gary Johnson, the Libertarian, and Jill Stein, from the Green Party, who would you vote for?
Hillary Clinton: 40% (-2)
Donald Trump: 38% (+1)
Gary Johnson: 7% (0)
Jill Stein: 5% (+2)
Someone else: 2%
Not sure yet: 6%
Probably won't vote: 2%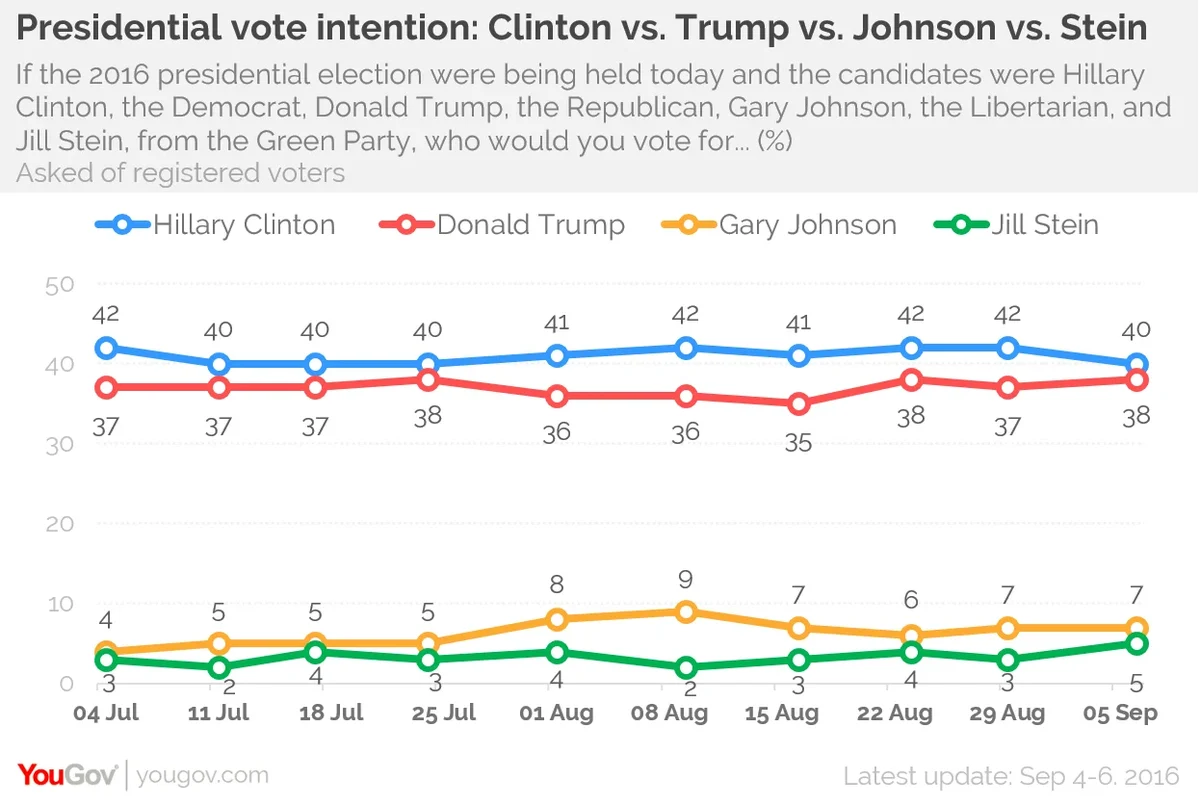 5% is nominally Jill Stein's best showing yet in the YouGov/Economist Poll. She has received 4% on several occasions.
2-way follow-up: Respondents who selected Gary Johnson, Jill Stein, or 'someone else' were asked the following question 'Which candidate do you prefer more, Hillary Clinton or Donald Trump?' Below those responses have been added to the support for Clinton and Trump from the initial question.
Hillary Clinton: 44% (-3)
Donald Trump: 42% (0)
Someone else / Not sure yet / No preference: 12%
Probably won't vote: 2%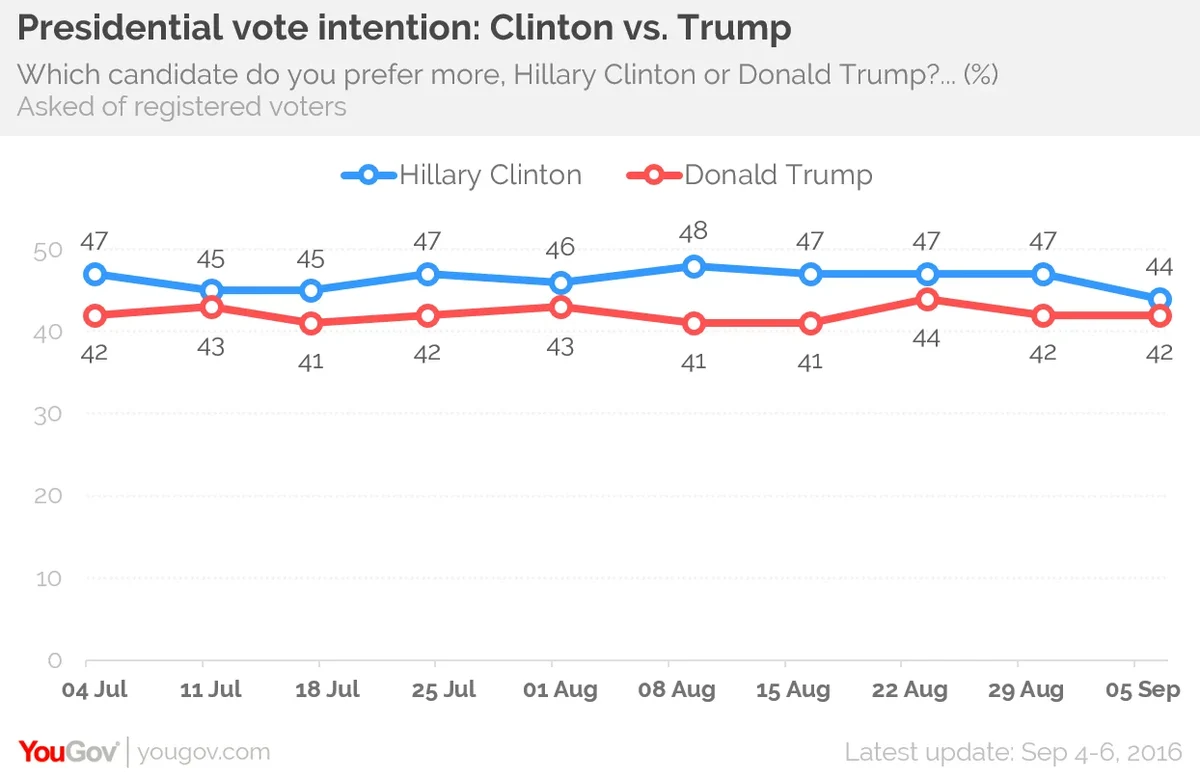 What do you think is the most likely outcome of the presidential election with Hillary Clinton as the Democratic nominee and Donald Trump as the Republican nominee?
Clinton will win in a landslide: 20% (-3)
Clinton will win narrowly: 34% (+2)
Trump will win narrowly: 20% (+1)
Trump will win in a landslide: 9% (+2)
Not sure: 16% (-2)
Hillary Clinton favorability (among all adults):
Favorable: 44% (+3)
Unfavorable: 54% (-4)
Donald Trump favorability (among all adults):
Favorable: 35% (+1)
Unfavorable: 63% (-1)
CONGRESS (among registered voters):
If the election for Congress were being held today, and you had to make a choice, would you be voting for...
The Democratic Party candidate: 41% (-1)
The Republican Party candidate: 38% (-1)
Other: 3%
Not sure: 15%
I would not vote: 3%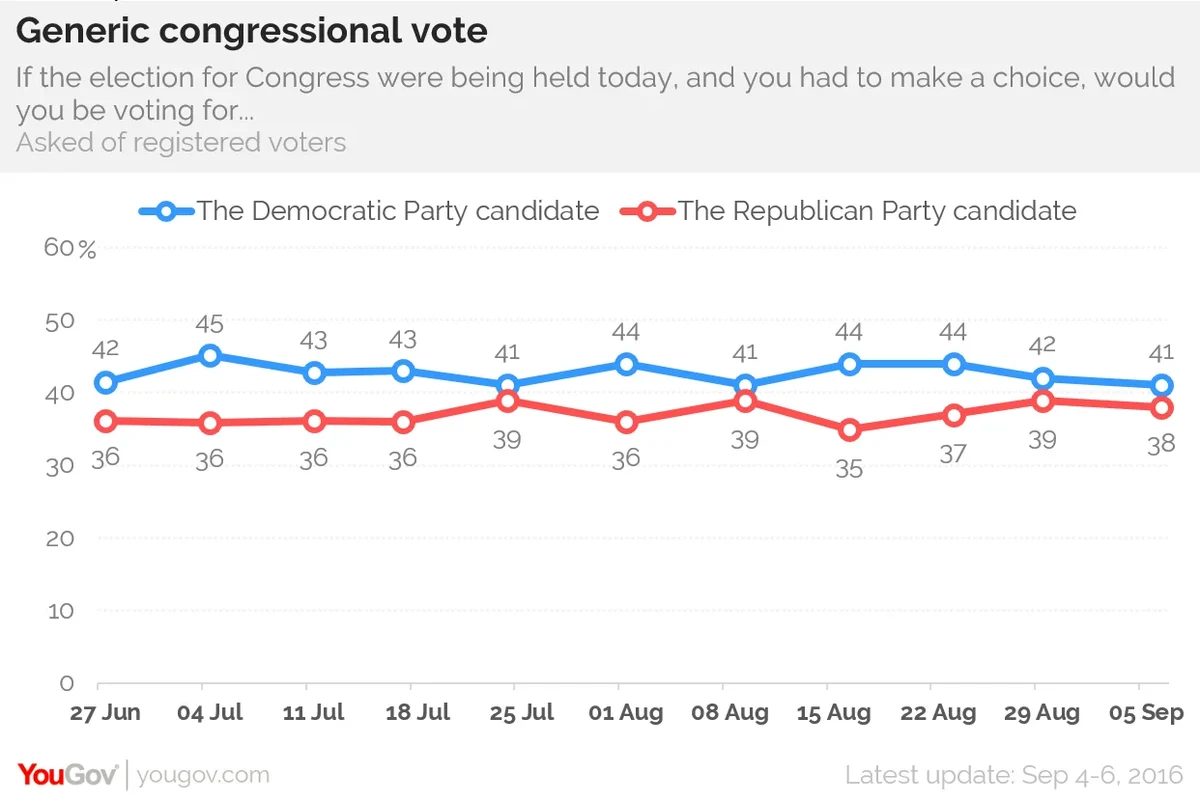 Approval of Obama as president (among all adults):
Approve: 50% (0)
Disapprove: 46% (+2)
Among registered voters, 50% approve of Obama and 48% disapprove.
Approval of Congress:
Approve: 10% (0)
Disapprove: 63% (0)

Direction of the country:
Right direction: 27% (+2)
Wrong Track: 65% (-3)
---
Candidate health
The share of voters who say Hillary Clinton is in good enough physical condition to be president has fallen to a low of 52%, down from 59% two weeks ago.
This week 62% say the same for Donald Trump, down from 65% over the same period.
Congressional races
Asked which is most important to them, 81% say the presidential race, 12% say the US Senate and 7% say the US House of Representatives
In states with Senate races, 63% have made up their minds who to vote for, compared to 79% for the presidential race nationwide and 50% for the US House
US Economy
51% believe the US economy has not yet recovered from the Great Recession. 24% say it has. In September 2013, 8% said the economy had recovered and 66% said it had not.
When asked, only 15% of Americans say the unemployment rate is below 5%.
Only 49% believe that the unemployment rate is lower now than when Obama first took office.
Additional questions on conspiracy theories, summer vacations and congressional priorities can be found in the PDFs below.
---
Additional questions and detailed demographic breakdowns: PDF
Topline summary: PDF
National Tracking Report: PDF
Presidential Election Tracking Report: PDF