With months to go before the first nominating event, the contest for the 2012 GOP presidential nomination is a real horserace, with four candidates — two announced and two unannounced — vying for the lead. In the latest Economist/YouGov Poll, Texas Governor Rick Perry and former Alaska Governor Sarah Palin (both unannounced) are closely matched with two declared candidates, Minnesota Congresswomen Michele Bachmann and former Massachusetts Governor Mitt Romney.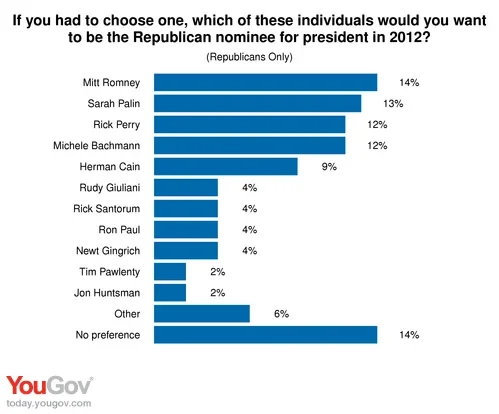 More than half of Republicans are enthusiastic about at least one of the candidates, though there is a chasm in enthusiasm between Republicans who identify with the Tea Party (76% of whom are enthusiastic) and those who do not (39% of them are enthusiastic). And a third of Republicans (compared with not quite a quarter of the nation overall) are following the campaign very closely.

Among the Tea Partiers — 36% of all Republicans — Perry, Bachmann, businessman Herman Cain and Palin all score in the high double digits. Romney trails. But Romney leads among non-Tea Partying Republicans, who make up 64% of the party. 
If you had to choose one, which of these individuals would you want to be the Republican nominee for president in 2012?
Republicans

Sarah Palin

16%

11%

Mitt Romney

7%

18%

Newt Gingrich

1%

6%

Tim Pawlenty

2%

2%

Michele Bachmann

18%

9%

Jon Huntsman

0%

3%

Ron Paul

6%

3%

Rudy Giuliani

1%

6%

Herman Cain

19%

4%

Rick Santorum

2%

5%

Rick Perry

18%

9%

Other

4%

7%

No preference

5%

18%
Whoever wins the GOP nomination will still have a major challenge: defeating the incumbent President Barack Obama. Most Democrats (70%) are enthusiastic about his candidacy. And Obama leads the two possible contenders included in this week's Economist/YouGov poll: Herman Cain and Rick Perry. Among registered voters and including leaners, Obama leads Cain 48% to 37%. He is ahead of Perry by a similar margin, 48% to 38%.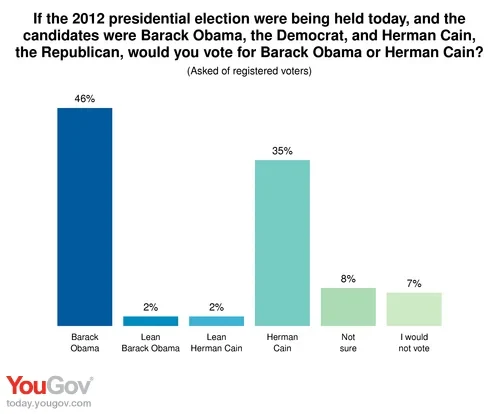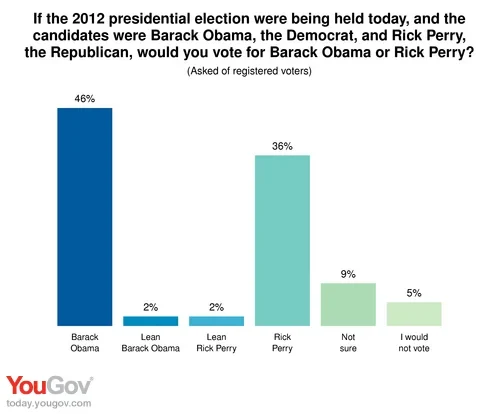 However, when potential voters are asked whether they would support a Democrat or a Republican for the Presidency, the race is much tighter. 42% answer "Democrat," 37% "Republican," and the rest aren't sure.