In just over a week after Texas Governor Rick Perry's announcement of his candidacy for the Republican nomination for President and the resulting media coverage, he has surged to the lead among Republicans voters in the Economist/YouGov Poll.

23% of registered voters who say they will vote in a Republican primary or caucus next year choose Perry as their preferred candidate — giving him an eight-point lead over second-place Mitt Romney, the former Massachusetts Governor.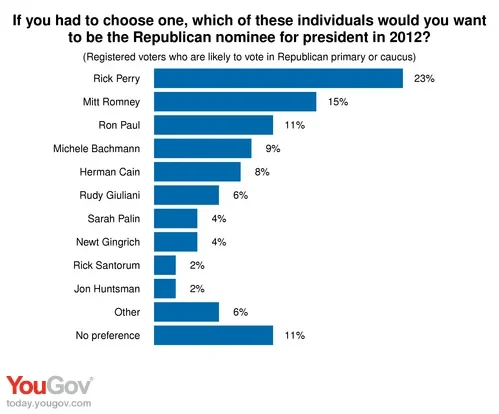 Texas Congressman Ron Paul is in third place, just ahead of Minnesota Congresswoman Michele Bachmann, who had been one of the front-runners. The as-yetunannounced former Alaska Governor Sarah Palin trails far behind.

Bachmann and Romney run somewhat stronger with women GOP voters than with men, but Perry's appeal is across the board. In fact, Perry not only leads with Tea Party identifiers (nearly half of Republican voters), who have been among his strongest supporters, but this week is a close second to Romney among Republican voters who do not identify with the Tea Party. 
If you had to choose one, which of these individuals would you want to be the Republican nominee for president in 2012?
Republicans registered voters who are likely to vote in Republican primary or caucus

Sarah Palin

5%

7%

3%

Mitt Romney

17%

10%

23%

Newt Gingrich

6%

7%

4%

Michele Bachmann

10%

15%

7%

Jon Huntsman

0%

0%

0%

Ron Paul

6%

7%

6%

Rudy Giuliani

6%

2%

9%

Herman Cain

7%

12%

3%

Rick Santorum

2%

2%

3%

Rick Perry

24%

29%

21%

Other

4%

0%

7%

No preference

12%

10%

14%