Voters who say they will participate in a Republican presidential primary or caucus next year continue to favor Texas Governor Rick Perry — in fact his support has risen five points, from 23% last week to 28% in this week's Economist/YouGov Poll. 
If you had to choose one, which of these individuals would you want to be the Republican nominee for president in 2012?
Asked of registered voters who are likely to vote in a Republican primary or caucus

Sarah Palin

4%

9%

Mitt Romney

15%

14%

Newt Gingrich

4%

6%

Michele Bachmann

9%

5%

Jon Huntsman

2%

2%

Ron Paul

11%

13%

Rudy Giuliani

6%

5%

Herman Cain

8%

7%

Rick Santorum

2%

1%

Rick Perry

23%

28%

Other

6%

5%

No preference

11%

6%
Perry's support this week is double that of former Massachusetts Governor Mitt Romney. Texas Congressman Ron Paul runs well, followed by the as-yet-unannounced former Alaska Governor Sarah Palin.
Although more Republicans say they are satisfied with the field currently running than say they want someone else to join the contest, there is still a lot of uncertainty among Republican voters. Just 43% are satisfied, with 22% looking for someone else and another third just not sure.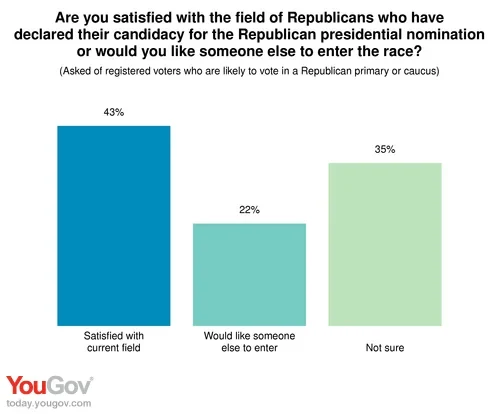 In addition, significant minorities of Republican voters claim they would be unlikely to vote for a few of the frontrunners in the general election. 23% say they'd be unlikely to vote for Perry if he won the nomination; the same percentage say that about Romney. More than a third would not vote for Palin nor would support Paul if he became their party's nominee.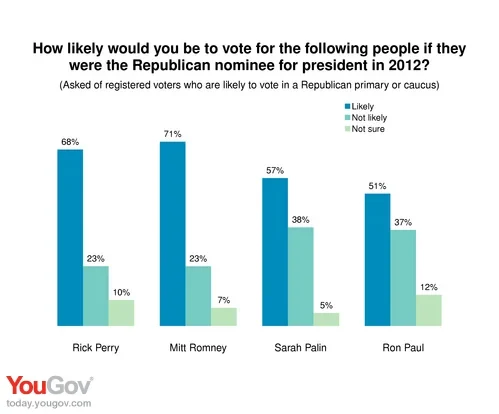 Photo source: Press Association