One in two veterans want private healthcare
Americans, both Republicans and Democrats, see the turnover in senior staff in this White House as greater than what is usual. In the latest Economist/YouGov Poll, 60% say there have been more high-level resignations and firings in this Administration so far than is typical. Only 4% believe there have been fewer.



Republicans, too, see the numbers as larger than usual. Half say more officials than usual have left.

The latest is Department of Veterans Affairs David Shulkin, who (like Secretary of State Rex Tillerson) was fired via tweet. Shulkin had two problems: the VA system had not recovered from the public dismay over long wait times for veterans at VA hospitals, as well as a belief that treatment was worse there than it would be in private care. Veterans – most of whom had some experience with the VA system, are just as dismayed as the public.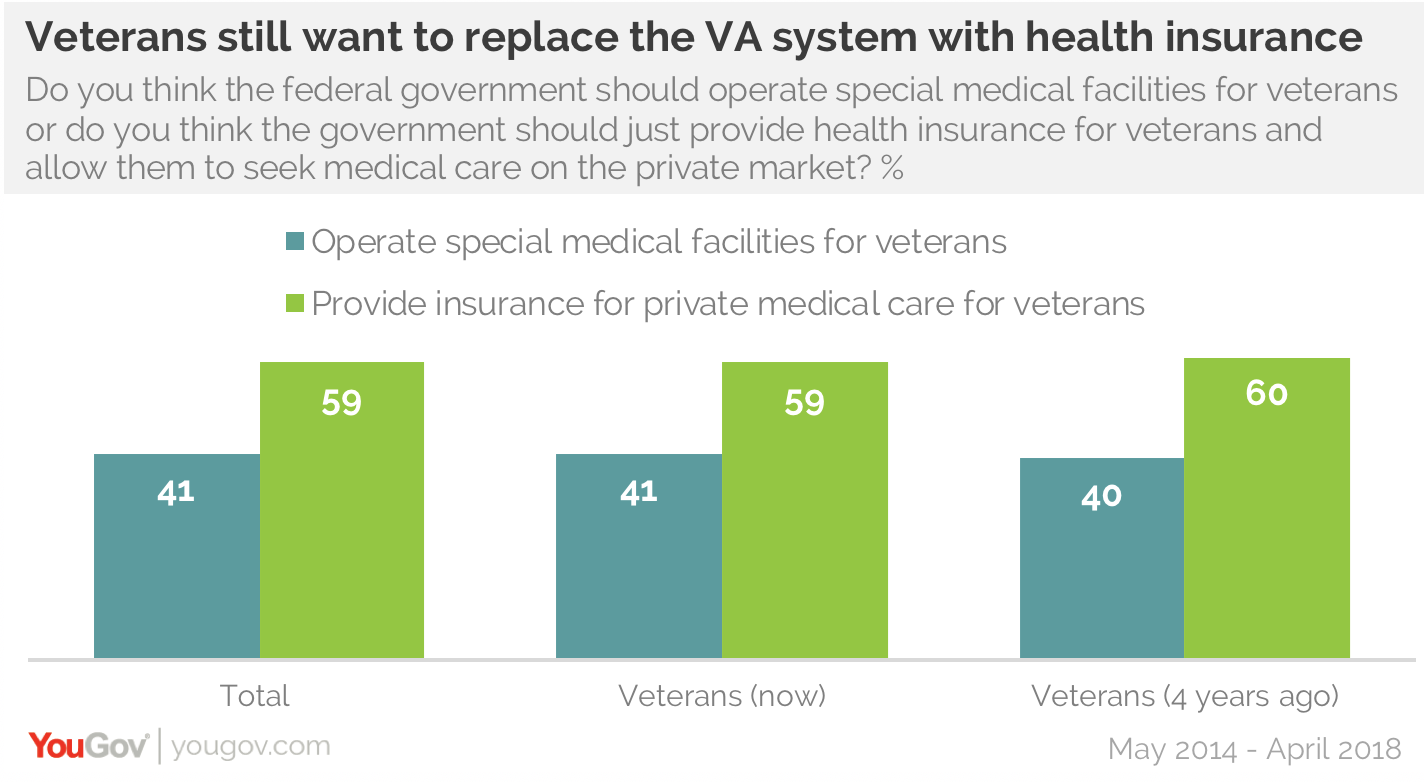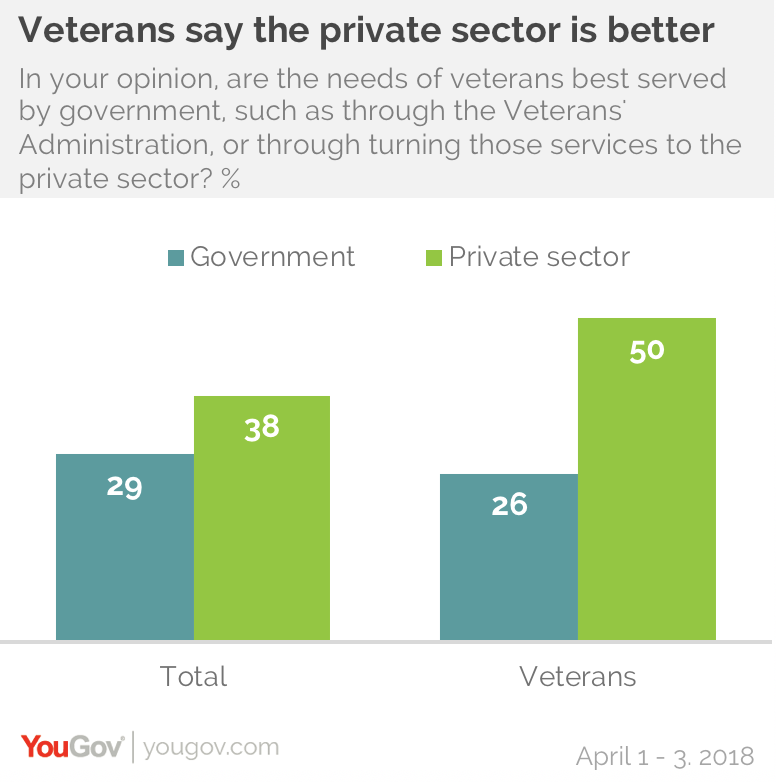 Just as they said four years ago, at the time Shulkin was appointed to the job of Secretary for Veterans Affairs, Americans (and veterans) would replace the VA system with regular health insurance. Veterans say by two to one that the private sector would service their needs better than the federal government does through the VA.

Overall, many adults don't have an opinion of Shulkin himself – though more have an opinion about his job performance. 34% of the public (and 42% of veterans) disapprove, while 23% overall (and 34% of veterans) approve. As for his firing and replacement by Navy Rear Admiral (and Presidential Physician) Ronny Jackson, Americans are split, though veterans approve.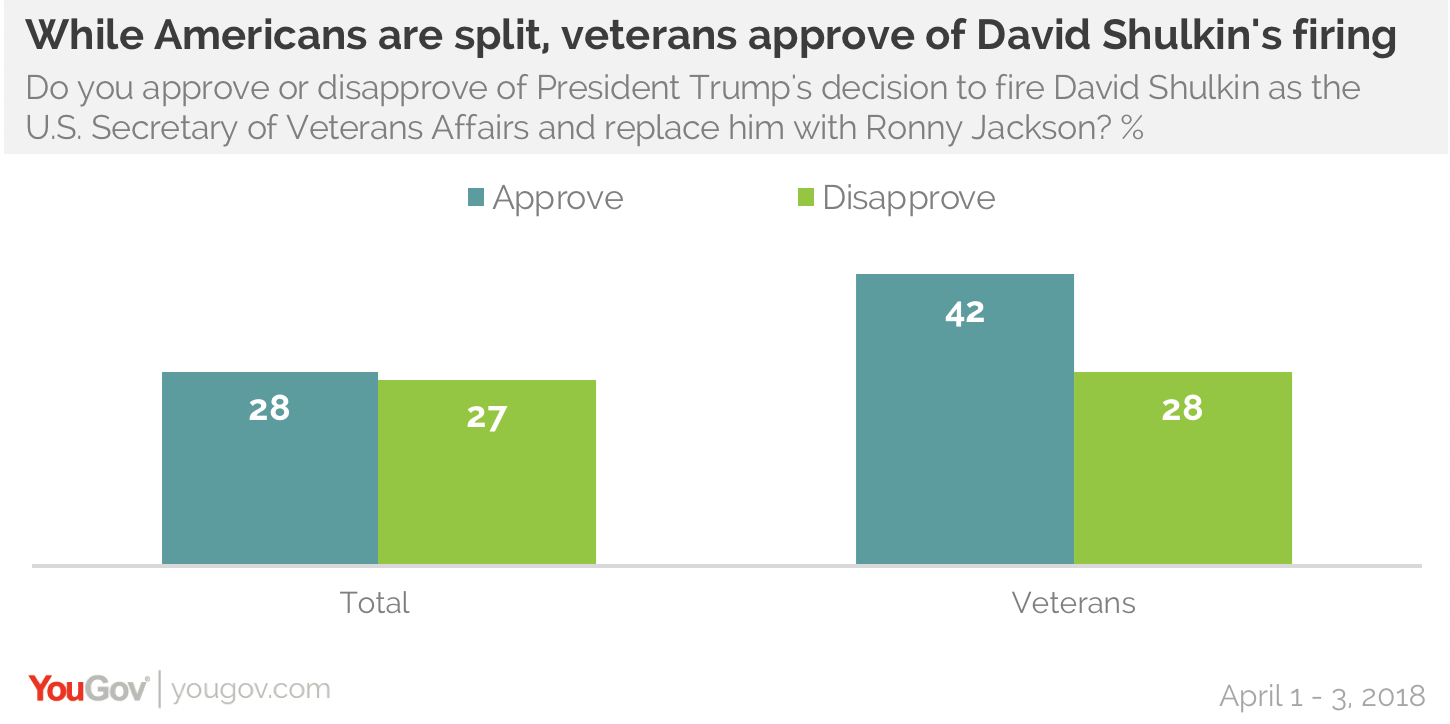 Shulkin's other problem came with his use of government funds to pay for his wife's travel to Europe last summer. That money has since been paid back, but Americans aren't fans of paying for spousal travel. Less than one in ten say there are times when it's definitely appropriate. While a third could imagine times when it might be okay, the dominant response is that this is never appropriate.

Republicans and Democrats agree.